Today, as I completed my last training run in the double digits of miles until the ING NYC Marathon (Sunday, November 4), I found my mind wandering. Running a marathon has never been a bucket list item for me. Growing up I despised running, which in itself is how I ended up choosing to run a marathon to give back and show my father how much I appreciate him. Little did I know, that one decision would impact me so greatly.
The 26.2 miles I will run on November 4 may be for my father and other stroke survivors, but this race has become about so much more. As of today, since deciding to run the marathon I have traveled over 900 miles by foot, and spent nearly 140 hours training.
During those 140 hours I have learned some very valuable lessons, and before the thrill and the rush of the marathon sweeps over me, I would like to take a moment to share three of these lessons with you.
Lesson 1:
New York Road Runner races start with seeded corrals based on past race results. Somewhere over the 900 miles run, I earned the blue (first corral) race bib. On a Sunday in September, I found myself with one of my teammates on The Dashing Whippets walking to the starting line of a 10-mile race in the Bronx. I didn't know the course, and never had raced a course longer than five miles. I had done one half-marathon before, but I didn't race it, I just ran. Quite frankly, I was afraid. Afraid of finding out what I was capable of, afraid of pushing myself and failing.
This particular teammate of mine is a young chap about 10 years my senior who is a staple of the New York running community, a speedy leader who I can't help but look up to as an inspiration. I asked him what pace he planned on going out at, and he said something like "6:25 per mile, how about you?"
I remember saying, "I think i'm going to take this one easy. I'm going to start back a few corrals and do 7:30 per mile or so."
To this day, i'll never forget him patting me on the back and saying, "It took me a year to earn the blue bib, come on up to the front. You've put in the hard work and earned the right to start at the front of the race."
So I did, and I ended up running all out, with everything I had to give. I remember sprinting the last 200 meters all out, as if it was a 5K. I finished in 1:08:44, good for a 6:53-per-mile pace -- My first run over five miles breaking a 7:00-per-mile pace.
On that day, I learned to not be afraid of what I have earned. More importantly, I learned that I shouldn't be afraid of pushing myself and finding out what my potential is, because if I've put in the hard work I should be proud of what I am capable of.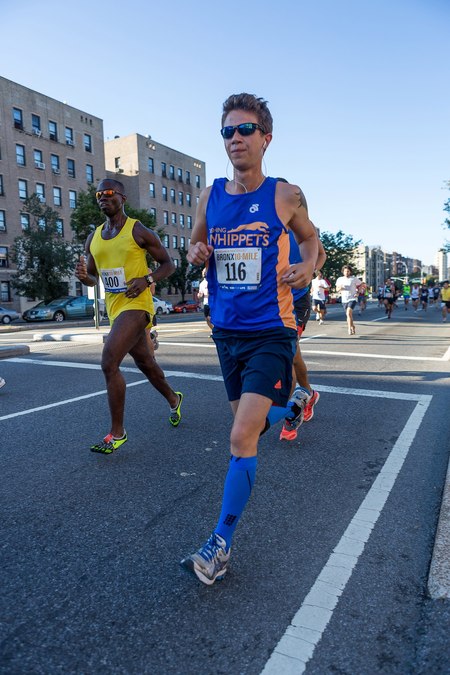 Thank you, Ben, for this photo!
Lesson 2:
After I foolishly raced back to back days settings PR's at both the four-mile distance and the half-marathon distance, I ended up injuring my foot with some tendonitis and a micro tear in a ligament in my right foot. I was forced to take two weeks off from running. My first race back was another race at the half-marathon distance.
My plan was to take the race nice and slow, mentally taking the time to check my body every mile for any discomfort or pain. The moment the report of the starting gun hit my ears, I was off. Within seconds, my plan was thrown to the wind as I set out at PR pace. I felt like a kid running around the playground, my mind was free from any worries. I was in the zone, running and enjoying myself. I held that pace, and ended up with a PR of 1:30:53 or a 6:56-per-mile pace -- my first half-marathon with a sub-7:00-per-mile pace.
I learned a lesson that will make most coaches and trainers cringe. I run to be free, to feel happy and leave all the stresses of life behind. I run not necessarily to find myself, but to naturally and mindlessly create who I am. Sometimes you need to throw the plan out, and just be who you naturally and subconsciously are.
I believe that your body knows who you are better than your mind does. Sometimes, it's worth shutting your mind off and just letting your body do its thing.
Lesson 3:
For the first few months of my newfound running regimen, I never physically ran with anybody. It was always me, my headphones, and my thoughts. Naturally, my mind wandered, and in times where I needed a pick-me-up I would find myself thinking about why I was doing this (for my father) and I would always find the motivation I needed inside to push on.
However, at a five-mile race on Father's Day I found myself about half a mile from the finish line running on fumes. I had gone out way too fast. I had never run a mile sub-7:00 in my life, and I was on pace to run five miles at a sub-7:00-per-mile pace.
And then suddenly I heard a wall of noise and cheers. It was The Dashing Whippets cheering squad. Somehow those cheers injected me with enough energy to push on, and I ended up finishing my fastest five-mile race to date with a time of 33:51, good for a 6:47-per-mile pace.
Immediately after getting home I looked up who The Dashing Whippets were, and soon thereafter I joined. Since then, running has never been a solo sport. I learned that there is power in a collective, and there is power in being surrounded by like-minded people.
Having teammates pull you when you are feeling weak and push you even harder when you are feeling strong is an incredible experience. Knowing that there is a camaraderie where teammates will take hours out of their day to stand on the side of a course cheering your name and giving you a high-five for the 15 seconds that you are within sight of them, or spend half of the day kneeling on the edge of the course snapping photos of you as you zip by, means that you are never alone.
Learning that running does not need to be a solitary thing is a fantastic lesson. The confidence, inspiration, and camaraderie that have become part of me because of my teammates is perhaps the most valuable tool that I could ever have gained.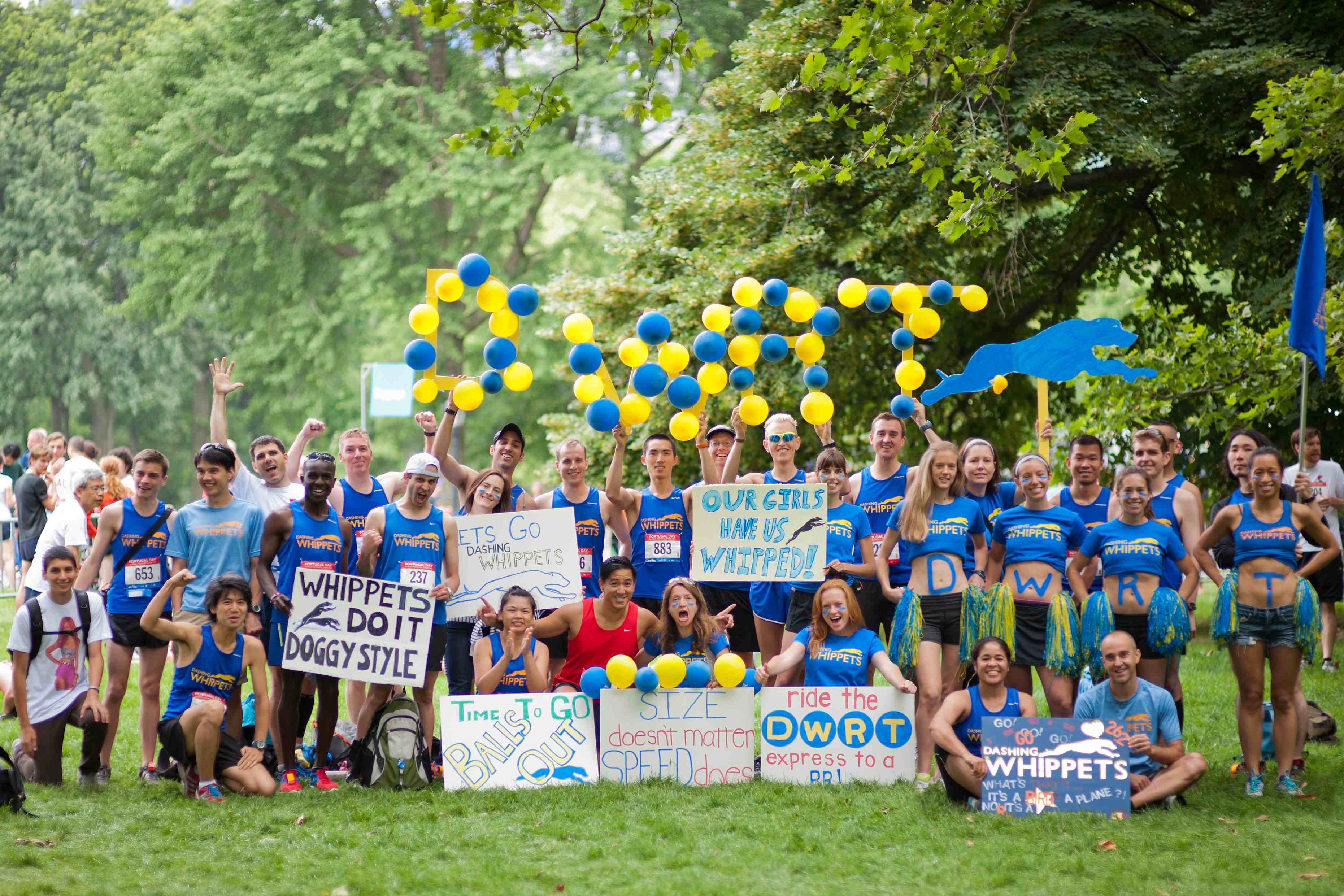 Dashing Whippets cheering -- thanks, Henry, for this photo
I have no doubt that regardless of what happens on November 4, for a moment my world will be all about me. But I hope that a few moments later, I remember all the experiences and people that got me to this point... ready to run 26.2 miles (and I hope finish).
That being said, if you are in New York City, please come out and cheer for me. I will be leaving Staten Island at 9:40 a.m. in wave one, and my bib number is 14065. You'll see me wearing my Dashing Whippets blue proudly with my National Stroke Association badge.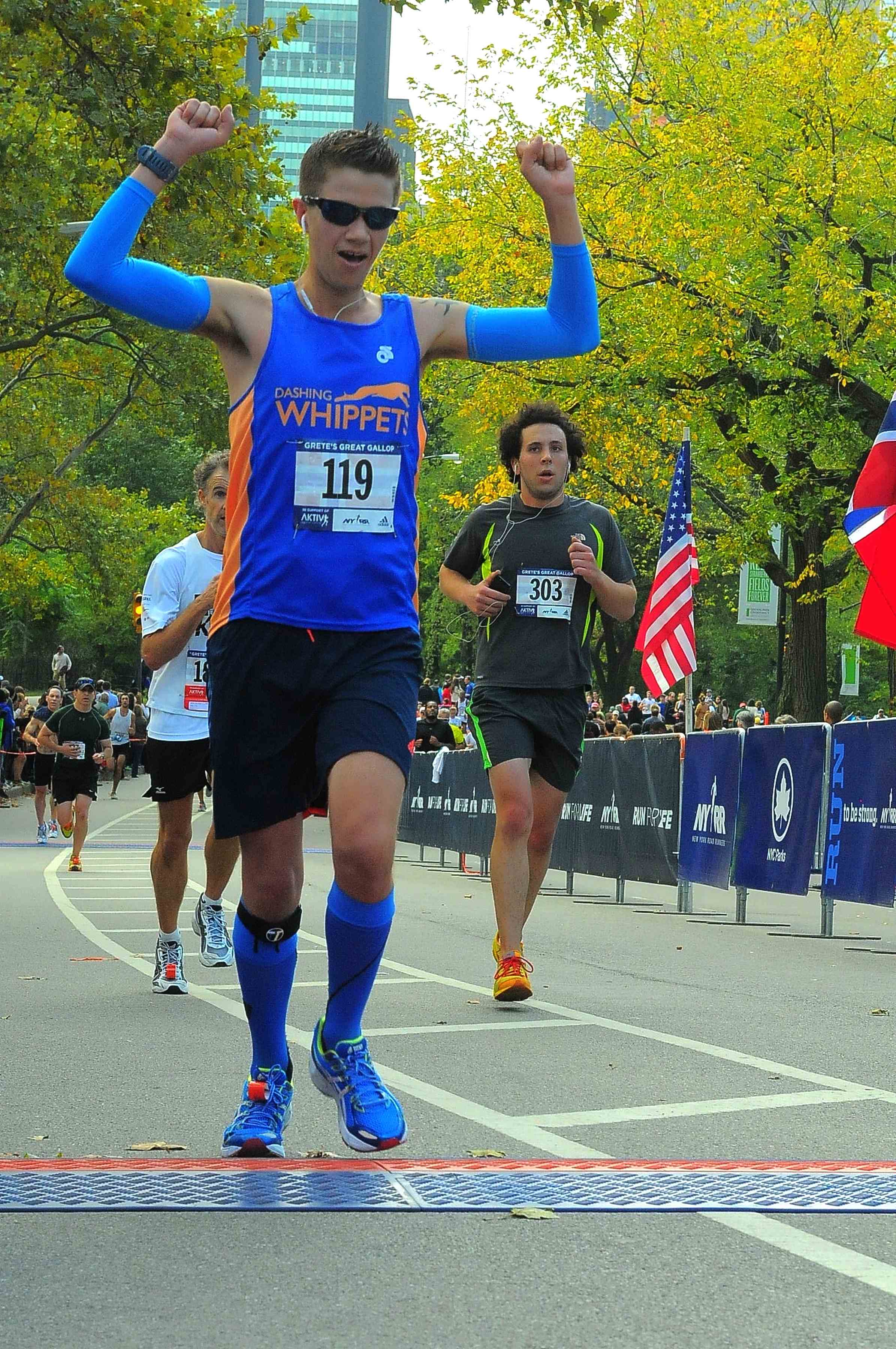 If you come out and cheer on November 4, this is what you should look for.
For more by Dylan Armajani, click here.
For more on fitness and exercise, click here.