A few weeks ago I wrote about how I had recently come to the conclusion that I was a runner. Ironically, about three days later while running the Yonkers Half-Marathon (and might I add, setting a new PR of 1:32:50 -- a 7:05 per mile pace), I managed to hurt myself and irritate what turned out to be a chronic ligament tear. The doctor's prescription: Rest.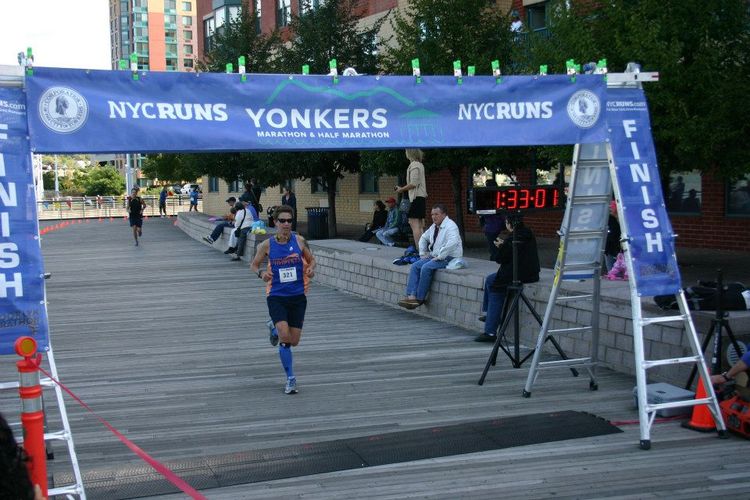 Me, right before the pain began to set in.
Rest does not come easy. With the 40 miles a week I was regularly running before, my body was accustomed to a minimum of six hours a week of exercise. Within days of starting to rest I began to feel lethargic, had trouble falling asleep, my bowel movements became irregular. Even mentally it bothered me to walk in to my bathroom and not see piles of dirty running clothes.
I've found some alternative forms of exercises to fill in, such as deep-water running and cycling, however, neither compare exactly to the thrill of running wild and free. Already in the two weeks I've been "out of commission," I've learned a lot about being injured. Let me share them with you.
1: I Am Not Invincible.
I really thought I was. I was new to the sport of running and everything was going fine. In the five months that I was injury-free, I went from running 15 miles a week to 40, my race speed for anything under 10 miles went from nine-minute miles to sub-seven. I was flying. The weekend I hurt myself, I raced back-to-back days. A four-mile race on Saturday, a half-marathon on Sunday. The thought of being injured never crossed my mind, I thought that I could go on forever improving at a dramatic rate. I was wrong. I am not invincible, just like everybody else.
2: Every Runner Gets Hurt.
A poll in 2009 found that 66 percent of runners got injured per year. As a runner, the odds are not in our favor. What matters is: How do we react to our injury? After I began to feel the pain in my foot I took two days off, and then I went out for a six-mile run. I stayed on a dirt path and told myself that it would be OK. When I got out of the shower after my run, I couldn't put any weight on my foot. I panicked, I posted messages on Facebook asking all my running friends and teammates what to do, and then I sat down and I cried and began to accept the fact that I was not going to be running today, or tomorrow, and probably not for awhile. As somebody that plans on being a runner for a long time, I need to accept the fact that the odds are that I will get hurt again and again, and no matter what I will come back for more.
3: I Can Still Be Active.
For a week I did nothing, and then I hopped on the bike that I hadn't ridden since I caught the runner's bug and starting cycling. I discovered deep-water running, but in my head I always made little fantasies. I wasn't just pumping my legs underwater in a church basement, I was 400 meters out from the finish line of a race in Central Park pushing to beat my PR.
So if you're a runner, like me, chances are you will get hurt sometime. When you do, keep your head high, and hope for the best. And when you are running, remember the words of the great George Sheehan: "Listen to your body."
This morning, I finally got cleared by a podiatrist to slowly begin training again. Tomorrow, six miles on trails. I can't wait to lace up my shoes and feel the cool October air surround me. The act of running makes my whole body feel good (barring injury), and I'm sure that I'll slip into feeling invincible again... It's hard not to when you feel like you're on top of the world. Next time, I just hope that I can stop for a moment and appreciate the moment before taking a deep breath and inevitably pushing myself harder.
For more by Dylan Armajani, click here.
For more on fitness and exercise, click here.