I'm writing this on a Saturday afternoon and like millions of people around me, I'm shopping online for holiday gifts for my 6-year-old grandson, Adrian. The only difference is that I am not biologically related to my grandson. My grandson is the son of my former foster son and his high school girlfriend.
I never had an opinion about having children or not having them. I traveled a lot of the world in my early 20s and felt certain of only one thing -- the world was a crowded place and not all people lived equally. I carried a sense of injustice with me deep in the corners of my brain throughout my 20s and in my late 20s, I took action and changed my ambitions from focusing on me to focusing on helping others.
At 35, I chose to become a foster mother. I made the choice because I started to meet dozens of young people living in group homes abandoned by their parents and neglected by Child Protective Services. I didn't choose to become a foster mom because I couldn't have my own children. I chose to become a foster mom because a young person needed me and my desire to mother has never been centered on my genetics, but on my ability to love and care for others.
I met John when he was 15. We had a complicated relationship made worse by a delinquent case worker. With some misreporting our story was covered in the LA Weekly. To say the least, John's case worker was surprised someone could love this angry young kid and she fought the placement for six months until I won the right to be John's mom in Children's Court.
When John and his high school sweetheart, Karina, told me she was pregnant, my heart dropped. My foster son and I were having a difficult time and I could barely figure out our own future much less think about John's son. However, I told her that no matter what happened I would help with the baby. That was seven years ago.
John left Los Angeles and has another family now and one day Adrian will ask questions from his "grandmother" and when he does, I'll be there.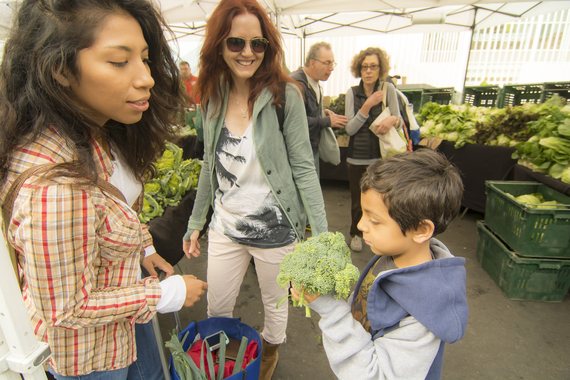 I'm now considering adopting internationally. I would adopt a sibling set as I learned with John how important it is to keep kids together. I would adopt older kids again because they are often left behind.
I'm writing this because recently I met a woman and we started talking about our kids. I mentioned Karina and Adrian, my non-biological grandson. She said to me something that stood out: "he's not yours." But he is. He is as much mine as anybody can "own" a kid.
I believe we give birth, we adopt, we foster kids who become their own individual selves and we play a role in that. We love them, we make them feel safe and we help them develop healthy senses of self. I don't believe we, as women, must have kids to make ourselves whole. I love my work, I love my family and if I adopt or foster again, then lucky me, my capacity to mother grows.
I have chosen not to have my own biological children but mothering is considerably larger than an egg and a sperm. Mothering is an action, a choice we make as men or women, to extend and open our hearts to all, biologically related to us or not.