In May 2012, six youth from across the country were honored as Hasbro Community Action Heroes at the generationOn annual benefit in New York City. The award recognizes outstanding young volunteers who show that you are never too young to make a difference in your local or global community. One of the 2012 awardees is the 16-year-old founder of the Grandfather Youth Task Force in Omaha, Nebraska, Nimansha Jain.
The Grandfather Youth Task Force is a group that is taking initiative to bridge the inter-generational divide. After Nimansha lost her grandfather to Alzheimer's disease, her memories of him inspired her to volunteer with the Visiting Nurses Association. She began making weekly visits to a hospice patient suffering from dementia. As her visits became more frequent, she could not help but notice the gap between the generations. She used her unique sense of logical reasoning to find intricate solutions to this problem in her community and partnered with the Eastern Nebraska Office on Aging, a senior companion home in Omaha, to implement a program to bridge the inter-generational divide. With an initial grant from the 2011 National Scholastic Be Big in Your Community Grant, Nimansha was able to bring her dream to fruition.
The Grandfather Youth Task Force attempts to bridge the inter-generation divide through a variety of activities. New technology can sometimes make older generations feel isolated and left behind. But Nimansha's initiative includes an activity to bridge the technology gap. Young people visit the seniors and provide lessons on how to use computers and the Internet. Not only does this help the seniors find new ways to stay in touch with their families, but it gives young people an opportunity to learn from their students!
Nimansha's story reminded me of my trip to Georgia in 2009. This trip was a transforming experience for me. I was invited to be a keynote speaker at the Educational Summit, Best Practices of the Best Minds in the Educational and Learning World, in LaGrange, Georgia. I was talking to Amy Lukken, VP of Cultural Development and Learning at InterfaceFLOR and she talked passionately about the dynamics of generational differences in today's workplace. Veterans, baby boomers, Gen X-ers and Gen Y-ers are all working together side by side.
Was this a bad thing?
"No," said Lukken. "Any problems the generations may have are not rooted in a lack of communication but rather in a lack of understanding of generational differences, behavior, communication styles and perspectives." As I started thinking about what Amy said and my relationship with my grandmother, I found myself agreeing with Amy's position completely. I was born and raised in the United States. My paternal grandmother is the only living grandparent that I have ever known. She lives in India, and despite my attempts to nurture a close relationship with her, I encountered a lot of barriers -- distance, culture, language, technology, and more. It was indeed the lack of understanding of our generational differences and perspectives that was impeding our communication.
"Many seniors do feel as if my generation of youth is further away from them than ever, and this will continue with the current mindset of youth," said Nimansha. "It's when youth are exposed to seniors that they realize the similarities." I couldn't have said it better.
"One of my favorite projects that I have worked on, and is still continuing, with the Grandfather Youth Task Force is the computer classes in which the subject matter was Facebook. All the seniors that signed up for the class had long been wanting to crack the intricacy of Facebook," said Nimansha. "This project has been my favorite, because it shows how much seniors are truly interested and wish to stay connected with everyone."
As with any new endeavor, bringing the project to fruition was not without challenges. Nimansha learned during one of the initial classes to teach seniors how to use computers that they learn technology differently from those who grow up with technology. Being a completely different generation, Nimansha observed that they exhibited different physical, mental, and attitude issues.
"It was difficult to teach a group of seniors with skills ranging from not knowing how to type or use a mouse to one even being skilled enough to use Ebay," said Nimansha. To overcome this obstacle, Nimansha added additional questions to the sign-up questionnaire so seniors with comparable skills were grouped together.
Personally, I remember setting up my grandmother with her own computer in India so we could video-chat frequently. My grandmother has several medical issues: She has extremely poor vision, terrible hearing, issues with mobility, trembling hands and zero technological background. When we approached her with the idea of setting her up with a computer and teaching her how to use it, she was genuinely excited about learning. The issues that I thought would be hurdles were not how she viewed them. She was so motivated by the fact that she could Skype with us to see us daily that, despite her age and poor health, she showed no resistance to learning anything we taught her. It required a lot of patience and respect on both our parts, and it was a long and slow learning process as she had to learn a lot of things to pull this off, but for the past two years she is the first to Skype us almost daily, and sometimes more than once daily.
Now, how are you and/or your organization creating dialogue to bridge the inter-generational divide? I welcome your comments below and I would enjoy hearing from you.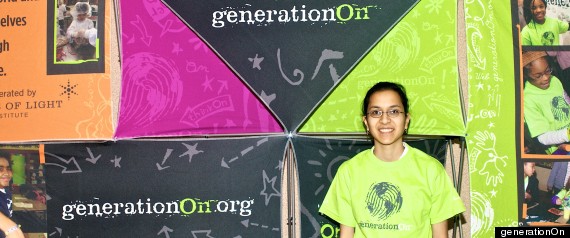 Jain at the generationOn workshop in NYC.