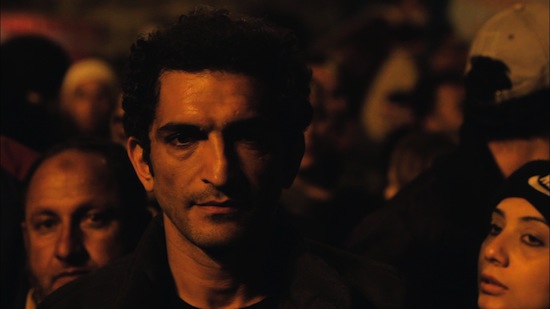 There are two very distinct sides to Egyptian actor Amr Waked. One is as the somber ambassador for OXFAM, the British charity that aims to free the world from the injustice of poverty. During their annual gala in Dubai, co-hosted by Dubai Cares and held at the Armani Hotel in Burj Khalifa, Waked was clearly overcome with emotion. Yet another side peeked through barely 24 hours later, as the free spirited Waked did not hobnob with celebs in the VIP area during the closing night party for the Dubai International Film Festival, but spent the evening with the people and then broke out into impromptu dancing, moved by the Egyptian tune played by the DJ. Again, a man overcome by emotion.
Thanks to DIFF, I got a bit of insight into both.
Right in the midst of this year's Dubai Film Festival, the Golden Globes nominations were announced. Although Salmon Fishing in the Yemen received three nods from the Hollywood Foreign Press Association, Waked did not. Even if he gave the film major sizzle factor with his performance as the mystic Yemeni Sheikh. But DIFF jury members quickly rectified this little oversight by bestowing on Waked the Muhr Best Actor in an Arab Feature award for his performance in Winter of Discontent, a film he also co-produced.
I sat down with a very overwhelmingly handsome Waked on a terrace of the Al Qasr hotel in Jumeirah, just as the afternoon sun was setting behind him. It is moments like these that truly do justice to the word magical.
E. Nina Rothe: Winter of Discontent is a really important film about a story that hasn't yet finished. What's the follow up to this film?
Amr Waked: Well, the follow up to this film I guess we'll have to wait and see. The follow up is with the people. The people will follow on the film and what they write will decide what's going to be next. We just started you know, there is still a long way to go and it's good that we are actually cutting corners early on and having this confrontation nowadays. It was bound to happen sooner or later and I'd rather have it sooner than later.
ENR: Did you feel that you needed to make this film when you made it, as you are also one of the producers on Winter of Discontent?
Waked: Yes. I felt very absorbed into it, forced into it by its magnetism. It's a project that for us, filmmakers who were on the streets from the very beginning of the revolution till the very end, it's actually the one thing we know how to do best! To tell a story, to make a movie and we understand how this can be of value to the people. How this can help them discuss and find their own ways to get over this stage and build something that's everlasting about freedom, democracy, about tolerating one another. How we can live together and not step on each other's tails.
ENR: That's the secret to life!
Waked: Exactly. We need to have conflict before to understand what the other people's rights are. And I'm happy it's happening now, I'm not happy it's painful, I'm not happy for the deaths of the people, I'm not happy for the hunger and the unemployment and the distress and all of that. But I'm happy that it seems like we will understand sooner rather than later about the rights of each other and we will find the common ground.
ENR: Winter of Discontent has a documentary feel to it and you've even kept your own name for your character "Amr". Did you want to purposely stay away from making another documentary about the 25th of January?
Waked: I didn't want to make a documentary about the 25th of January because there are so many people who did that already. I think the media also covered events quite well and quite closely and there are so many reports on what happened, what's the point in repeating ourselves? I think the beauty of film is that ten years later you can pick it up and look at it and find out what happened. Nobody is going to pick up a CNN report ten years later, but they'll pick up a film.
ENR: Do you think film has a way of educating people, not just those who want to be educated but also those who are resistant?
Waked: I don't think film should educate. I think film should open doors for people to educate themselves.
ENR: Bridge the divide?
Waked: Not exactly, more like throw a bomb at them, let them discuss the effects.
ENR: So Winter of Discontent is the bomb?
Waked: Yes, it throws the bomb at those who believe in politics. And pulls them down to humanity and makes them, maybe against their will, consider the element of humanity as a prime element in the political formula. And in what way, how, that they will decide but we just opened the door for them. If you're a politician and you want things to work never challenge the resilience of humanity, never oppress it because if you oppress it it will blow you up. Just like what we've seen with Mubarak, president in jail, the whole entourage eloped, cannot come back to Egypt because they're scared. All of this is a sign that you need to think twice before you f*** with humanity.
ENR: You have to admit that those who would make great leaders aren't running for office these days. I mean, if only people like Amr Waked...
Waked: I will never be a leader.
ENR: And yet you would make the best leader! A filmmaker, someone who knows humanity.
Waked: I think women would make the best leaders. I really think so, I really believe it.
ENR: You think women are that diplomatic?
Waked: Yes, and bloodshed does not come as easily to them as it does to men. I think eventually we will evolve into this direction where the women will be leading us into peace.
ENR: Three words that describe you?
Waked: I'm not sure I can. That's a difficult exercise... I'm a man -- who is searching for himself.
Top image courtesy of the Dubai International Film Festival, used with permission