Amitabh Bachchan and Vineet Kumar Singh in a scene from Bombay Talkies
They say you will never forget your first love. For me, my first love was Indian cinema.
Throughout the years, I moved on, to other world movements, settling then most recently on a new love -- cinema from MENA. But I never forgot the healing powers of Kabhi Khushi Kabhie Gham just months after 9/11, watching it and sobbing with abandon in a theater in Shepherd's Bush, and how Karan Johar and his star, Shah Rukh Khan helped me exorcise the pain and shocking hurt I had felt inside since that tragic day.
Years later, my love of Indian cinema grew more intense, thanks to the friendship of one of the most incredibly innovative, courageous filmmakers the country has ever seen: Anurag Kashyap. Kashyap allowed me into his inner sanctum and brought me, a complete outsider, to film premieres inside Bombay's Film City that included a who's who of the Indian film stars firmament, when his then girlfriend Kalki Koechlin (since 2011 his wife) could not attend. He also showed me around his offices in Versova, and took me along on the urban, clandestine sets of his film That Girl in Yellow Boots.
Fast forward to the present, and Anurag Kashyap has become the filmmaker to watch. He's bridged the divide and singlehandedly made those seemingly elusive crossover films -- the concept that was always on everyone's mind back in the days, never spoken aloud. There was a time after Slumdog Millionaire when everyone thought Indian cinema was going to explode, but perhaps the timing was wrong. Whatever the reason, probably the fact that Danny Boyle's was still a kind of Hollywood film, it didn't happen then. But now, with this interesting "100 years of Indian cinema" anniversary happening, India the featured country at this year's Cannes film festival and Anurag Kashyap receiving the Chevalier dans l'ordre des Arts et Lettres (the French honor of Knight of the Order of Arts and Letters), perhaps it is finally Indian cinema's time to shine around the world.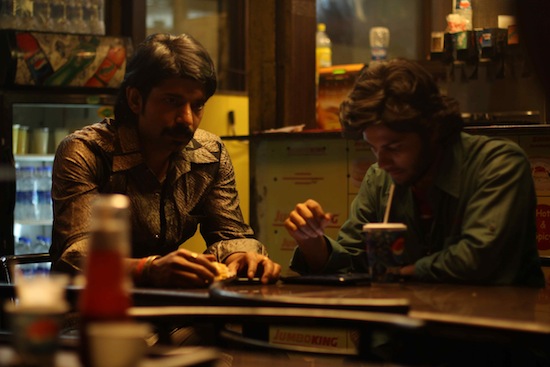 A still from Ugly
Apart from his own chapter in the lusciously told omnibus film Bombay Talkies, Kashyap's latest feature Ugly was featured in the Directors' Fortnight program at Cannes this year. It is a story that exposes the true aspects of human nature, when we let our base instincts get the upper hand. It is definitely an ugly tale, shot beautifully and told brilliantly. At one point, while the search party looks through alleys and delves into the darker recesses of the city, with the music of Asaf Avidan's "One Day/Recknoning" song playing over the darkness, I realized what makes cinema so magical for me, and it was appropriately an Anurag Kashyap film that offered the insight.
I sat down with Kashyap on a rainy day in Cannes, his daughter Aaliyah nearby, more grown up but still the cute little girl I used to babysit, back in the days, when her dad was busy with film festivals and interviews. She's the inspiration behind Ugly, perhaps born out of Kashyap's own sense of guilt, of not being there enough for his daughter, his own fears, his wanting to protect her at any cost.
Yet, one thing Kashyap will never be is dull, and even our interview turned out to be a roller coaster, with fellow filmmaker provocateur Dibakar Banerjee sometimes chiming in...
How did Bombay Talkies come about?
Anurag Kashyap: Ashi [Dua, co-producer of the film] did it the short way. She said I want to go to best filmmakers in the country and she came to me, she came to me first. I said OK I'll give you the names of the next best. (laughs) No wait, don't write this, they'll think my head is too big.
Yeah, you are already getting the Legion of Honor, aren't you?
Dibakar Banerjee: It's not that bad, he's not dying yet. (To Anurag) Don't ever take the Legion of Honor, you take it and you f***ing die. Just save it for a long time...
Your story in Bombay Talkies, where does it come from?
AK: My film is, believe it or not, an extremely personal film. This film is based on who I was. My Bombay Talkies film Murabba comes from a space where I came from. That was Anurag, that was what I was.
With your pickle jar?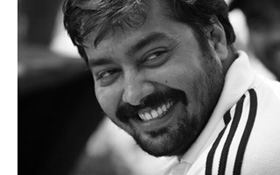 AK: Not a pickle jar, but all about the Bachchans and stars and wide-eyed. I was like that. I was absolutely like that. And then something happened. And things changed and I become another person. The story was with me, I wrote it then. It was written as a story in 1995.
What has changed since then in the story?
AK: Then it was only about hero worship, now it's about many more things. Now you are also on the other side, you avoid actors, you avoid people who want to work in film with you.
And journalists who want to interview you...
AK: Yes. Not you. But yes, I hate giving interviews.
Dibakar Banerjee: When I saw Anurag's film I told him, this is supposed to be about adulation but I told him, it's one of your most layered films. Saying something apparently on top but there is so much more underneath. It's angry, it's resentful and that's what the stars face in India, they face a lot of adulation. But you should see the violence and the aggression in the crowd that is there to touch them, because if something goes wrong it could break into a riot.
There are crowds outside Amitabh Bachchan's house every single day, how do they live like that?
AK: You should see outside Galaxy, Salman Khan's house. Same kind of insanity.
Here you are, year after year at Cannes, on the jury at Sundance. Yet Indian cinema has an audience already built in, numerous and healthy. Why do you want your films to be seen all over the world?
AK: I want my films to be seen everywhere. And it's started simply because I was told always that people don't want to watch your films outside the country. Inside the country and outside. For me, that's how it all started, I did not even have a passport. I had never stepped out of India, even to Nepal. In 2004 I got my passport to travel to Locarno. I only traveled because I was tired of being told nobody wants to watch your films. So my whole journey started, carrying the weight of my own films, I used to carry these suitcases full of Black Friday DVDs and go to every DVD shop and put it there to sell it for free. Then I realized later, that when they said nobody wants to watch your film, what it actually meant was "we don't know how to sell your film. And we don't know how to sell any film to a non-Indian." That's also what they meant and when I figured that out, I figured out what to do with my films and where to take them.
Images courtesy of Viacom18 Motion Pictures and AKPL, used with permission