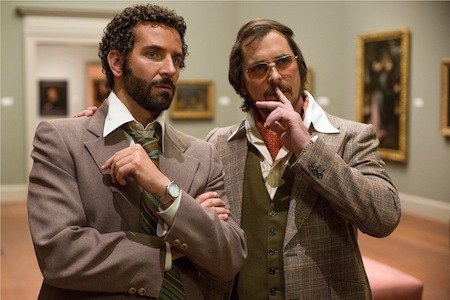 To cinema lovers, this year's Dubai International Film Festival appears like a dream come true. Running from the 6th through the 14th of December this event, which kicked off in Dubai in 2004 and started a far-reaching cinematic movement in the Gulf, will feature 174 films, will include 70 world premieres and 11 international premieres from 57 countries in 43 languages from both established and upcoming talent.
The festival kicks off with the Gulf premiere of Hany Abu-Assad's Omar, a favorite of mine since Cannes which is representing Palestine in the Foreign Language Oscar race. The closing night gala will be David O Russell's American Hustle which is already creating Oscar buzz and features incredible performances by Christian Bale, Amy Adams, Jeremy Renner, Bradley Cooper, Jennifer Lawrence, Louis CK and Robert De Niro. It's no surprise the festival just announced a partnership with the Academy of Motion Picture Arts and Sciences with highlights that will include a panel discussion with member of the Academy titled "Beyond the Oscars®," and master classes for filmmakers. After all, there are Oscar contenders everywhere you look at this year's DIFF.
This year the festival is also blessed with superstar filmmaker Jim Sheridan as head of the Muhr Arab Feature jury and truly, the "job" could not have been given to a better man. I know I'm not alone in thinking that if someone can understand deeply and thoroughly the struggles of the Arab world, it is the Irish Sheridan, who time and time again shows us what the human spirit is capable of even while living alongside "weapons of mass separation." Walls that divide in the hope of conquering, but in truth only manage to unite people more, across borders and causes. The glowing Cate Blanchett instead returns to DIFF to head the IWC Filmmaker Award jury for the second year running. The award offers a US$ 100,000 cash prize to one winning filmmaker and will be presented at an event hosted by 'Supporting Sponsor' and Official 'Festival-Time' Partner IWC Schaffhausen on Saturday, December 7th. Another wondrous filmmaker and personal favorite interview, the Egyptian Yousry Nasrallah will instead lead the Muhr Documentary category.
Lifetime Achievement Awards will be handed out to the great actor and activist Martin Sheen, while the Arab Lifetime Achievement Award will go to veteran Egyptian film critic Samir Farid. DIFF will also partner once again with Dubai Cares and Oxfam for 'One Night to Change Lives', an event which will bring out the glitterati of the UAE and beyond, and also benefit Oxfam to support their work responding to the current refugee crisis from Syria. Mark Ruffalo and Rooney Mara have been confirmed as guests, among the many, many more stars in attendance.
To coincide with this year's 10th anniversary edition of the festival, DIFF has released a much-anticipated book on Arab cinema titled Cinema of Passion, featuring the 100 most beloved titles, compiled with input from over 475 of the region's and international most prominent film critics, writers, novelists, academics, and other arts professionals. Even yours truly had her say and picked a few titles that ended up being in the book. The festival will also present two galas every day at Madinat Arena, with a selection that varies from 12 Years a Slave, to August: Osage County, from Frozen to The Secret Life Of Walter Mitty, from Mandela: Long Walk to Freedom, to Rock the Casbah. There will also be free screenings in Burj Park downtown which will include Chadi Abdel Salem's 1969 The Mummy, the number one most beloved Arab film according to Cinema of Passion, and China's beloved Hark Tsui's Young Detective Dee: Rise of the Sea Dragon.
Finally, there are the films, the most important reason to attend DIFF and the filmmakers, the most important part of any film festival. And Dubai goes above and beyond in their support of filmmakers at all levels of their cinematic careers. From the Dubai Film Connection, the festival's co-production market, to Enjaaz which offers post-production financial support, Forum sessions during the festival and Cinetech, a digital platform for sales and acquisitions, it's no wonder the Dubai Film Market has become the definitive one-stop-shop for Arab filmmakers. It's no coincidence that both the Saudi Wadjda and the Palestinian Omar, two of the contenders for this year's Foreign Language Oscar, have been supported by DIFF. And who knows how many more will blossom here for the years to come.
Check out the slideshow below for a few personal picks, in no particular order, and check out the Dubai International Film Festival website for more info and tickets.
All images and synopses courtesy of the Dubai International Film Festival, used with permission