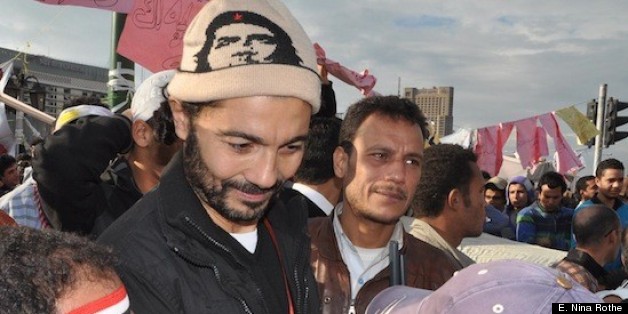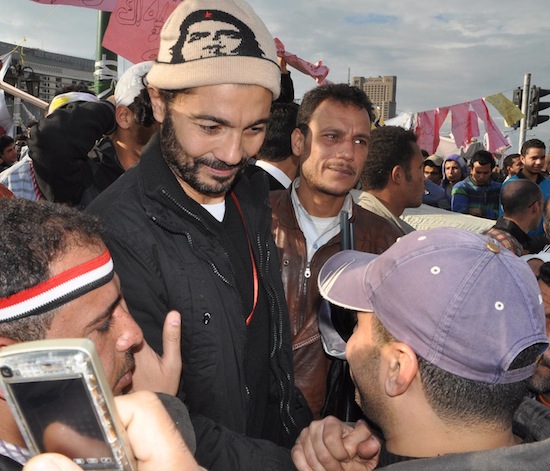 Actor and activist Khaled El Nabawy in Tahrir in 2011
All I can do is look on from a distance as Egyptians tackle the latest bout of revolts. It is the age of discontent, and all over the world we are disagreeing, disputing and disrupting, but can we really know where this is taking us? What I know for sure is that as a woman, I feel less and less safe, because while we play out this global restlessness, no one is watching our back. If the last time around in Tahrir is any indication, women will once again end up being the unmentioned victims of the unrest.
But not if Egyptian superstar and activist Khaled El Nabawy can help it. When I ran into him in Cannes this year, where he was announcing the US release of his first English language film The Citizen later this summer, he told me about his "Egypt Is Not to Be Harassed" campaign to stop violence against women. Four short videos less than two minutes each, starring the beautifully strong Nahed El Sebai and produced by El Nabawy's own production house, the public service announcements show a woman attacked by a man, in a variety of settings with a variety of outcomes. Thankfully, all turning out positive for the heroine, like this one below.
In a report published years before the Egyptian revolution, in 2008, the Egyptian Center for Women's Rights already found that "83 percent of Egyptian women reported experiencing sexual harassment on the street at least once and nearly half of the women said they experience it daily" and added that wearing a veil did not lessen a woman's chance of being a victim. Nearly 62 percent of men polled admitted to perpetrating harassment. The figures have gotten worse in later years with a 2013 study by UN Women -- the United Nations Entity for Gender Equality and the Empowerment of Women -- stating that "Through this study we are able to confirm the spread of sexual harassment in Egypt to unprecedented levels. Of the female respondents, 99.3 percent replied that they have been subjected to one form or another of harassment."
When I asked El Nabawy his personal reasons for producing the videos, he both inspired and provoked with his answer:
Actually I decided to do something as an activist against all un-human acts and I believe there are lots of them on our planet. Why did I create "Egypt Is Not to Be Harassed"? Because on the 25th of January, 2011 Egyptians paid with their lives for Egypt's freedom and for a better life and after 2 years I found out that they have now ranked Egypt the second worst country in the world for sexual harassment. I said to myself this is not my country and the future I went to the streets for. So I decided to write them, direct and produce them from my own money and I was very satisfied doing this. I will keep doing it to enhance the entire humanity and not only of my country. First I wrote about harassment but now I have full attention for the 30th of June in the streets, all over Egypt to complete our great dream.
There are three other videos with English subtitles, including this one so appropriate for the days ahead, all available to watch on the KNZ Production YouTube channel.
Image courtesy of Khaled El Nabawy, used with permission.