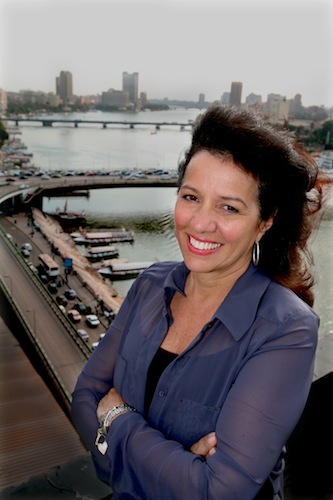 I remember when the U.S.-funded, Arabic language channel Alhurra launched in early 2004, to help counteract the anti-American propaganda in media from the Middle East. I was a bit skeptical, here was this channel clearly designed to give the U.S. version of events, and from where I was standing, that wasn't such a great point of view either. But in just under ten years, Al Hurra has achieved a great deal in the MENA Region and a grand part of that has been due to the presence of Fran Mires, program developer and television executive for the network.
In person, Mires is wonderfully truthful, intelligent, powerful and magnetic. She possesses the great ability to make everything sound uncomplicated, which in today's world is an invaluable talent. Her straightforwardness comes from a place of great knowledge, and great respect. It's clear that she holds the humanity of the Arab world in high esteem, from the way she dresses while traveling through Egypt and the UAE, to the way she talks about this part of the world.
I met Mires during the Dubai International Film Festival, in the midst of the busy Dubai Film Market, where I could see just beyond our table Omar's award-winning filmmaker Hany Abu-Assad pitching his next project as a producer. We were surrounded by buzz, yet I could hear nothing beyond Mires fascinating description of the Egyptian reality show Rayhein ala Fein she's created for the network, which just kicked off season two on December 14th. For Alhurra -- which means "the Free One" in Arabic -- she's also come up with the magazine show "Street Pulse" and the three-hour daily show "Al Youm", this last one launched in 2009 and now the flagship of the network.
Sitting down with Mires both enlightened and instructed me.
Why is it the perfect time to film a reality show in Egypt?
Fran Mires: Rayhein ala Fein means "Where do we go from here?" and it means where do we go from the Revolution. The giant 25 January 2011 revolution, the Egyptian revolution.
Editorially, the show is based on the Egyptian revolution. Where are the people going to go? Here's a country that has been under Mubarak and all the history that everybody knows, seemingly forever. Some people's whole lifetimes, certainly the youth's whole lifetimes. And then there's this Arab Spring and no one knows where it's going. So the concept was, create a reality show, the genre is new for the Middle East but it's serious and it's based on five Egyptian youth characters, they are all in their twenties, but they come from different walks of life. The criteria is different walks of life, rich to poor, Muslim to Christian, man to woman, and they are five characters in season one and six in season two. So season one was very successful, it launched on my network first and then I made a deal with Al Hayat, which is the number one station in Egypt and repeat one aired there very successfully.
So is the show political?
FM: The show is not political, the show is about life.
But everyday life in Egypt right now appears to be political, don't you think?
FM: In a way you are invaded by everything and in fact, the core of the show is seen through this new group. And during filming, which took us much longer, we went way beyond budget and time, because the June 29th revolt happened while we were filming! There were some days we couldn't shoot and we're talking death is going on, on both sides. Because the show is inclusive, when we say different ages, Christian to Muslim, the difference between season one and season two was I wanted more inclusivity. So we cast a Salafist, in season two and he died during the filming of our show, because he was killed the night before Morsi was ousted. He was doing a rally. We had to deal with his death on our show. We contacted the family and made sure it was still OK, and they were. Because this character, his name was Ahmed, was very very in. He wanted to show the Arab world what it's like to be a Salafist, and he opened his home to us, with the women in total niqab, and it felt like a very privileged access. And it was a wonderful relationship between Film Clinic and he, so we dealt with it in our show, his death...
It's not political yet you can't take the politics and the religion out of Egypt. It infuses what you are filming because you are filming the reality.
FM: Correct, we can't get around it nor do you want to. The core of the show is where were they going, where are they going. Ahmed, May He Rest in Peace, has gone to a place already. It's been a very difficult season to put together and it's been very profound obviously.
You spoke of Mohamed Hefzy's Film Clinic. How was the filmmaker's production company involved in the show?
FM: Film Clinic, with Mohamed Hefzy, are my production company. I hired him to make it because we can't do everything on our own, It's just too much. Although he's film and I'm TV, he learned TV with me and of course he's got the eye and the look I'm looking for. We've gone through 10,000 phone calls together, we do the press conference together. The show is an Al Hurra product but we hired Hefzy to be the production company, he does the casting, casting is key, because he's in Egypt.
I often explore the idea of 'the Other' in my writing, which at some point in our lives we become. To someone who is different from us, or we appear different from them. You, Fran, are that here, yet you are quite obviously beloved, revered and respected, so what is your secret, what do you bring to your work in the Arab world?
FM: At this point in my life what I think I bring is a lot of experience in television, experience of working with all kinds of people my whole life, because I worked in Spanish television and still do, so I'm used to these multi-cultures. I'm also Greek-American, my grandparents came from Turkey, so I'm raised with a very open identity with the Muslim world, because they were from Turkey, and we embraced all the worlds. And we were brought up with Turkish music and Arabic music and belly dancing and this is our life. The point of 'the Other', which is very interesting, no one has ever said it to me the way you did, yeah, we are 'the Other' and in order for 'the Other' to become part of them, you not only have to have all of that skill, because they expect that, there's an appreciation for skill that you are passing on, but there's a love. You have to love, you have to be sincere. Like I love my staff, I have over 200 people who work for me, over the four shows. Between the Middle East and at home, that I've hired, that I manage, and I'm a strict boss, I want things done the right way, but it's done with love. It's not done with a stick, rather with love and an appreciation for all that it is and all that it can be.
What do you think is the importance of an event like the Dubai International Film Festival?
FM: I think these festivals, whether in Dubai or Egypt, at the core is that you've got different filmmakers and producers coming from all different countries, and at the end of the day, everybody is trying to show something of value. And those are the things that are going to connect. When you have a film about a revolution from one country, or sexual harassment from another, or honor killing from another country or even a comedy, whatever it is, it is another way -- no different from my show on TV -- of showing what is important in this society and getting others to join in. At a very big level, the barriers have to break down for anything ultimately to move. I'm talking about peace, I'm talking about moving on, a better life for the mass.
One of the recurring topics in Egypt that is so important is sexual harassment. it's completely out of control in the country and I do talk about it in all my other shows too. It's difficult for a woman to walk down the street and not be touched, grabbed or at least verbally called out to. And she can have three children behind her... So it's the women themselves who are talking about it in different formats, without physically pointing the finger. At the film festivals, through all the various films, something has to seep in. It seeps in, it's no different than if you and I go to a great movie or we see something that moves us, you see something incredible on global warming and it affects your psyche. You get that the ice caps are melting, that's the value of this. Because the mass can't do it, all of us who have the ability to affect them have to do it.
Finally, a wildcard question. Three words that describe you?
FM: Aggressive, respectful and loving.
Image courtesy of MAD Solutions, used with permission