Argo deserved the Best Picture Oscar, but perhaps not for all the obvious reasons. I personally found in Ben Affleck's film another reminder that when we don't pay close attention to our history - particularly the kind that could destroy lives - we tend to repeat the same terrible mistakes, over and over again.
In one of the final scenes of Argo, Fahad, the housekeeper at the Canadian Embassy, is seen crossing the border into Iraq, a woman now considered a traitor and therefore destined for death in her own country. It's 1980 Iran and for the protection of all the Americans involved, the "Canadian Caper" mission will not be disclosed for another two decades. A loyal Iranian so becomes an acceptable casualty of war, one left behind.
Fast forward to modern-day Iraq. We've just passed the tenth anniversary of the start of the Iraq War. Another courageous man has been trying for nearly a decade to save lives, this time not those of American hostages, but of the Iraqis who helped us, who translated, accommodated, assisted and accompanied our troops and personnel in their country. The man's name is Kirk Johnson, and he's fighting almost singlehandedly to help these heroic Iraqis walk away from our war with their lives. Literally. Because thirty years have passed but little has changed. They've also been left behind.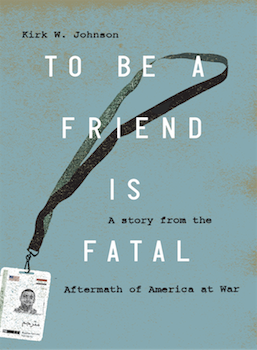 Johnson has written a book about what has become his life's work. To Be a Friend Is Fatal: A Story from the Aftermath of America at War will be available October 15th from Scribner. But I first learned about this charismatic man with eyes that betray the injustices he's been fighting at last year's Tribeca Film Festival. There I met, and interviewed filmmaker Beth Murphy, whose documentary The List world-premiered at TFF. The film features Johnson, as well as some of the Iraqi men and women he's managed to help. And those he couldn't.
Murphy has become someone I turn to whenever I want a reality check. She's frank, strong - a filmmaker with a talent for igniting in her audience a passion for her subjects, be they 9/11 widows who find healing in Afghanistan (Beyond Belief), kite-obsessed engineers working in Egypt (Flying Pyramids, Soaring Stones), or one man with a need for justice. It was a pleasure to meet her again, nearly six months after TFF, this time presenting her film at the Abu Dhabi Film Festival. I wanted to dive right into how far things had come with the Iraqi refugees on Johnson's "The List Project" after the film premiered in the U.S., but Murphy's reality proved more heartbreaking than her doc.
How did the questions differ here, in the Gulf, from those of American audiences?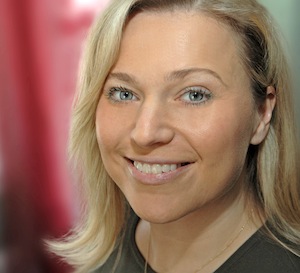 Beth Murphy: People here wanted to dive right into the issues. At other Q & A sessions, audiences want to know how I got into the story, how I first met Kirk, and by the time we're done with the softball questions, there's little time left to tackle some really meaty issues around the film and the war itself.
An example of a question in Abu Dhabi?
BM: One woman, herself a refugee but not Iraqi, said she had an interesting evolution during the film. At first, she hated U.S. Rep. [Dana] Rohrabacher for saying these Iraqis should stay in Iraq, and help build the democracy they deeply believe in. Later, she actually appreciated his message and agreed with him that U.S.-affiliated Iraqis should not leave. She asked me "Do you think these people really wanted to leave?" Of course they wish their homeland was a place where they could stay, but they're choosing, in many cases, a new life over death...
At Tribeca, the Q & A I attended focused on "How can we help?" and "Are we really doing that to those who helped us?"
BM: Exactly, is this who we are?
So what is unique about the Iraqis, why has the U.S. left them in a country where they are considered traitors, by affiliation?
BM: Every year tens of thousands of refugees are resettled, not just in the U.S. but in countries all over the world. In 2011 there were 92,000 applications filed by UNHCR with resettlement countries - the bulk of those to the United States. What is unique is to have a population moving here because of a crisis created by America. Most people resettling in America - from Burma, Somalia, Bhutan - do not share that story. In the film, we are dealing with the human consequences of this war, and how we respond to those consequences speaks to who we are as Americans and who we are as a nation. The leadership of our President is needed. In the past, anytime the U.S. has moved large numbers of refugees quickly, and we've done it, it's been done with the intervention of the President. Of course, there is fear, because no one wants to have their name attached to the next 9/11. But the hardest pill to swallow is that in 2007 the "Refugee Crisis in Iraq Act" was passed, and 25,000 slots were opened, 5,000 a year for five years, so our allies could get in. The program is about to expire, and fewer than one quarter of those visas - exactly 22-percent - have been issued.
You and I, two American citizens who can both sit here and freely criticize and debate our government. It brings me to one last question, do you think it's a great privilege to be a U.S. citizen?
BM: I've always believed it's a privilege, but now I'm forced to ask - to what end? If there is no change as a result of the criticism, so what, I had the privilege of being a voice in the wilderness. And that really bothers me. When I started making this film it took almost a year for the Iraqis who applied to get their first interview for a visa, which was outrageously long. It's now two years. Two years. A lot of the stories are still unresolved. We used to find that cases profiled in the media were miraculously fast-tracked, those people got here, it happened. And if there was congressional intervention, those cases moved. Neither of those things is true anymore. When something is written about a particular case, nothing happens. And there are recent cases of attempted congressional intervention and nothing's happened.
The List screens next on Saturday, April 6th at the Bronx Documentary Center in NYC.
Film poster and Beth Murphy photo courtesy of Principle Pictures, book cover courtesy of Scribner