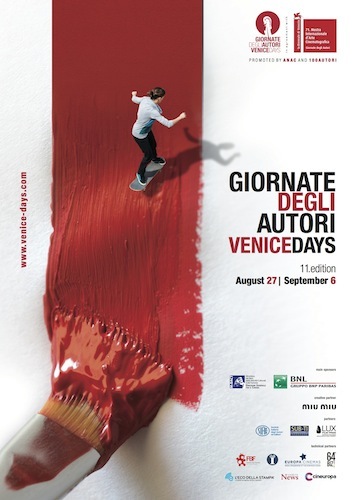 At last year's Venice Film Festival, I found myself drawn into an alternate world -- the relaxed, wonderfully inviting and welcoming environment of Villa degli Autori, just steps away from the Hotel Excelsior, yet worlds apart. While a lot of the films featured for the main competition of Venice 70 were big budget and celebrity-filled, the sidebar Venice Days revealed a passion for great cinema, auteur's oeuvres that attracted me beyond their stories on the big screen.
They represented the magic of the movies I constantly seek.
But Venice Days (in Italian "Giornate degli Autori" -- Auteurs' Days) is not just a great sidebar filled with wonderful movies. It's also a combined effort by exceptional film lovers who come together under the guidance of Giorgio Gosetti, a journalist and the General Delegate of Venice Days. All I had to do was listen to Gosetti interview Palestinian superstar Hiam Abbass, who participated last year with her own installment of Miu Miu's Women's Tales, to know that here was a man with a passion for life, a respect for stories and an enthusiasm for the movies.
To me, Giorgio Gosetti represents Venice. The quiet, understated elegance of the oldest, most prestigious and open to all, film festival in the world. But also the spirit of a city ever reinventing itself, that has made so many fall in love already, and plans on changing the way music, art, and finally cinema are created and enjoyed.
In Cannes, I caught up with Gosetti, who explained the criteria for choosing the films in the 11th edition of the sidebar, which seem to be tied together by a common theme of surviving the unsurvivable. And their new Venice Days Award, which will be decided by a very special jury, in a very special way.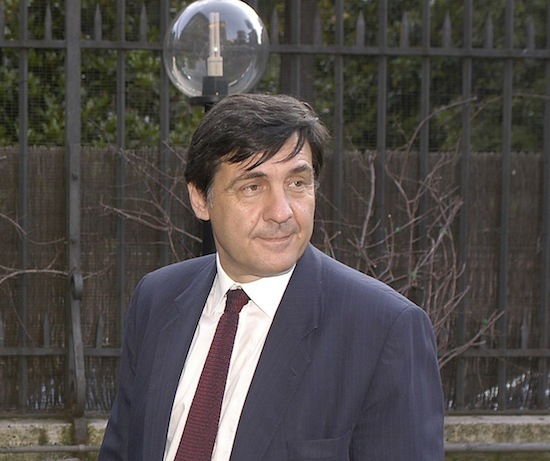 Cinema can change the world. How do you feel about that statement?
Giorgio Gosetti: I don't think that artists can change the world but I think that artists are strange enough to understand someway -- I don't know how, I don't know why -- before the rest of the world what could be possible and what could be considerable. This is the reason why art is so important to open a window and sometimes to trace a path for the rest of the world.
Are they prophets or pioneers?
Gosetti: Prophets I don't know. Pioneers, yes. Cinema especially is art and an industry and I have a lot of respect for the industrial part of this work. Because you spend a lot of money, you spend a lot of time, you spend a lot of energy creating a movie. In this way, it's much harder than to create a book, or to create a painting, and it involves a lot of people. I'm fully respectful of the idea that cinema is an industrial art. And this is the reason why sometimes they are forced to negotiate something, but in this way, YES, in a way they can change the world, because they can use their products much more than the rest of the artists.
You so rightly pointed out, it takes an entire crew to make a film, it's not made in a bubble. So even in Israel, films are made my Palestinians, by Israeli, all working on the same crew... That's creating a dialogue right there, the kind of dialogue politicians are missing!
Gosetti: True! Definitely. But this is also the way I consider films when I select them for the festival. I think that we have an incredible responsibility, because a festival can't change, a single artist can't change the story of a film, but you can be useful or not. And sometimes the best way to be useful is to say no, you're not in the right place. And sometimes you feel how difficult it is to have a movie, or not have a movie, promoted in the best way or not in your section, because you're part of a chain and if you're not the right part of the chain, it will be a disaster for everyone. We're not important as festival programmers, but sometimes we can be useful.
How would you describe the identity of Venice Days?
Gosetti: (laughs) This is a famous question, because I need to be a little bit historical... One of the two directors' guilds in Italy asked me in 2004 to start the program of Venice Days. They called me saying, "listen, we think, in agreement with the Mostra [Venice Film Festival], that we need a special section devoted to the light, the energy and the quality of the director's work". Which is a very European concept, not American at all. In the U.S. you have a director, in Europe we have an "auteur" which is quite different. I'm not totally confident of this difference, because I consider that a lot of great directors are auteurs, and not all the auteurs are good directors. But never mind. They wanted to have a special sidebar in the festival in order to promote and encourage the work of the auteur. So I said yes, but... we need to be different. Otherwise it will be a sort of replica in minor, a sort of copy of the Competition or the Official Selection. This is the reason why we spent a lot of time to think about the identity of the section and we started not from the movies, but from the concept. We must recreate a house, a meeting point, a networking point for the directors, for the artists, for the people attending the festival. A part of our section in any case open to everyone and so we didn't start with the idea of a selection, we started with the idea of a house. A real house. The Villa degli Autori. The Villa was the main concept.
The Villa is so perfect!
Gosetti: To be very honest, it's not an original idea. I just copied something invented by someone else, who was the founder of the Directors' Fortnight in Cannes. If you go on the Croisette and you see the Malmaison, the Malmaison was the heart of the original Directors' Fortnight and it was a place. It was an old place on the brand new Croisette and represented the identity of this section. Now it's just a meeting point, but at the origin it was really the place and the festival was something different. The Festival is the Festival, the Malmaison and the Directors' Fortnight was a place of energy -- creative energy. I spent a lot of nights in the little bars all around the Malmaison, talking with Fassbinder, Wenders, Godard and they paid great lessons of creativity, lessons of artistic energy, just drinking a beer or a coffee, discussing with the others. So I tried to do the same. Long time has passed, it's different, and more and more the festivals are a machine.
Who is Giorgio Gosetti?
Gosetti: Giorgio Gosetti is... Firstly, is not a critic. I was in the past, but I'm a film journalist. I write for the Italian press agency, ANSA. And I'm really really attached to my job because once you finish with the selection, you finish with festivals, you come back and you're first to go and make an interview with a very young director or a TV star or a politician, you think to yourself and you say "yes, this is who I am." I'm a normal journalist. I'm passionate of this work, I started very young.
Do you think journalists have a right to tell a filmmaker what they did wrong in their film?
Giorgio: No! Absolutely not. No, because it's not your job, because you don't know what is his job. Sometimes it happens to me during the selection process, that a director comes to me saying "this is the rough copy of my work, I'm really pleased to talk with you and to have your impressions and maybe to change something." I say, I can give you my impressions, of course, yes. But please remember that it's very subjective, it's my first reaction, and I really don't want to suggest anything because I'm not a good editor, I never thought to be a director. I wrote a couple of scripts in my life just the time to know that I'm a very bad script writer.
What do you think makes a good interviewer?
Gosetti: A good interviewer, in my opinion, is when you are syntonic, you are on the same level of emotions of the person you are interviewing. When you are able to open yourself, being just the journalist and not imposing yourself, but when you can give to the other the impression that you are really interested in what he's saying. The good, the very good are able to do this because they are really close to their subjects.
Challenges ahead for Venice Days, and all film organizations really?
Gosetti: We must be useful to help to create a new spectator. The crucial problem is to change the audience. We have to face to a new generation of viewers, they have different attentions, different instruments, so we must be useful to be a bridge between them and the creators. They are clever enough to find their way but you have to open the bridge.
Can you talk about the Venice Days Award?
Gosetti: We started [Venice Days] with the concept that directors can't award directors. That prizes are not so interesting. It's much more important the selection, as a bunch instead of the unique. But we have to face competition, reality. People who give us their films must be encouraged to choose us instead of the others and of course there is a matter of tradition, of quality, of brand, but if you have an offer to go to another festival with the possibility to win 50,000 Euros and if you come to Venice you have to spend a lot of money, without any chance to win anything? So we invented a jury composed by 28 [men and women] from 18 to 30 years old coming from the 28 countries of the European Union, one per country, selected with the help of the European Network of Arthouse Cinema, Europa Cinema, it's a European project. Each country presented some candidates, we received CVs, a short letter of motivation, some critiques they paid to three films they've seen recently, just to understand how they think. And when I received an application from someone who says "yes my three films are Buñuel, Bergman and Kubrick" I rejected them. Because I do want to have regular viewers not horrible cinephiles unable to understand a real movie.
So if they send you Transformers reviews...
Gosetti: If they are able to write a number of things on Transformers, why not?! I bought the DVD two weeks ago. Cause I really wanted to understand better this kind of movie. So why not?! I'm a devoted fan of Rush, I think it's a fantastic film, underestimated by the largest part of the critics. So 28 guys, coming from 28 different countries, plus an established director [Diego Lerman] who will head the jury and who will serve, in a way, for a long master class of ten days, facing every day 28 guys explaining to them what is cinema, what it is to do a film. And so explaining that when they have to look at a movie, and decide about a movie, they have a responsibility. At least to understand. The final discussion it will be on streaming, it will be public. Finished with the secret jury, locked in a mysterious hotel, discussing... NO! They have to discuss among themselves during the ten days, but the last day they have to face the audience, saying "I take the responsibility to say why this one according to me is better than the other." And a cash prize of 20,000 Euros, which will be divided in two between the filmmaker and the international seller of his movie, in order to encourage the circulation of this precise movie in the world.
And to end, describe yourself in three words?
Gosetti: Amused, passionate and diplomatic. Horrible Venetian, I'm Venetian you know, I come from a long tradition of merchants.
All images courtesy of Venice Days (Giornate degli Autori), used with permission.