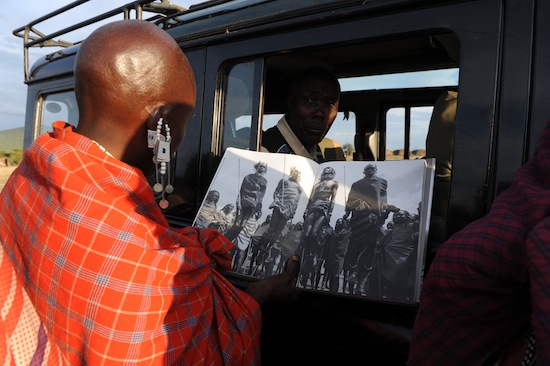 There is a wonderful saying in Italian "prendere il mal d'Africa," which literally translates to "catching the Africa ache." Anyone who has ever stood under an East African sky, sat amidst a group of Maasai women or just simply smelled the Ethiopian mountain air first thing in the morning knows exactly what that is.
But as achy as my heart may have been all these years since my first and only time traveling through Kenya and Ethiopia, photographer Elizabeth L. Gilbert puts my yearning to shame.
You see, Liz Gilbert is currently my favorite heroine because she did it all, with the help of a crew of 12 (including her filmmaker boyfriend), 3 cars, her camera and some Kickstarter funds. What "all" is you'll have to watch The Last Safari to discover.
But what I can give away is that Gilbert is a former photojournalist who reported from the frontlines of the Rwandan genocide and the civil war in Somalia. Soon enough she admits, "I realized my pictures weren't helping anyone, they had no [positive] impact, and I wanted to leave Africa having pointed my cameras at something more beautiful."
So she began traveling through Eastern Africa, documenting the various tribes along the way, their majestic adornments, the customs and cultures that she felt would disappear within our lifetime. Yet she avoided the pitfalls of old ethnographic photography which always portrayed the tribes as some "savage oddities". Ten years later, Gilbert found within her a need to come back to the same places where she had immortalized her photographic treasures and return some of their grace and hospitality, with a never-before done feat: screening her images to a soundtrack of words and music, for all in the tribes to see. This time, she herself would also be the one filmed and photographed.
For many on the vast territories of the Rift Valley from Nairobi to Lake Turkana, this was the very first time they had ever seen a photo of themselves, let alone a giant one on a big screen broadcast for their entire village to the sound of music. And so the premise for a wonderful documentary, The Last Safari, was born.
Gilbert travels with a healthy dose of humor, a great sense of observation and narrates her journey with ease, enthusiasm and knowledge, without ever sounding scholarly. The film becomes as much an adventure for the viewer as it obviously was for Gilbert and her Kenyan crew. Particularly funny bits include her boyfriend Matt Goldman, the documentary's director, editor and co-writer, complaining on camera about his teeth getting "dusty" and Gilbert's own description of her teammates on the road as "more American than the Americans" and better prepared to eat a hamburger and listen to Hip-Hop than traveling through the African bush.
Along the way, she meets those she photographed years earlier, who are now adults. Some of them Gilbert helped put through school, including James who admits that for him "things have changed for the better," only to continue that it's because most in his tribal area have converted to Christianity and lost their culture. But in those rural, poor, difficult parts of the world, the reality is that culture doesn't pay the bills. And so the people adjust, shed their heritage, what makes them unique, for the opportunity to survive, eat, work. It's a sad predicament resonating around the world, making the preservation of culture a nearly impossible race against time...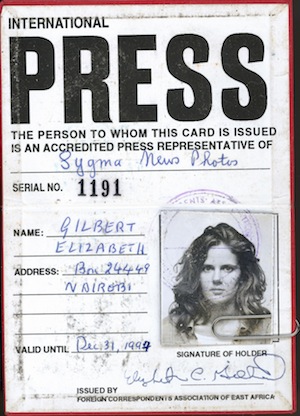 Then, halfway through the film and their journey, there are rains, and more rains. Gilbert quotes an old African proverb, "When the song changes, so does the dance" continuing, "and along with the rain came a whole new dance." Those moments, the way the adventure switches gears and morphs into something completely different, both physically and emotionally, is perhaps at the core of the great message of The Last Safari.
This part of their voyage struck me most because, much as our everyday life, it highlighted the choices we are forces to make that can change our existence, change the game of life at every turn. Sometimes we may not even be fully aware of the results while we grasp their short term impact, struggle to make "the right choice" whatever that may be. For anyone who has ever faced a difficult moment, or grappled with a decision in the blink of an eye, The Last Safari is a must-watch.
Images courtesy of The Last Safari, used with permission