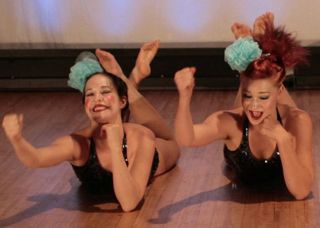 Albert Einstein once said, "Dancers are the athletes of God." As I watched a pair of performers rehearse in a downtown dance studio this past Friday, their enthusiasm nearly palpable and their perfectly coordinated bodies performing impressive acrobatic routines, I finally understood what he meant with that statement. In the process, I also figured out the true meaning behind the translation of dance Muse Terpsichore's name: "Delight of Dancing."
If you think I must have been privy to the exclusive rehearsals of some highbrow national ballet company, or even the local tryouts of an international acrobatic troupe, you're wrong. Instead, what I witnessed first hand in Chelsea will be part of a wonderful upcoming show -- produced and performed by Rachel Sattler and Elizabeth Burwell -- playing this Friday, Saturday and Sunday, March 18, 19 and 20, at the Gene Frankel Theater on Lafayette Street, right here in NYC.
The Merrymakers Present: Adventures in Anytown is a dance show for anyone. Anyone with passion in their heart and a desire for some joie de vivre in their life. The creative forces behind it want their entertaining blend of burlesque, jazz dance, ballet, vaudeville, yoga and gymnastics to reach everyone. All that is required of the audience: the price of admission and a craving for great time.
In the words of Sattler herself:
We really wanted to make dance fun and accessible because we've been part of performances where you'll ask an audience member afterward, "What did you think?" and so many times the answer will be "Well, I don't really know dance..." We really wanted dance to be a legitimate way to tell a story, for the audience to leave after the performance without needing to know the difference between a grand jeté and a first position but absolutely sure they had a great time, they were moved and they got to escape somewhere.
Rachel Sattler is a tall, powerful dancer with great comic timing, able to convey wonderful vulnerability through her movements, and sporting a full mane of red hair, while Elizabeth Burwell is a petite, lithe brunette with impeccable technique, magnetic, sparkling eyes and an infectious musicality in her steps. They are joined in the show by Adam Pellegrine, a handsome dancer with musical theater background, who acts as a stage manager of sorts, albeit a very visible one with great sense of humor to boot. Burwell and Sattler credit Pellegrine as an artistic influence for their show because "Adam has more theater background than us and has been wonderful in helping us figure out how to hit the timing on some things."
While the Merrymakers -- in perfect burlesque tradition the ladies go by fascinating stage names, Wild Red and Lillibelle -- may want to reach the everyman with their dancing, their technique is downright otherworldly and the result of endless hours of dance classes and working as professional dancers. Burwell told me how the creative liaison between her and Sattler started:
We met about six years ago at a dance company we were both dancing for and since then have danced together on and off, doing other choreographers' work. One day -- it had been a while since we both had danced together -- Rachel called saying she had rented some studio space, did I want to come up and do some tricks, dance around and just have a good time. I met her in the studio and we were playing some of our favorite songs; one of them happened to be "Milord" by Edith Piaf. Before we got out of that one hour and a half rehearsal, we had half of a dance choreographed. It is now the finale of this show, the first thing we ever choreographed together. The name of the piece is "Act 1, Scene 1" because it is where it all started.
Adventures in Anytown is influenced by the style of burlesque, which in its heyday inspired French novelist Colette, who even performed on the stage of the Moulin Rouge. Since 2010, this vivacious blend of pantomime, dance performance and variety show has seen a resurgence in movies. From the forgettable Cher vehicle Burlesque to Mathieu Amalric's (yet unseen in the US) film On Tour based on Colette's published account of her time in Burlesque titled L'Envers du music hall, this performance style is here to stay.
But while Sattler and Burwell are quick to point out that their show is not an all-out burlesque review, they did want to keep the flavor of this discipline in its prime -- circa the Depression -- because of our own present dire economic times. With songs like "Il Pescatore" by Bizet -- sung by the inimitable Beniamino Gigli -- and Louis Armstong's version of "La Vie en Rose", as well as, of course, Piaf's "Milord," the song that started it all for this duo, The Merrymakers successfully impact the audience with a blend of comedy, drama and poignancy.
Finally, the performances are accompanied by a background video which fills the audience in on the nuances of the story and allows the dancers to change between routines. Shot and edited by Ethan Duff, the film never subtracts from the dance but enhances and entertains, during those times we would otherwise miss Burwell's and Sattler's lovely presence on stage.
In the words of Adam Pellegrine, when I asked him to describe the show in three words, The Merrymakers Present: Adventures in Anytown is a "comical, fantastical journey!" For tickets, go to BrownPaperTickets.com.
Photo by Eric Bandiero, courtesy of The Merrymakers