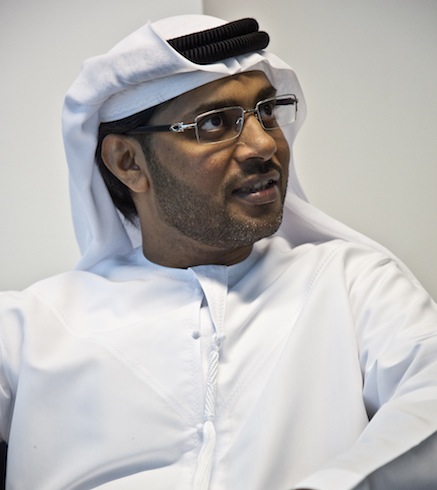 In just a few days from now, on Tuesday, October 1st to be precise, at a press conference to be held in the stunning Emirates Palace overlooking the Arabian Gulf, the programmers and Ali Al-Jabri, Director of the Abu Dhabi Film Festival, will announce the program for the seventh edition of the 10-day-long event. This year, the festival will, without a doubt, include great films, cool conversations with filmmakers and actors and, I'm getting a hunch from their Facebook page, some incredible international celebrities.
Personally, I adore the cultural and intimate atmosphere of ADFF and look forward to this announcement with bated breath. But I am also ever on the lookout for the human touch behind a great organization, as groundbreaking initiatives never form themselves, but require the work of many talented and visionary individuals. Last year, Emirati filmmaker and actor Ali Al-Jabri took over the position of Festival Director at ADFF, and I've been trying to interview him ever since. I'm sure I looked like quite the stalker, approaching Al-Jabri in Dubai, during the closing night reception of the Gulf Film Festival, and again in Cannes during, well, the entire festival. But I knew behind his public persona, always interested, incredibly humble and so wonderfully representative of great Emirati culture, there was a special story. If only I could get him to open up.
Then I realized that the best way to know someone sometimes has nothing to do with long, intricate, well-researched questions, rather in allowing that person to shine through their own very instinctive likes and dislikes. So I put this theory to the test with a game of "Chinese Portrait", a form of "Twenty Questions" and asked Al-Jabri to describe himself, by allowing him to put forth and answer twenty-eight simple statements. I think his choices shine the light on an exceptional man.
My favorite virtue: Helping young filmmakers fulfill their potential
The quality I prefer in a man: Easy going
The quality I prefer in a woman: Politeness
What I appreciate in my dearest friends: The fact that they understand me and are very helpful in times of need
My favorite motto: The grass is not always greener on the other side
My favorite curse: Gold Help Me
My main fault: I only sleep 3-4 hours per night
My favorite activity: Reading, films and football (soccer)
What I would like to be: A person who has influenced the film/media industry to become better, within my country of the United Arab Emirates and the Arab world
Where I would live, if I could choose any place in the world: Abu Dhabi
What I love most about Abu Dhabi: Its peace
My favorite authors: Naguib Mahfouz, Gabriel Garcia Marquez and Anton Chekhov (Tsjechov)
My favorite films: Chronicle of the Years of Embers, Cairo Station, Bas Ya Bahr, Gladiator
The character I would most like to play: James Bond
My favorite quality in a leader: Charismatic speakers
Playing now on my iPod: Bob Marley and Alicia Keys
What I see around my office: Film DVDs, a TV, shelves, computers and festival film guides/catalogue's from around the world
What is my favorite possession: My children
Fiction's favorite hero: the Incredible Hulk
Real life hero: H H Sheikh Zayed bin Sultan Al Nahyan
Real life heroine: H H Sheikha Fatima Bint Mubarak
The person in history that I believe made the biggest mistake: Adolf Hitler
The greatest invention: Internet/Computers
The biggest gift for a man: To find a wife
My favorite thing to do: Travel
How I feel right now: Comfortable
What I think about when things don't go so well: I think of the positives
What I remember when I succeed: How I will continue to succeed
Top photo courtesy of the Abu Dhabi Film Festival, used with permission