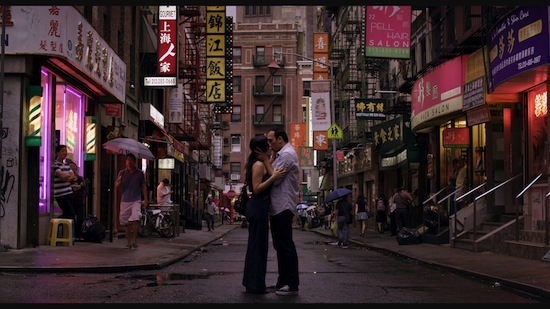 I really like the word "groundbreaking." Of course, it's highly overused, but in the cinematic world I inhabit, it best explains the power of a film, of an idea. And it's exactly those pioneering themes, the courageous actions of filmmakers who believe in the power of cinema to change the world for the better, one viewer at a time, that make writing about film so inspiring for me.
Recently, at the Abu Dhabi Film Festival, I experienced something groundbreaking: I watched Peace After Marriage, a film about a Muslim Palestinian man in NYC who marries an Israeli Jewish girl so she can get her Green Card. Alright, you're now thinking, so what? So what?! Well, aside from the story concept being at the very least incredibly gutsy, the fact that said film, by Ghazi Albuliwi, enjoyed its world premiere at ADFF, a festival in the Middle East, and that Peace After Marriage was favorably received, reviewed and failed to cause a ruckus is a great indication of how cinema is, unquestionably, uniting the world.
But even more innovative is the fact that Peace After Marriage is not one of those serious, deeply absorbing films that, while important, can also be quite a commitment to watch. Instead, Albuliwi works best in light, romantic comedy tones and helps his cause with great humor and wonderful music all framed by colorful, exciting cinematography that highlight NYC at her very best. He also expertly acts in his own film and manages to be charming and moving at once, with a side order of comedic pathos.
I've been following Albuliwi's career since his earlier feature West Bank Brooklyn. Some of the themes he explored then, of non-belonging but not just based on ethnicity, rather because of our own misfit character and how cultural differences can help us if we embrace them wholeheartedly instead of adamantly refusing them, follow through in his second feature. The film was originally titled Only in New York, but after watching it break down the world of sensitive politics -- the film will be featured next in the Jerusalem Jewish Film Festival on November 30th! -- I'd say "Only in This Film" would be a better title. Peace After Marriage was co-directed by Bandar Albuliwi, Ghazi's brother.
I caught up with the quick-witted, ever insightful Albuliwi and he explained his choices, his journey in making Peace After Marriage and managed to impart a few life lessons in the process.
What inspired you to work on this particular story and was there a specific moment when you knew you just had to make this film?

The seed for this story came to me while I was sitting in a cafe one day in Jerusalem. I was sitting writing some ideas for a possible comedy script that would take place in New York City. I noticed a table of Israelis laughing nearby and at that point I was hit with the sudden urge to write something that someday they would laugh at. And for me, more importantly, laugh at something that would make them reconsider their prior feelings about who an Arab is minus any negative image. I have always believed that laughter has no countries, borders, or religious barriers -- funny is just funny. Call me idealistic but at the moment, sitting near these Israelis I said to myself "Write a movie where they would laugh and forget you were Arab." I guess my film was a social experiment of sorts. Can funny just be funny without political, cultural and religious strings attached? Can I write a film where Arabs, Jews and the rest of the world all laugh without having to think about the past wars and violence attached to these two religions? I guess it was at that moment that I felt I had to try and see if I could make a movie that would accomplish this idealistic dream of mine. I think art has the power to make you question your feelings in a subtle, but powerful way.
This project went through the Tribeca All Access program at the Tribeca Film Institute, where the script won "Best Script" and money to make the film. How long was that process and how did you get the additional funding?

The process to shoot the film was pretty fast. We won the award in April or May [2010] I believe and we were shooting on location in New York City the first week of July. The funding started with the money we won from Tribeca and then Faruk Ozerten, my producer, gathered a group of investors led by Arin Cetin, a Turkish investment banker at the time who became a major investor and is credited as executive producer. Additional funding occurred in post-production and that is where the Paris based Good Lap Production came into the picture. They provided post-production finishing funds and helped us complete the picture -- music score included -- in Paris.
Was there ever a moment you thought you were making a film that was too controversial and what were some of your deeper doubts?
Honestly at no moment as I was shooting this film did the controversial element pop into my mind. I was shooting a comedy on the streets of New York away from the politics of the Middle East. That is the great thing about living in New York City which is a cultural melting pot. People from all over the world learn to live with each other minus their prior feelings back home for the most part. So I guess I never had any doubts. The only doubt I had was will an American audience find this film funny, connect to them and pay money to go see it at the cinema? I am still waiting for that answer, so that doubt remains.
The film premiered at ADFF and now will be screening at the Jerusalem Jewish Film Festival, which are both pretty groundbreaking screenings. What were some of the challenges you faced when submitting the film to festivals, both in the Middle East and around the world? And how did ADFF choose the film?

The challenges via film festivals have been a fascinating realization for me. Fascinating in the sense that programmers that have decided not to program the film have done so because they felt this story wasn't in the realm of what Arab cinema should be and not how the Palestinian/Israeli conflict should be portrayed. I play a Brooklyn Palestinian-American sex addict who marries an Israeli in need of a Green Card to stay in America. The film is a New York comedy. The few programmers who were honest enough to express why they did not program this film felt it wasn't a film that they felt comfortable showing because of how I portrayed Arabs. There has never been a film like this from an Arab and I think some of them were either offended, unsure or scared to program it. Subjective feelings I guess play a big part in film festival programming. I was idealistic in thinking funny is funny and a good story is a good story. When I heard that the Abu Dhabi Film Festival was going to program the film I thought it was a joke. Hiam Abbass, who plays my mother in the film told me the head programmer of ADFF Teresa Cavina had run into her at the Venice Film Festival and told her how funny she thought the film was and that she and festival director Ali Al-Jabri were going to include it in this year's festival. Again, ADFF saw the humor where other festivals didn't. I owe them a great deal of respect for that and a lot of appreciation. I should mention that the film has sold out every festival screening it has played -- the 37th Mostra Internacional de Cinema in Sao Paul Brazil, the 35th Cinemed International Mediterranean Film Festival in Montpellier, France (where the film won the audience award and me, best actor), and the Abu Dhabi Film Festival, where it got a good review from Variety.
Palestinian superstar Hiam Abbass plays your mother in the film and she's also credited as a producer, can you talk about how she came on board for your film?

Hiam's manager Michael Lazo in Los Angeles was sent the script. They both read it and found it funny. She hardly ever gets comedy scripts and was very interested in doing one. I guess good timing and a good, funny story brought Hiam on board. She's very funny in real life so my sense of humor appealed to her. Lucky me.
You offer a funny, charming, but insightful solution to the Palestinian Israeli conflict. What are your own views for "solving" or resolving the issues?

Sexual Jihad. That is my solution. One big orgy between the Palestinians and the Israelis where both sides forget about the conflict and release all the hostility they hold for each other through sex. Israeli checkpoints would come down, the Wailing Wall and the Temple Mount would turn into theme parks, and religion would be an afterthought. That is how I would resolve the issue but then again I am an idealistic guy who doesn't judge someone by their religion or culture. I think this answer is going to get me into a lot of trouble...
If you could see then what you've gone through with Peace After Marriage, would you still make this film and why?
Yes, one hundred percent I'd make this film again. Look, for me making films and writing comedy is about honestly expressing myself. That is a very hard thing to do as an artist because you are afraid of revealing your wounds to the public. So, when you can tap deep down into yourself, of who you really are that is rare and is to be respected. I truly feel I tapped into a deep feeling while writing this film -- who I am as an Arab-American, what it means to be part of a cultural and religious conflict and feeling helpless in wanting to change the pain of living through it. And putting all that aside, at the end of the day, I'm a single hopeless romantic living in New York City.
Image courtesy of PAM LLC, used with permission