"Art is a microscope which the artist fixes on the secrets of his soul, and shows to people these secrets which are common to all." Leo Tolstoy, from his diary.
Art, like beauty, lies in the eye of the beholder. But even more importantly, art resembles love, in that one has to be open to it to receive it. If someone had stated ten years ago, when I first visited Dubai, that the Emirate would one day become a global art destination, I would not have believed them. At the time, the city seemed immersed in plans to outshine and outdo all major metropolises and it appeared as if their motto was "bigger, better, more golden and glamorous."
Yet in the last couple of years, perhaps having personally delved deeper into the society and customs of the Emirates, I increasingly find in Dubai a hub for art, music, film and culture. A nurturing place for artists of all disciplines, all nationalities and from all walks of life. It's no coincidence that my artistic familiarization with Dubai has coincided with an initiative started five years ago by H.H. Sheikh Mohammed Bin Rashid Al Maktoum, UAE Vice-President and the Prime Minister and Ruler of Dubai. The Dubai Culture & Arts Authority is now under the Chairmanship of his son, H.H. Sheikh Majid Bin Mohammed Bin Rashid Al Maktoum and the initiative has brought worldwide attention to local artists, filmmakers, musicians and writers.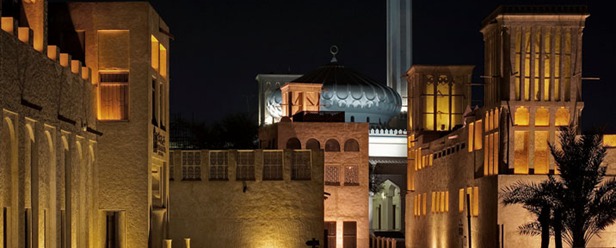 Five years after its inception, Dubai Culture is marking the date with an extensive repertoire of cultural and artistic initiatives. The last five years, in H.H. Sheikh Majid's own words, have "strengthened the city's national identity and cultural infrastructure." Not an effortless task considering that Dubai is home to more than 200 nationalities, each with their own cultural fabric and ideas of what "ART" means to them. The concept is also helping to achieve the goals created in 2007 when the Dubai Strategic Plan 2015 was released. In common terms, the DSP 2015 addressed the needs of this varied population, by creating a sense of community and belonging through urban planning, business practices and of course, artistic initiatives.
SIKKA 2013 is one of the great showcases growing out of Dubai Culture's Art Week, and will be held from March 14 through the 24, in and around the Al Fahidi HIstorical Neighborhood (pictured left). This multimedia art fair, featuring a repertoire of entirely commissioned work, draws its name from the alleyways between the historic houses of Dubai and will feature outdoor film screenings, live music and entertainment, cultural walks, talks, workshops and of course, lots and lots of art.
In the words of H.H. Sheikh Majid "This is an opportunity for the world to explore the artistic achievements in the city, interact with our artists, and further promote the spirit of intercultural dialogue that defines Dubai's identity." I believe that it is indeed through art that we'll eventually create a bridge to unite us all and Dubai Culture's mandate fulfills everything needed to make that day, that wish, a much nearer reality.
Check out the slideshow below, for a closer look at some of the artists and initiatives included in SIKKA 2013.
All images courtesy of Dubai Culture & Arts Authority, used with permission