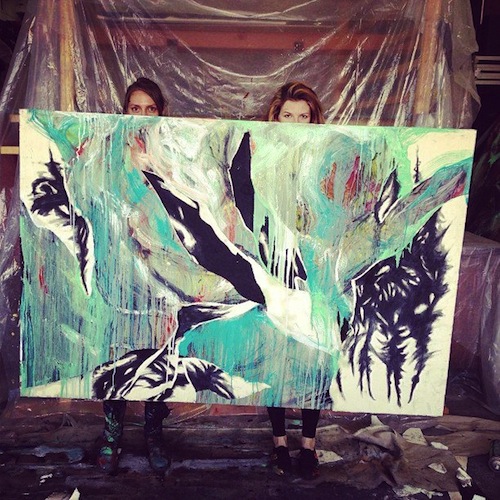 There has always been an unspoken connection between visual art and music. We know that Pablo Picasso must have listened to Eric Satie, Manuel de Falla, Igor Stravinsky, Claude Debussy and Darius Milhaud, because of the stage designs he created for their works. We easily associate Henri de Toulouse-Lautrec with Jacques Offenbach's can-can from the Moulin Rouge and Édouard Manet with the music of the Folies-Bergère. Among the contemporaries, German artist Martin Klimas has been visualizing famous songs by Pink Floyd and Miles Davis with paint splatters.
It is in this vein that Bushwick-based artists Alessandra DeLaCruz and Sarah H. Reynolds have paired up with headphone company Sol Republic and artists' superstore A.I. Friedman to present an interactive exhibit titled "Sound+Image" that couples music and visual art -- opening Wednesday, June 26th at the Lounge @ WeWork in NYC.
Reynolds was inspired by her mentor to create a series of pieces while listening to only a single genre of music, and from there everything started. Sol Republic came on board soon after, the space was found within the extra cool surroundings of the WeWork on Lafayette, and even a playlist was created, to coincide with the exhibit and get everyone in the mood.
The "Sound+Image" playlist curated by DeLaCruz and Reynolds on SoundCloud will also be available at each station of the show through custom-fabricated Sol Republic headphones, which feature images of works by each artist on the headband. By combining optical and audio components in an interactive setting, viewers will be given a chance to reflect on Reynolds' dramatic black and white charcoal drawings and DeLaCruz's bold abstract paintings.
Of course, that the two artists also happen to be extremely photogenic doesn't hurt, especially when a video is commissioned to show the work behind the work. The "Sound+Image" video is made by videographer Ashley Maas and captures their process in a time-lapsed music video featuring a track by the Neon Knights, produced as a response to the work.
During the opening reception, all 11 custom-made headphones by the artists, manufactured by Sol Republic, will be available for purchase and the proceeds will go towards starting an after-school art program at the East African Center, an organization in rural eastern Kenya where DeLaCruz recently volunteered as an art teacher.
See a few of the original artwork and corresponding headphones in the slideshow below.
PHOTO GALLERY
Alessandra DeLaCruz and Sarah H. Reynolds: Sound Image
All images courtesy of the artists, used with permission