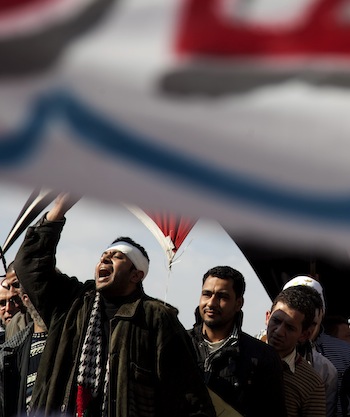 Regardless of whether or not we approve of their choice, the recent elections in Egypt were historic. For the first time, the Egyptian people chose a president through a democratic process of voting and their choice will now guide them into a new era for their country. And it all started as a revolution, little more than a year ago.
Personally, when I hear the word "Revolution," I think of big crowds and loud places. Yet in Stefano Savona's Tahrir: Liberation Square, Egypt's 18-days-long world changing uprising in Tahrir Square becomes an intimate gathering, a collection of images, of people frozen still within the chaos and silence punctuated by the sounds of rocks falling, protestors chanting slogans and the call to prayer.
There have been at least a half dozen films on Tahrir since the now historic events of 2011, including one titled 18 Days comprised of ten narrative shorts by a group of Egyptian filmmakers, one on four youths shown going Back to the Square a year later, and one on the day to day events of the Revolution as seen through the eyes of a popular blogger titled Words of Witness. Yet Savona's film stands out, in its simplicity but also through its familiarity. It is perhaps because of his own unfaltering admiration for the place and its people.
Savona himself is an Italian filmmaker who has been living in Paris the past eight years for one main reason: to facilitate making documentary films. He's gone away from the Italian cinema scene which he candidly calls "almost dead" and been welcomed into a landscape that facilitates and finances "creative documentaries" in France. There, he has formed a production company called Pico Films with his editor-slash-girlfriend Penelope Bortoluzzi. But since childhood Savona has always felt an affinity with the Arab world and in particular Egypt. At age five he declared he wanted to be an Egyptologist and at age 20 he achieved his childhood dream when, as part of his university studies, he got the opportunity to work in Egypt as an archeologist.
So Savona found himself in Egypt in the early '90s, during what he says was "the turmoil connected with the First Gulf War," which was a culture shock for him. He soon forgot he was there to be an archeologist and admits he began "losing myself in a way, losing interest in the old things and becoming much more involved in contemporary life, politics and the people."
It was this obvious interest of Savona in Egyptian politics coupled with his own admission that Cairo has always felt "like a very intimate place for me in general" which compelled him to jump on a plane just days after the unrest began on the 25th of January 2011, and hit the ground running in Tahrir, where he began filming on the sixth day of the revolution -- lightest camera in tow and no crew. He had pondered first going to Tunisia when the unrest began there, because that too is a place Savona feels "very near to, because it was the first place I went to shoot a documentary" and there is anyway such palpable affinity -- and shared history -- between Sicily (where Savona hails from in Italy) and the North African country. But for Tunisia he could not manage to leave his work behind.
Yet after days glued to Al Jazeera, the various channels and trying to call his friends in Egypt -- none of whom were answering because the telephones were not working -- Savona imagined getting "back to Cairo after the revolution" or perhaps never being able to go back to Egypt after "having been there so many times and missing its most important moment" in modern history. It was at that point that the filmmaker said to himself "OK, I have to stop pretending that I have something more important to do" and bought a ticket for the next day. Destination: Egypt, or more precisely Tahrir Square.
What he found there was the familiarity of his past experiences with the Egyptian people, and that feeling he's been accustomed to on the streets of Cairo. He explains that "although it is a messy and crowded city" ever since he started going there in his 20s, "I was never scared, I have always felt at home in Egypt." On his very first sojourn he remembers that he would "go out at night to the very popular neighborhoods, full of equipment and never had any problems." In fact he went home thinking "Cairo was the safest place in the world."
Even during the days of the revolution, it was not in Tahrir where people were being attacked and onlookers were getting hurt. Savona confirms "I knew I would not have any problems in Tahrir Square and actually almost no one had problems during the revolution in the square itself. Out of the square, with the police and the soldiers, it was a different story."
What really set apart Tahrir: Liberation Square for me were the direct and to the point messages delivered by Savona, his trio of featured Tahrir participants -- Elsayed, Noha and Ahmed -- and the occasional voices he spotlights throughout his thought-provoking film. At times casual, but mostly downright gripping, he fills his portrait of a country moving through historic times with haunting images of protestors hurt, dramatic messages by young voices of truth and even the words of the Tunisian "poet of the revolutions" Abu al-Qasim al-Shabbi:
"My goal, once I have set it,
And put aside all caution,
I must pursue to the end.
Whoever shrinks from scaling the mountain
Lives out his life in potholes."
Finally, to explain the title of this piece, it turns out the favorite provider of sustenance during the revolution was none other than good ol' Kentucky Fried Chicken. There is something wonderfully familiar about a crowd of people on the other side of the world eating the same fried chicken that is available right here in NYC. The power of globalization, as seen through romantic eyes, I guess.
Tahrir: Liberation Square played in NYC at the Maysles Cinema and is currently playing in film festivals around the world. It will screen next in Hanover, New Hampshire and San Francisco this July, and is available on DVD with educational licensing through Icarus Films.
This post was previously published in The Arab Review.

Image courtesy of Icarus Films, used with permission