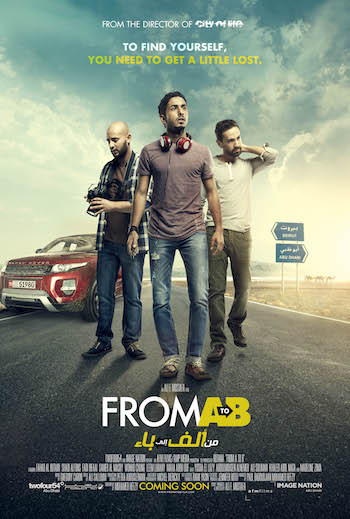 Each year around the time when the evenings get nippy and the leaves begin to turn in NYC, I feel a special kind of giddiness overtake me. It's like sensory overload, my stomach is aflutter, my mind gets easily intrigued and my eyes become more focused. I know the Gulf film festivals are just around the corner, and will soon envelop me in their charm and hospitality.
This wondrous season of endless possibilities kicks off with the Abu Dhabi Film Festival where, from October 23rd to the 1st of November, it's time once again for some magnificent movie watching, some life-changing interviews and the all around welcoming atmosphere of my favorite region in the world.
A very distinguished colleague, and good friend, was recently asked to write a piece for a renowned publication about the insecurities of attending film festivals in the Arab world, at this time of ISIS in Iraq, the raging civil wars in Libya and Syria, as well as the disastrous last few months between Israel and Palestine -- just to name a few. We emailed each other about it, baffled at the idea, since we're both very familiar with the region. While in the cinematic world there may be boycotts or embargoes, there is seldom life-threatening violence. Unless you're a Syrian filmmaker, then all bets are off, but honestly, the Gulf may be regionally close, yet millions of miles away culturally and politically from the conflicts of the current hot zones. Although, I hate to admit this, the tension is definitely beginning to be felt in Dubai. More on what I mean with that in the days ahead...
Now back to the more important business of the Abu Dhabi Film Festival. I always look to ADFF, the Dubai International Film Festival in December (and now their younger cousin the Ajyal Youth Film Festival in Doha) to hold up a mirror to society, help explain within me the puzzles of humanity and refuel my passion to help filmmakers create bridges across cultures. It's what ADFF and DIFF, these two wonderfully different festivals -- Abu Dhabi so intimate and couture, and Dubai so extensive and glamorous -- do best. As the catchphrase for this year's ADFF goes, they tell "a world of stories." Our world, our stories, for us, humanity.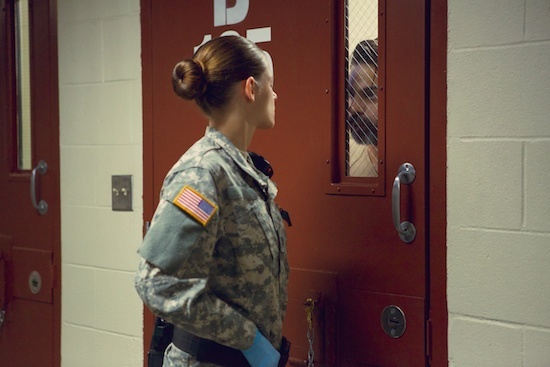 Kristen Stewart and Payman Maadi in a scene from Camp X-Ray
This year the festival, powered by the Abu Dhabi media hub for all things great twofour54, kicks off with a groundbreaking film. Ali F. Mostafa's From A to B is more than a great project -- about three friends who discover themselves, their bond and their strength on a desert road trip from Abu Dhabi to Beirut -- it's a cinematic achievement. The first Emirati film to open the festival, co-produced by Image Nation Abu Dhabi, along with Paul Baboudjian and Mohamed Hefzy, with a screenplay by Hefzy himself, and starring a who's who of edgy, contemporary, Arab and international actors, From A to B is a dream come true. For someone like me, it's the kind of film I've been looking forward to since it was first announced during Cannes, in 2013. You know, like that chomping at the bit, turn blue from holding my breath waiting for it kind of feeling.
ADFF will close with Disney's highly anticipated Big Hero 6, which will be screening just a week after the film's official premiere in Tokyo. I look forward to the family atmosphere on closing night actually, and hope the UAE comes out in style, as they typically do, with lots of children in tow. Because a family movie must be watched with families, it's as simple as that. Even screaming kids running up and down the aisles are very welcomed by yours truly at a family film.
ADFF will also host a variety of great panels, such as the unmissable "In Conversation with Rachid Bouchareb" the Oscar-nominated French-Algerian filmmaker of Outside the Law and Days of Glory, who will be receiving a Lifetime Achievent Award at the opening night ceremony for the festival. There will be a co-production panel, an Aflamnah workshop on crowdfunding hosted by brand ambassador and Emirati filmmaker Nawaf Al-Janahi, an evening with actor and musician The Narcicyst (AKA Yassin Alsalman) -- who first hip-hopped onto my radar when I watched his impressive cinematic debut in Ali Mostafa's City of Life -- and much, much more.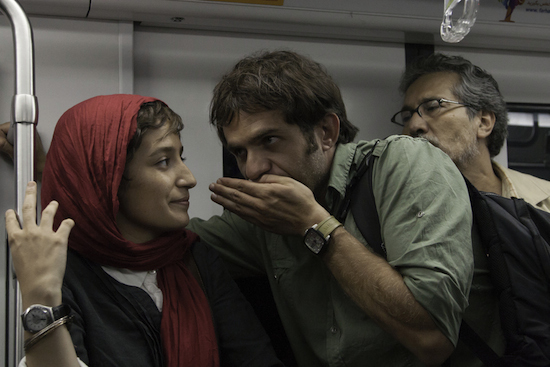 A scene from Rakhshan Banietemad's Tales
But in between, there will be amazing movies, loads and loads of them. Movies such as Iranian filmmaker Rakhshan Banietemad's eagerly awaited return to narrative Tales, which left me breathless in Venice, Ramin Bahrani's latest 99 Homes, again a personal favorite in Venice, Leviathan, which just won best film at London's BFI fest, the Angelina Jolie-produced Difret, the devastating The Look of Silence, the poetic Bengali film Labour of Love, the apocalyptic Return to Homs, Kristen Stewart's critically acclaimed latest Camp X-Ray and way too many to list all. In total 197 films from 61 countries, with 9 feature world premieres and 48 short films world premieres.
Last but not least, there are those SANAD-funded projects, in total ten films which received development and/or post-production financing from the funding arm of the Abu Dhabi Film Festival. Among them, the stunning Theeb, which for the record I still refuse to call a "Bedouin Western" as most have been describing it in the media, Ghassan Salhab's The Valley, the documentary Queens of Syria, and the Palestinian documentary The Wanted 18. The latter promises to explain the mysterious, at least on paper, concept of "Intifada milk" and why a group of cows were declared by the Israeli army to be a "threat to national security."
Oh, and this year's I'm serving on the only kind of jury duty I like, although I imagine that choosing one solo, single little film from the list of 18 titles nominated for the NETPAC (Network for the Promotion of Asian Cinema) Award will be challenging, considering the quality of the films competing. It's a tough job, but somebody's gotta do it, right?!
All images courtesy of the Abu Dhabi Film Festival, used with permission