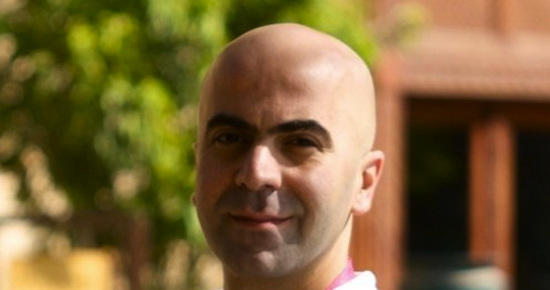 Put me on the spot, go ahead. Ask me to name my favorite company, for marketing, distributing and all around encouraging great cinema from the Arab world and I'll answer, without thinking or blinking: MAD Solutions, of course! With cinema journalist and analyst Alaa Karkouti at the helm, co-founder Maher Diab and MAD partners Abdallah Al Shami and Colin Brown, they are ready to change the way we look at cinema in the MENA region, but also the way audiences watch Arab films, at home and around the world.
Part of the greatness that is the Festival de Cannes is that you can count on the entire movie industry to descend upon the Croisette for those 10-odd days when the event is in full swing. Announcements are made, bonds are created and, my favorite part, I get to reconnect with some of my favorite people. Exactly what happened with Karkouti on a sunny day, when we sat outside, across from the Palais de Festival and he caught me up on all the excitement that is to come for MAD Solutions.
This includes the wonderful news that the company will be distributing Hany Abu-Assad's stunning film Omar in Egypt, the GCC (except Saudi Arabia), Lebanon, Jordan and Palestine, with more countries to be announced, starting in August. The company has also created a partnership with Front Row Filmed Entertainment (read Gianluca Chakra's profile here to find out more) to distribute international films in Egypt, with the first being The Double (produced by Amina Dasmal), The Wind Rises and Dom Hemingway. And MAD has at least eight new Arabic titles slated for distribution in the next 12 months.
I asked Karkouti to disclose the secret of his company's success but also talk about the rewards and challenges ahead for a brand that is groundbreaking and pioneering, in what they do but also their approach to doing it. His answers are a wonderful insight into a man who defines success, on every level.
MAD Solutions is a concept that never existed in the Arab world, marketing, publicity and distribution all under the same roof. When was the moment you knew you needed to occupy this very large gap in the industry?
Alaa Karkout: When you work in an industry, whatever industry, and you start exploring it, it means you start to work on as many elements from this industry. For me personally, I worked in production, distribution, I managed theaters, and opened two theaters in Egypt and I even took an acting course and acted in some Egyptian films. It made me understand more the market and that's how I started writing about the film business.
At the end, as a journalist, you have a full picture, which is why by the way, you will find many people now handling companies, distribution or production companies internationally, with a background in journalism. They wrote about cinema before they worked on the market side. As an example Mike Goodridge who was chief editor at Screen International recently became the CEO of Protagonist Pictures, one of the biggest distribution companies.
There is a huge gap in the Arab film industry. I was visiting every company every week, watching almost every movie in cinemas and this makes you immediately see the gaps. When I discussed it with the co-founder of MAD Mahed [Diab] we worked on the idea till we reached what we needed, first of all marketing and publicity for the films in the region and around the world. Something simple, something like not having a press kit, it was weird to even have a press kit, which is publicity 101. Of course you need to position each film simply. And also when they release any film in the Middle East, it's the same template: trailer, outdoor poster, some premiere and then they leave it. It's by luck if it achieves box office success, or not.
You cannot implement an international model and that's it. It's different thinking, different culture, and a different level of living. There is no luxury for people to decide oh this weekend I'm going to explore the arts. Most people in the Arab world they are not even covering their lives' basic costs. We need to understand this first, to approach the audience.
This is where the GCC and the rest of the Arab world differ from each other. Egypt there isn't expendable income whereas in the UAE going to the movies has become a true culture.
Karkouti: Exactly, imagine the UAE with a population of only 5 million people and last year they made $140 million! In movie revenues. It means everyone is going to the cinema. But we cannot make the GCC a model, yes it's growing, but it's rare in the GCC, except in Saudi Arabia, to see older people, older than 50, living in those countries. That's why you have the main target for movies, the teenagers, the young people who want to go every weekend. We cannot build an industry on what's going on in the GCC, because there are expats, endless nationalities there all watching films. You don't have a core audience to play with.
Away from the GCC, in Egypt and Lebanon for example, it's a difference audience structure. We're still learning of course. Which is why it's MAD Solutions! We don't have answers for everything we're still exploring.
For Mohamed Khan's Factory Girl, we tried to have different posters targeting Egypt and targeting the UAE. In all the GCC material it was clear it was subtitled in English and we showed bilingual posters, bilingual posts on social media. The Egyptian campaign was only in Arabic. In the GCC we want to attract an international audience.
You bring up Factory Girl, a film like no other. Factory Girl was so different from typical Egyptian cinema which I may not be attracted to. A groundbreaking film to a new Egyptian cinema that I may get into, look forward to watching. But marketing could have proven challenging, no?
Karkouti: You could not say from the director of so and so, or the producer... You didn't have selling points. Even if you have a star... It was only known for the Egyptian market. In the GCC there are maximum two stars who you can bank on from Egypt. The rest it's random.
But I think, in any career, if you want to make a big change, you have to be in love with your work.
Which is why the industry isn't growing as much as it could be, because a lot of people are dealing with it as a business, pure business or they're doing it out of exploration. But you have to be in love. Like you are entering a wonderland. Till now, I'm a kid, it's like a movie. I save everything from movies, posters, press kits, my movie tickets, anything. To get inspired. It's not only about implementing models but creating something new. We are trying to do this.
Most Arab filmmakers are working based on international standards, as an audience. And they're not making films for the Arabs to relate to. You cannot blame an audience. At the end, most of the population has a terrible education, there is no culture of cinema, they are reading almost zero. The quality of the TV content is terrible.
What are some of your marketing strategies?
Karkouti: Nobody was working in this industry on a long term vision. Only complaining nobody is going to the movies. They are counting on a cocktail of formulas that are not working.
In Egypt they print a lot of 35 mm copies and there's no reason for that. With Factory Girl for the first time ever, it was only in 19 screens and there were only three 35 mm copies. It's not about a wide release and a lot of 35 mm copies, even if the film makes money, it should not be more costs on the film. And we counted on publicity, not direct TV advertising.
We use test screening to understand, because ultimately it's an unknown market. What we do, it depends on the ready material, but we have three elements. We start with the trailer, the poster and then the film itself. In between, there's a questionnaire, then at the end we open a discussion after they fill the questionnaire. It's a huge help at least to know what budget you are working with, your estimated revenues.
The test audiences are based on people we know through our team and in time it became also through our Facebook page. We asked people to apply not knowing which film they would get to watch. And we ask people to come without knowing the film, we try our best to keep it confidential. It helps big time to understand. This is what happened with Ahmed Abdallah's Rags & Tatters, on a smaller scale, it had only 7 screens and cinemas made really good revenues. For another three weeks.
Rags & Tatters in one week on 7 screens, made 140,000 Egyptian Pounds. It's not only about throwing the film in theaters, not about having a premiere a day before the film... We premiere at least a week before the film and have media days. You need to create a buzz. Most different films, alternative film we try to push in the market in different ways. At least to find a space for these films. And we're getting the trust of theaters.
After the success of Rags & Tatters they know, they trust us.
Top image courtesy of MAD Solutions, used with permission