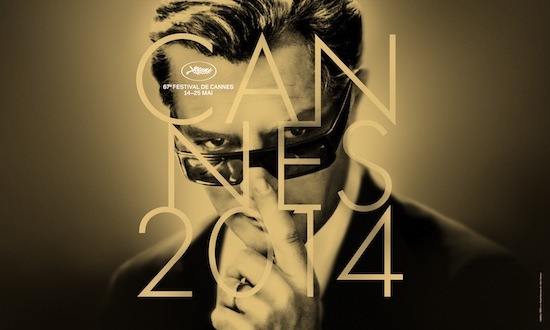 I've promised myself to write each and every day of the Festival de Cannes, at least a short wrap-up of the day, if not a more in-depth kind of "review" of a movie I like. Even if I don't really do reviews, I only write about what I love. Life is too short to spend hours tearing someone else's work to bits, and honestly, who am I to do so? I'm an audience member first, a lover of art and cinema with a conscience second, and a critic last. Way at the bottom of the ladder.
So, if you're looking for reviews, there are brilliant men and women out there who do it all beautifully. Like Manohla Dargis who gives me goosebumps when I read her wonderful writing. But if you're looking for highlights, fun tidbits and a slightly different way of looking at the grandest film festival in the world, you're in the right place.
Looking at the program for Cannes, one can easily get overwhelmed. Perhaps another great plus of not being a critic is being able to schedule dinner meetings with filmmakers, attending the countless cocktail parties in the afternoons, catching up with all my cinematic friends who will converge on the Croisette for those 12-odd days and visiting Cannes. I did that last year and what looked on paper like an incredibly stressful event turned out to be magically fun. Because nobody does it quite like Cannes.
Last week, I wrote a list for Cinemy, the Dubai International Film Festival blog, indicating what I'm looking forward to most in Cannes. Since then, a couple of new films have come on my radar, as well as great news from distributors and parties that celebrate some inspired filmmaking. Oh, and this is where I'll be doing most of my writing from. Go ahead, try to say I haven't got the greatest job in the world...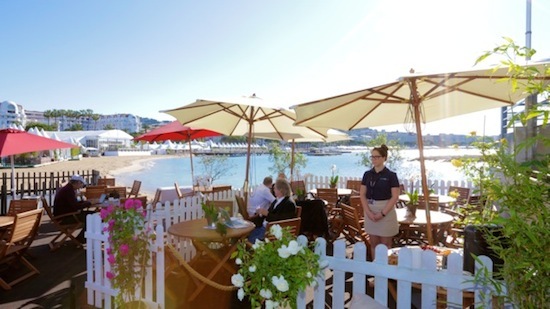 Now that you've had a moment to take in the idillic location, I'll disclose it. It's The American Pavilion in Cannes, which offers amazing hospitality from the likes of American Express and The Peninsula Hotels to stressed-out writers like me. It also features the best WiFi -- I'm guessing thanks to Sennheiser and Lenovo -- some cool refreshments from Coca Cola, Tcho Chocolate and Weaver's Coffee & Tea and boast the hippest crowd this year, thanks to sponsorships by Weinstein Co., Indiegogo, the Hollywood Reporter, Queerty and SAGIndie. And many, many more. Come to think of it, I doubt I'll get any work done.
The Abu Dhabi Film Festival also celebrates at the UAE Pavilion, the fifth year of their SANAD fund. SANAD provides filmmakers from the Arab world support both in the development of project and in post-production. Cinema from MENA being a cause and effort near and dear to my heart, this anniversary is one I'll gladly celebrate along with the great powers behind ADFF, which include favorite interview and festival director Ali Al Jabri. And don't even get me started on the DIFF lunch, which is the event to attend each year in Cannes!
Dolphin Films' CEO Bill O'Dowd will also be in Cannes and I look forward to sitting down with him to find out more about the upcoming Max Steel film, starring Andy Garcia, Ben Winchell and Ana Villafañe. The project, based on the Mattel superhero franchise, boast a script by Marvel Studios veteran Christopher Yost and is directed by Stewart Hendler. While I'm typically not a big action hero fan, this one stars a favorite actor, Garcia, and having grown up on Mattel toys, I think I'll be in those first lines to watch the film when it's released in 2015.
Also new on my must-watch list of films in Cannes is Gett, the Trial of Viviane Amsalem, a courtroom drama screening in The Directors' Fortnight, about an Israeli woman's five year fight to obtain her divorce in front of the Rabbinical Court. Directed by Ronit Elkabetz and Shlomi Elkabetz, the film was edited by Joelle Alexis, one of my favorite editors responsible for the wonderfully fluidity of films like Tom Shoval's Youth and In the Dark Room. Plus, the story makes it sound a bit like the Israeli answer to A Separation, and how wonderfully irreverent that all could be!
Check out "Ten Reasons I'm Looking Forward to Cannes this Year" on the DIFF blog and don't forget, if you're coming to the French Riviera, pack your appetite for film, but also food, fun and fashion.
Top image courtesy of the Festival de Cannes, The American Pavilion photo courtesy of AmPav, all used with permission