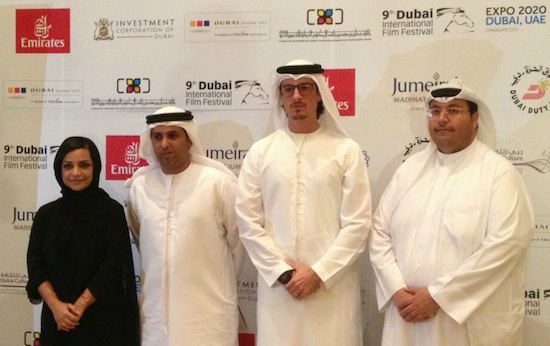 Just what is culture? I mean, aside from that elusive word that gets thrown around a lot these days and means everything from art, to street fashion to tradition. I once read on a wall in Soweto "A man without a knowledge of his roots is like a zebra without stripes" and those words pop up in my head every time I'm faced with someone who refuses to recognize the importance of his or her heritage.
But that is one thing you will not find in the Emirates. It seems like everywhere I turn at this year's Dubai International Film Festival, I'm reminded of how proud Emiratis are to be from this part of the world. Cultural identity is apparent in their national dress, their welcoming attitude and their politely firm observance of traditions. And thankfully, they have strong cultural organizations standing behind them all the way, helping them to spread their artistic wings and extend a proud invitation to the rest of the world to understand and appreciate the beauty of their heritage.
One such entity is the Dubai Culture & Arts Authority, a cultural institution which is part of the Government of Dubai and concentrates on preserving the Emirate's heritage, under the Chairmanship of His Highness Sheikh Majid Bin Mohammed Bin Rashid Al Maktoum. At a press conference this past Tuesday, their Projects and Events Director Salem Bel Youha introduced a new initiative meant to capture the "Soul of Dubai" through the arts. The program launches with a trio of short films to be premiered at the Gulf Film Festival in the Spring of 2013.
The three initial films chosen will be between 15 and 30 minutes in length and will feature fictional stories about the city of Dubai, by homegrown filmmakers Khalid Ali, Nayla Al Khaja and Ali F. Mostafa. Mostafa is perhaps the most familiar to US audiences because his first feature City of Life has been featured in a multitude of international festivals. His project is tentatively named Don't Judge a Subject by Its Photograph and is a story set in Dubai's buzzing art scene, complete with an ambitious gallerist, an opinionated art critic and a talented young photographer.
Al Khaja's project is titled The Neighbor and focuses on the traditionally strong bond neighbors have in Emirati society. She explained that each person is responsible for their "seventh neighbor to the right" which shed light on the sense of community one feels here in Dubai, even while being a visitor to the city. Ali's film rounds out the stories with a film titled Night which narrates the soulful tale of a family preparing for the celebration of Hag Alilah, dealing with their own challenges, joys and sorrows. All the films sound like true insights into the humanity of the city, beyond its skyscrapers, lavish properties and fancy cars.
Mostafa pointed out his own motivation for being involved in this project, the first of many which will then tackle the visual and performing arts and literature. When he's been abroad and is asked where he comes from, in turn he has found himself asking people who have visited Dubai what they thought of his beloved city. Sometimes their reply has been "it's a soul-less city", an idea that only rings true if you've never bothered to actually venture beyond your lavish hotel room and the lobby bar. As Bel Youha said, "audiences on the outside are unaware of the culture of the city" and Al Khaja pointed out that "every city has a soul but it's up to you to find it. You must be fearless about finding it."
Personally, on this visit to Dubai, probably my sixth or seventh, I found culture and heritage at every turn, beyond the dazzling displays of the Dubai Film Fest opening night fireworks and the red carpet lavishness of the galas. I found the true "Soul of Dubai" within the elegance of the Emirati people, their perfumes, their fragrant desserts and their proud hospitality. Therein, I discovered the spirit of a city that feels like home even to those who aren't lucky enough to call it their residence.
Top image of (left to right) Nayla Al Khaja, Salem Bel Youha, Ali F. Mostafa and Khalid Ali, courtesy of DCAA, used with permission