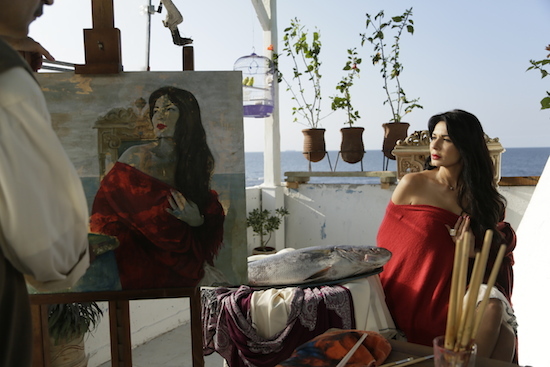 At the press conference for Daoud Abdel Sayed's Out of the Ordinary, starring Khaled Abol Naga, Naglaa Badr and the small wonder that is Mariam Tamer at this year's DIFF, it was interesting to be a minority. Overwhelmingly outnumbered as a member of the non-Arabic media, I finally got to be that proverbial fly on the wall -- of the West. Arab journalists asked away, directing their questions to both the legendary Egyptian filmmaker, but also his stars Abol Naga and Badr. It was fun to be on the other side, to be the one who is "out of the ordinary" for once, and please pardon my pun. But it seems broad assumptions -- like the one I felt called upon to dismiss about the film being unappealing to audiences outside of the region -- and self-serving questions aren't the monopoly of Western journalists.
The highlight was when someone asked the filmmaker about a bikini scene, which has caused a bit of an uproar although I didn't find it to be particularly risqué. Oh, and the bikini was a one-piece swimsuit in reality. The journo wondered if audiences are regressing, being that such a scene would not have gotten any attention in the '50s and '60s. Abdel-Sayed answered calmly, in his husky, unassuming voice that he always makes it "a point to have a bikini scene, alcohol and a sex scene" in each of his films.
Out of the Ordinary as a film may end up being misunderstood, but I believe strongly in its message of love being the one emotion that has the power to make us a little bit magical. All you have to do is experience your own magnetism when some handsome guy or pretty girl has just smiled at you on the street... There it is, the magical power of love. And wouldn't the world just be a better place if we all lived with a bit more love, and magic, in our lives?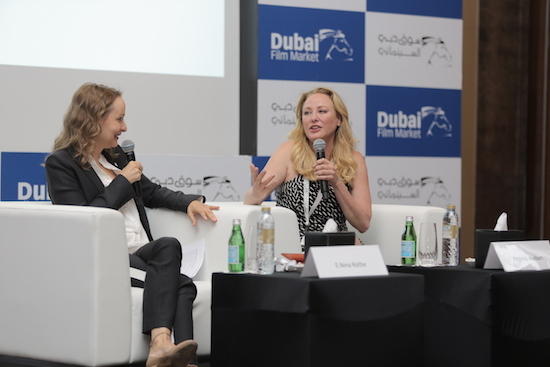 Speaking of love, and superpowers, I have come to believe that Virginia Madsen is some kind of cinematic heroine. Well, she laughed when I called her "super famous" during our chat inside the Dubai Film Market Forum room, open to the public and filled with her admirers. But come on, the woman doesn't age, looks more beautiful up-close that I could have ever imagined and held an audience of men and women, from every part of the world, at a very early hour on a Monday morning completely spellbound for an hour.
And then, just as she had appeared in Dubai, singing the praises of the people and the films in the UAE, she was gone. At the awards ceremony, she wasn't there and I never got to say goodbye, to this incredible, strong woman with the soul of a storyteller. Who admitted that if she had one hundred million dollars at her disposal, she would "start a film fund, for independent projects and documentaries." See what I mean about Super-Madsen?!
For a particularly funny moment in the chat, when Madsen revealed the dangers an actor faces when taking jobs to pay the rent, check out this cool blog by Nev Pierce for Empire Magazine.
The backstage of cinema and TV production has always been a hidden passion of mine. I was always happiest in the wings, even as a child. When it was time to put on our dance recital, I would get lost in the galleys of the very old theater where we would be performing, much to the chagrin of my teacher and fellow dancers. I love the smell of backstage, and that organically developed into a love of the audience seats, inside a darkened movie screening, but also a healthy passion for writing about every aspect of cinema.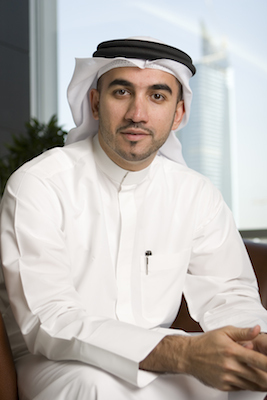 Naturally, because the UAE has become such a destination for film shoots -- both the highly anticipated Star Wars: The Force Awakens and Fast & Furious 7 were shot recently in Abu Dhabi -- I wanted to speak to the head of the Dubai Film and TV Commission, Jamal Al Sharif. I'd met him in the past, in Cannes, at other festivals in the region and once in his office and I was glad to catch up with him again inside the Dubai Film Festival headquarters to get some updates. Ever gracious and very clear on Dubai's place in the world cinematic market, he pointed to the "iconic" look of the city, which demands a certain kind of project to highlight its beauty but also a script that doesn't go against the great principles of Dubai.
Al Sharif explained the fast-growing film and TV industry in the Gulf, and in particular the UAE, where as late as the 1970s it was still taboo for a woman to be in front of the camera:
The shift has begun to move to the next level and that next level is on the horizon. For various reasons it's not too far for us. Maybe it took Egypt eighty years, for Hollywood it's taken one hundred years but it is taking us fifteen at most. There are various reasons behind that, socially, consciously, financially and the education and experience. We like to listen to people, we like to hear how people experienced this in the past, what went right and what went wrong. Going fast in this business is not advised. I have hundreds of people walking into my office, with their scripts asking for money. It's not about giving you the money, it's not even about making the movie. There is always a purpose, why do you need to make this film, why this TV soap opera or drama in Dubai? There must be a motive, a goal, an objective. How are you trying to add value to my country and how are you trying to add value to my people? I don't want you to come with your project, and then the show is rubbish and people will say "look, that's the worst thing that Dubai has done."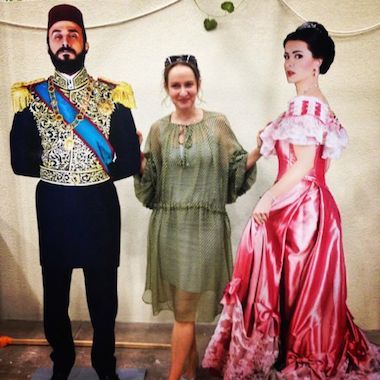 A talk with the Commissioner put me in the mood for a tour of Dubai Studio City. The kind folks at MBC, Stargate Middle East and O3 Productions showed me and a Chinese TV crew around their studios which are used for shooting, post-production and special effects. Once again, I felt intoxicated by the scent of backstage. These are no theater wings of course, but actual state-of-the-art facilities with full capacity to transform anything filmed with a green screen into castles, lakes, 1970s Riyadh and the Dubai skyline, depending on the day and project. We walked through the sets of Second Chance, a telenovela-style drama that has shot 120 episodes in the Studios, and I had my picture taken with the stars of Saraya Abdeen. Well, with their cutouts anyway...
Later in the afternoon, I caught up with the beautiful, talented, intelligent Ahd, the Saudi schoolmistress we all love to hate from Haifaa Al-Mansour's Wadjda. She's a strong filmmaker in her own right, and the director of the upcoming Sandfish, with a script by another favorite filmmaker of mine Annemarie Jacir, based on the novel by Emirati writer Maha Gargash. Ahd is wonderfully open about everything in her life, from her early passion for Madonna, whom she imitated down to singing her song "Like a Virgin" -- to her father's dismay, and her gut refusal of Saudi culture right after 9/11, which she experienced first hand in NYC, where she was living at the time of the attacks.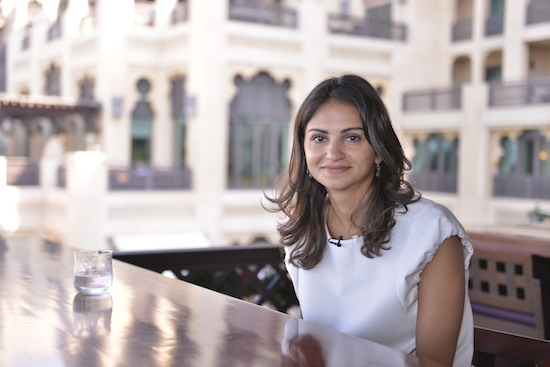 When I asked about her personal relationship with Saudi culture, her answer touched me, deeply:
I think it evolved and changed a lot because in the beginning, growing up there you are obviously very attached to your culture. But then leaving and going to NY and having that kind of break and opening my eyes. I was in NY for fourteen years, I went when I was 17 so it was very formative for me and very eye opening and for a while, especially after 9/11, I didn't want anything to do with where I came from. I didn't want to be a part of that [Saudi Arabia] because I felt it represented oppression and violence and I wasn't that person. I was embarrassed to say "I'm Saudi" because I had no answers for all the things that were going on. I think that's why I went back, and my last film Sanctity was about that, about going back and realizing I don't have to choose either this culture or that culture. I'm of that generation where we're hybrids, we can be of the East and of the West and that's how I came around and I think I made peace. And moving back and living there now I have new eyes, because I'm divorced from the culture.
The night belonged to the Muhr Awards ceremony, at the Burj Al Arab, that famous luxury hotel in Dubai shaped like a sail. Inside, it's even more fantastic than one could ever imagine and to arrive there in a festival car, a white BMW with brand-new-car-smell taken to the max, was truly my idea of Emirati elegance.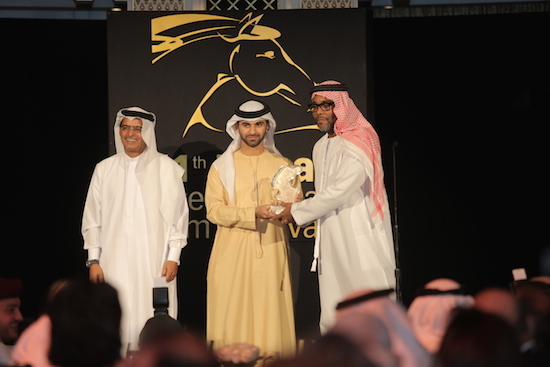 DIFF Chairman Abdulhamid Juma, with H.H. Sheikh Mansour Bin Mohammed Bin Rashid Al Maktoum and Lee Daniels
Scanning the room, I noticed the people I'd seen earlier around Lee Daniels, the beloved American filmmaker who served as head of the jury this year at DIFF. I kept seeing someone in a kandura with red and white keffiyeh, sitting at the jury table, but then the wonderful appetizers arrived and I was distracted. Even after the two plus weeks I've spent in the region, between Doha and Dubai, I still get excited about hummus. Anyway, once the ceremony started and some of the winning films were announced -- special congratulations to cool filmmaker and great guy Rami Yasin for receiving Special Mention for his short film In Overtime -- the man in the thawb and headscarf walked up to the stage. Turned out, it was Lee Daniels himself, paying homage to a country that seems to have changed his outlook on the Arab world!
Earlier in the day, I'd caught a roundtable with three of my distinguished colleagues and managed to ask him what his truth had been while in Dubai. It was a simple question, born out of something he said, "I live for telling the truth" during our talk. His answer was what I live for, when I write:
I'm 55, you think you know everything there is to know. And what I've learned is that I have been brainwashed. That I have been brainwashed since a child about the Arabic culture. I have been brainwashed and I'm embarrassed about it. I'm ashamed.
He continued, when asked about the "alternative" sides of the truth about Arab culture he'd learned while watching the films at DIFF:
They're a peaceful people. That the injustices and the atrocities that have happened are insurmountable. That... America does not lend the support that they should. And it's not right.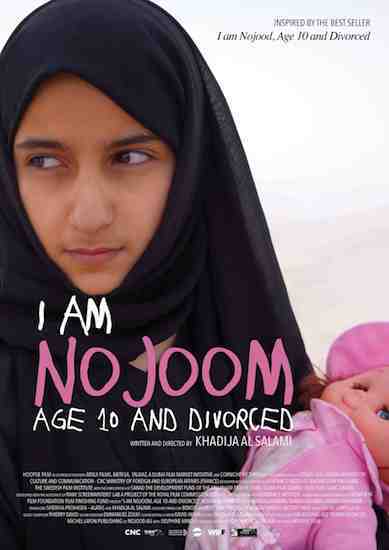 Daniels proudly handed the top prize of Best Muhr Fiction Film to Khadija Al-Salami for her I Am Nojoom, Age 10 and Divorced based on the book by Nujood Ali, written with Delphine Minoui. I found the film fascinating as a study in the practice of child marriage in Yemen, and a testament to the power of the human spirit. But then I also found out that the story of Nujood/Nojoom is the story of Al-Salami, who was married at age 11 and also raped by her more-than-three-times-her-age husband. The way she escaped, and eventually was granted a divorce from her husband was with the support of her single mother but also by finding employment at the local television station, which proves once again just how powerful the seventh art is.
Thank you Lee Daniels, for making this mission of mine -- to unite the world one film, one audience member, one filmmaker at a time -- so much easier. Thank you for the good times and great films Dubai International Film Festival. And see you next year, Inshallah.
All images courtesy of the Dubai International Film Festival and Getty Images, used with permission.