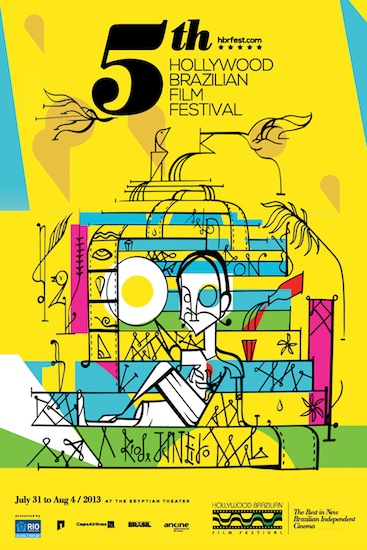 Back in 2011 I was asked by an acquaintance to write an intro piece on the Hollywood Brazilian Film Festival. It turned out to be a fascinating experience and opened up the world of alternative, independent cinema from Brazil for me. Then for personal reasons, I had to take a hiatus from writing about it last year and returned to the experience of this exciting festival -- held from July 31st through August 4th at the Egyptian Theatre in Hollywood -- excited and looking forward to the new offerings.
I was not disappointed.
What I found this time around were even more fascinating subjects, greater enthusiasm from the filmmakers in this form of moving art and something I have realized makes cinema so magical for me: The ability to truly tell stories that belong to a people, dig deep into their culture and allow us to travel far and wide without leaving the comfort of our theater armchair.
Documentary filmmaker Göran Hugo Olsson, responsible for one of my most favorite films ever The Black Power Mixtape 1967-1975, said during a panel at the Abu Dhabi Film Festival a couple of years ago that a filmmaker has to "earn the right" to tell a story. And that right comes from a personal connection, something that makes the subject his or hers, and no one else's. This year's selections at HBRFest all fulfill that amazing requirement and so take the audience on an insightful tour of modern day Brazil. The kind Globe Trekker or a Lonely Planet guide could never ever manage. Because this journey goes straight to the heart of a people who know how to love, dance, cry, laugh, mourn and live to the fullest.
Among some of the works on my radar are the opening night film While my Guitar Gently Weeps by beloved filmmaker Anna Muylaert and the Los Angeles premiere of The Package, Rafael Aidar's short film about the passion of two teenagers from São Paulo. The festival will close with another of Muylaert's films, her award-winning debut comedy Durval Records.
"In our fifth year of the festival, we are honored to be paying tribute to one of Brazil's most prominent filmmakers, Anna Muylaert," said Founder and Executive Director, Talize Sayegh.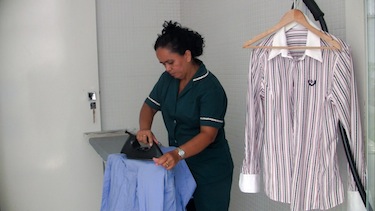 I also got to preview a few of the titles, which included Allan Ribeiro's dance feature This Love That Consumes which will kick off the festival's first "gay themed night"; the feature narrative Avanti Popolo (the name of a famous Italian leftist anthem from the early 1900s), a touching testament to the challenges of generational misunderstanding starring non-professional actors and a super cool dog named "Whale"; and, my personal favorite, the documentary feature Housemaids. Filmed by kids, featuring domestics from all kinds of Brazilian households (from the richest to the poorest, truly) the film seems to visually describe exactly what a powerful, effective documentary should be.
HBRFest will include industry panels such as the return of the popular "Directors' Roundtable" on the creative process moderated by former Variety critic and Latin American cinema authority Robert Koehler and featuring attending Brazilian filmmakers. Also scheduled is a "Focus on Diversity" panel discussion with Deborah Calla of PGA, Kimberly Myers of WGA and Regina Render of DGA. Both panels will take place at the classic Arena Cinema, adjacent to the Egyptian.
Finally, the festival's Artistic Director, Sandro Fiorin announced that "HBRFest is delighted to host Portugal as our Guest Country featuring eight shorts by emerging Portuguese filmmakers, curated by Guest Artistic Director Dario Oliveira, director of Vila do Conde IFF."
The Hollywood Brazilian Film Festival is presented by Riofilme. Sponsors include One Digital and Copa Airlines. Cultural support comes from the Ministry of Foreign Relations (Itamaraty), Ancine (Brazilian Cinema Agency) and the Consulate General of Brazil in Los Angeles.
But if you plan to attend remember to bring your enthusiasm for cinema and leave your credit card at home, as HBRFest is totally free to the public. Though you'll still have to reserve those free tickets online on the festival website.
All images courtesy of HBRFest, used with permission.