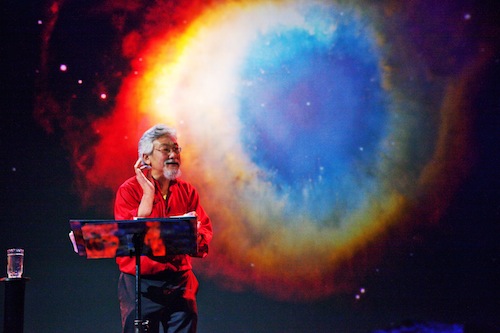 "Other things, capitalism, economies, corporations, markets and currency, these are not forces of nature. We invented them. And if they don't work we can and we must change them." David Suzuki, at Occupy Vancouver -- October 22, 2011
On the eve of his 75th birthday, David Suzuki delivered his legacy lecture. Filmed before a live audience, with a constantly changing set of images playing behind him, this was to be what he himself described as "a distillation of my life and thoughts... What I want to say before I die." Sturla Gunnarsson's thought-provoking documentary Force of Nature: The David Suzuki Movie is a very personal insight into the man behind the icon. The man we know as a Canadian scientist of Japanese heritage, an environmentalist, a philosopher, a visionary, a broadcaster and an activist. And what filmmaker Gunnarsson rightfully calls "a monumental figure on the Canadian landscape." The film won the "Favourite Documentary" Award at the Toronto International Film Festival last year.
To say that I got to watch this inspiring, enlightening, wonderful profile of David Suzuki at the perfect moment in time is stating the obvious. While the media bemoans our failing economy and the world's impending financial gloom is spoken about at every turn, this past weekend American merchants experienced a Black Friday like never before, complete with pepper-spray wielding shoppers and ridiculously long lines. This success was then repeated, minus the pesky human contact, on Cyber Monday. So, what is the truth behind the gloomy headlines? And is it all simply another personal variable, one global example of seeing the glass as either half full or half empty?
To understand David Suzuki, one has to understand his upbringing and the specific incidents that shaped his character. Born in Vancouver from parents who were also Canadian-born Japanese, Suzuki admits that Pearl Harbor and the repercussions from that event formed the defining moments in his life. After an order was passed by the Canadian government in the spring of 1942, his whole family was at first placed in internment camps, then relocated to eastern Canada. His grandparents returned to Japan, never to see their loved ones back in Canada again.
At first, Suzuki came out of this experience self-loathing for all the obvious reasons, but soon found solace in the swamp near his parents' home. It was in those precious solitary moments, surrounded by the wonder of nature, that Suzuki the genetic scientist, and Suzuki the environmentalist was born. In his speech, Suzuki says "the swamp saved my life." Today, it has been turned into a parking lot for a mall.
While Gunnarsson first heard of David Suzuki at UBC where, he says "I was an undergrad discovering Blake and he was a genetics professor with a rock star aura" he was at first skeptical of doing a film on Suzuki, because his subject was "now a franchise -- so much so, that when I first contemplated the idea of making a film about him, I wasn't sure that I had anything to say that hadn't already been said." But in the end, as much as we may have heard about this extraordinary man in the past, it just wasn't enough. I personally found myself entranced by the right-on contemporary themes of his statements and the modern urgency of his life's mission.
In Force of Nature, there is little that Suzuki does not criticize. He is ever gracious about it and, as Gunnarsson points out, "sounds more like the Romantic poets I was reading at UBC when I first heard of him than the environmental scold I was expecting." Yet, unfaltering, he points the finger at the sensationalistic power of television, which bombards us with restless images and only adds to the confusion already created by the man-made borders, economic system and illogical laws all around us. Suzuki also reminds us of our responsibility towards the earth and how cruelly we are exploiting this planet. And, in his legendary speech, he gives a chilling statistic which clearly points to the limited time we have left here as a species, because of our numbers and longevity alone.
But visions of doom aside, when the film ended I found myself crying tears of joy, of renewed hope in life. Thanks to statements as simple as saying "I'm staying" which Suzuki calls downright revolutionary, and by truly and for the first time understanding the depth of "we are air, there is no boundary between us", I found within Gunnarsson's inspirational film and Suzuki's deeply moving message a new mantra of faith. One where I believe in my own planet and the people with whom I share it. After all, as a friend's mother would say, "it beats the alternative, doesn't it?!"

Force of Nature: The David Suzuki Movie opens in at Cinema Village in NYC on December 2nd.
Top image courtesy of Shadow Distribution, used with permission