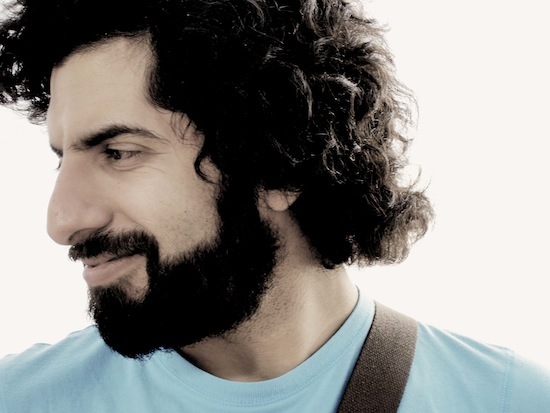 Khalid Al Mahmood, image courtesy of the filmmaker
While I am the first to hate labels imposed by the world around us, I made a conscious choice to include "Emirati filmmaker" in the title of this interview with Khalid Al Mahmood, part of a supplement on Gulf cinema culture published in the wonderful Shawati' Abu Dhabi. Because to be an "Emirati filmmaker" today is to be a pioneer, a trailblazer, someone at the forefront of a movement that is just beginning, yet changes so quickly day by day, progressing and evolving, that it's hard to keep up.
Cinema in the Gulf, the Emirates, Qatar, Saudi Arabia and all the surrounding countries that make up this region, is here to stay. But more importantly, it's here to develop, mature, expand and one day, overtake all other world industries. And there are two reasons for that: One, that it's deeply rooted in the traditional Khaliji culture of story-telling and two, that demographically, the Gulf region has some of the youngest, most willing and able women and men around, with an infectious passion for the seventh art.
So, that said, Emirati filmmaker Khalid Al Mahmood has been making groundbreaking short films since 2003, culminating in Sabeel, made in 2010 and now his latest titled Don't Leave Me, which premiered at the recent Dubai International Film Festival and immediately rose high up on my list of personal favorites.
Both Sabeel and Don't Leave Me offer insight into a filmmaker who credits Italy, and more specifically the passionate city of Rome, with inspiring his love for cinema. They are nearly silent works, yet convey a depth of emotion and tell stories that transcend space and time. Catching up with Al Mahmood is always a highlight for me.
What was the last movie you watched which moved you?
Khalid Al Mahmood: For me, it would a Dutch film called Kauwboy about a young boy taking care of an injured jackdaw and it deals with life and death in the young boy's perspective. It was very well shot and very moving.
Who are your top two favorite directors?
Al Mahmood: If we are talking about favorite that are no longer living then they would be Federico Fellini and Pier Paolo Pasolini. For living directors it's difficult to pick favorites but I do enjoy Michael Haneke and François Ozon and will include Michael Winterbottom but there are lots of directors whose work I love.
And if you had to pick one to work with?
Al Mahmood: If I had pick one to work with I might select Haneke for a masterclass or anyone I mentioned or even maybe Edgar Wright if it includes Simon Pegg and Nick Frost as they seem to be a fun group to work with.
Who are your favorite actor and favorite actress, and if you could only work with one, who would it be?
Al Mahmood: Favorite actor I've enjoyed but not living most likely Marcello Mastroianni and probably would've wanted to work with him. But living actor, maybe I would go for Ali Suleiman and would want to work with him too. As for actress, I would probably pick Hafsia Herzi as favorite but also want to include a nice actress I recently got to know from the Turkish German film Almanya - Willkommen in Deutschland, I'll add in my favorites list her name -- Demet Gul and would want to work with her too.
What is your greatest passion?
Al Mahmood: Filmmaking, cinema. And playing some sports.
If you could not be a filmmaker, what would you be?
Al Mahmood: Realistically, most probably I would have been an engineer which what I was studying before I switched fields, because I lost passion in that. But romantically, I think it would have been nice if I had been a sailor or traveler of some kind.
What single personal philosophy guides you through your daily life?
Al Mahmood: There's always ups and downs in life but in the end it all evens out.
The one moment in your career you are most grateful for? And the one you most regret?
Al Mahmood: Though I'm still early in my career but I still cherish that moment when I had a film selected in Locarno and Berlin, it was a big moment. It had a similar feeling to be attending my first non local film festival or event which was at Beirut Cinema Days in 2002. I most regret a few films I've made but wasn't really serious in making them and lacking in all aspects and wish to be forgotten.
What important lessons have you learned from your years in the film industry?
Al Mahmood: Just keep going at it.
What advice would you give to those new in the profession?
Al Mahmood: My advice for those entering this field is to treat it seriously like any other field or profession. You don't enter a field unless you are knowledgeable about it, read the necessary books and seen the films mentioned in those books. Do not enter this field, well because it feels easier and all you have to do it point and shoot.
What are some of the biggest challenges for Emirati filmmakers?
Al Mahmood: I think the biggest challenge for Emirati filmmakers in the UAE is proving their worth being just as competent as international filmmakers with similar experience. It's happening but it'll take a bit more time.
How do you think being Emirati has helped in shaping your story as a filmmaker?
Al Mahmood: I think it helped me be able to tap into some local stories and lifestyles untouched or unexplored before.
If you could choose one film in history, which would it be, and why?
Al Mahmood: OK, I cannot mention one but three, these are the films that helped shape me as a person someway, somehow. The Outsiders, Mediterraneo and La Dolce Vita.
A bit of background on this interview with Khalid Al Mahmood. Recently, I received my dream assignment. To write a comprehensive piece on the cinema culture and industry in the Gulf region for Shawati' Abu Dhabi. To call the magazine an elegant hub for arts, culture and lifestyle would be the understatement of the century. Looking through its pages feels like being a part of something luxurious yet down to earth, exclusive but deeply caring.
The piece was a dream come true for me because of my love for film from the region. Arab cinema has a humanity that connects deeply to its audiences, and year by year, is conquering fans all over the world. Perhaps it's because Arab films deal with women who look real, men who act real and stories that really get to the heart of the matter. As easily understood in Beirut, as in Berlin, Baltimore and Bombay.
While the entire piece, a 60-page stunning supplement in Shawati's current volume 7, issue 25 titled "In the Beginning, There Was Film," is my pride and joy, the individual interviews and voices present throughout are really what make the story. The story of a region in transition, growing daily, so much so that even a sentence written yesterday about it can seem obsolete today. And the voices of those who know it best, who create a cinematic culture by their sheer presence, are an indispensable guide to the industry's undeniable success.
The interview above, as well as one with Saudi Hollywood producer Mohammed Al Turki, one with Wadjda filmmaker Haifaa Al-Mansour and many more to come, are all part of the cinema supplement. I wanted to share them online, since Shawati' is only available at selected newsstands and bookstores.