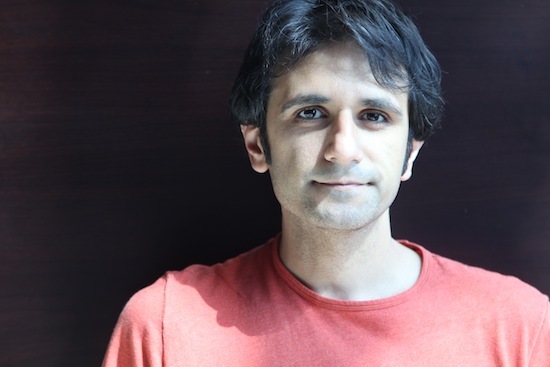 Nawaf Al-Janahi by Nadine Laubacher, photo courtesy of Aflamnah
Filmmaker Nawaf Al-Janahi's career is definitely one to watch. He's equally at home behind the camera -- directing such Emirati classics as The Circle (starring my favorite festival director Ali Al-Jabri) and his much-traveled Sea Shadow just released on DVD this fall in the United Arab Emirates -- as he is giving talks on the challenges of cinema in the Gulf, and conducting workshops on making short films. He recently became Brand Ambassador of Aflamnah, the groundbreaking crowdfunding site which is helping to fund artistic projects throughout the MENA region.
And it is on the Aflamnah platform that Al-Janahi has just launched a new fundraising "Emirati Cinema" campaign to support the undeniable cinematic movement in the UAE. This campaign will include an annual event that lasts for a period of seven days in the spring, one day in each emirate, and is intended to visually plant the presence of the Emirati film movement in the mind of the individual in UAE society, by promoting only one phrase -- "Emirati Cinema." In my view, there is no better person to start such a campaign because if you want to truly learn about Emirati cinema, you need to speak with Al-Janahi. It's that simple.
In person, Al-Janahi doesn't mince his words when it comes to the business and culture of filmmaking in the Emirates. He'd rather see great quality and professionalism than cater to the much-promoted attitude of nurturing everyone who tries, at the risk of undermining the true talents of Khaliji (Gulf) cinema. It's a standard of excellence he holds himself, everyone he works with and all his students to and it is a great indication of his character, his upbringing (he was born of an Egyptian mother and Emirati father) and his Abu Dhabi roots.
Catching up with Al-Janahi for Shawati' magazine was a breath of fresh air. Easygoing and enthusiastic, and ready to talk frankly about everything, when asked for three words to describe himself, an experiment I like to conduct, he was at a loss for words. While I would definitely describe him as "talented, committed and profound," he quickly argued that although flattered someone would say that about him, he would be uncomfortable assigning any one of those words to himself, displaying once again the great dignity and modesty so wonderfully intrinsic to the Arab world.
When did you know this was your career path?
Nawaf Al-Janahi: The moment when I realized that was when I was probably 13 or 14 years old, after years of watching films, being fascinated by how stories could be told through just images. I was a little bit obsessed with what was happening behind the camera and was always watching behind-the-scenes videos and documentaries. I thought to myself "I really want to do this", I want to learn how this is done. It was a buildup, really, I started as an actor at around 7 and was already into arts and acting but when I turned 14 I decided to study in-depth directing.
Why do you think one needs to study directing?
Al-Janahi: With acting, I think you either have it or you don't. With directing it's not only the technical but the theoretical. When you want to jump into directing you have to learn what cinematic language is. You are studying a language really, if you are good at that, you might do well.
Where did you study filmmaking?
Al-Janahi: In the US, San Francisco. I spent a year searching for a school that offered more practical education than theoretical which was difficult because most of the well-known schools focus a lot on theory and in four years you would make maybe one or two short films. I didn't want that, I wanted something that was more hands-on. So I found the City College of San Francisco where they had a two-year program that was only practical. You would get your grades based on the films you made. It was great because the teachers were actual working filmmakers.
What do you think of a school like NYU Abu Dhabi, and would you go into a program here in the Emirates if you were going to school today, or still choose to study abroad?
Al-Janahi: I think it's a plus to have schools here, but I would still prefer, in the next few years, to go abroad -- a good mix of both. For people who can't travel it's a great plus that finally we have options here. This is something that you cannot ignore, but the reason I say I would still like to go outside in the next few years is that you still have more variety and means of knowledge when you go abroad. When I studied I didn't only learn from the program I enrolled in, I learned from everything: the culture, the books I bought on my own, the films I watched on my own. You are not in a vacuum.
If you had complete autonomy, what would be your ideal project?
Al-Janahi: I have always thought of this, I would do a complete project on 1001 Nights (alf laylah wa-laylah). It's full of stories, and I would make every single story in that book a movie. I really don't understand why world cinema in general hasn't done more stories from it. It's only Sinbad, Aladdin, and that's it?! It's amazing.
Khaleeji culture, Arab culture in general is famous for storytelling, so why have these stories, told through films, not made for a bridge between cultures?
Al-Janahi: Two problems: the first is stereotypes that both worlds have towards each other and to fight that is difficult when you have machines like the media and politics playing a role to feed those stereotypes. The second problem is we don't have enough films. At least from this part of the world and if someone argues no, we have enough films, then we must have a major disaster in distribution.
Sea Shadow keeps going, two years later, in festivals around the world, but it hasn't been distributed in the US or the UK, why?
Al-Janahi: This is my point, whether it's my film or many other films, when it comes to distribution it's a major disaster that both parties should take responsibility for. From our side, the Arab distribution system or producers, and the non-Arabs. To go back to your point, if you want to bridge cultures you have to find a solution for this because film is such a powerful tool to make us know each other. Why is everyone now so familiar with American culture and lifestyle? Because there are enough films and there is a powerful marketing machine that makes those films reach every spot in this world.
So what can be done?
Al-Janahi: We need more films and we need to have long term solutions for distribution. Whether they are here in the Arab world or in other markets, the disaster is also within the Arab world. Moroccan films are not shown here in the UAE, Lebanese films are not shown in Algeria, and an Emirati film is not shown in Egypt. What's happening?! I believe people will go watch the films and who says you can't make money with Arab cinema? Market it well, do fair marketing let the people know about it and they will come. You can never guarantee the success of any film, even a Hollywood film, but you cannot decide for the audience what they want and what they don't want.
What was the last movie you watched that moved you?
Al-Janahi: One title that stayed in my mind is The Sandman, it's Swedish, a beautiful film. Amazing and it's one of the film that I've watched standing, because the theater was full.
What are the Emirati filmmakers' biggest assets?
Al-Janahi: I think everything, honestly.
And their challenges?
Al-Janahi: They just have to be more serious and more committed and think of filmmaking as a career, really, because I think this is the major asset that makes a difference. Here I hear a lot of people say "I make films as my hobby." Filmmaking is not a hobby. You don't work with fifteen, twenty people on a short film and call it a hobby. You do a hobby in your room, in your house, alone. This is not a hobby, it is a craft, a career. So once that is adjusted a little in the mindset, I believe we will have more and more good films coming out of the UAE.
How did this cinematic movement start?
Al-Janahi: The UAE is the country that caused this explosion of a film scene in the Gulf altogether. It started with the Emirates Film Competition in Abu Dhabi in 2002. The first in establishing what I would like to call a "movement", an active cycle of production. Because before 2002 there was only maybe one film being made every couple of years by one director. There were filmmakers, but they didn't know each other, there was no place to gather, but really with the EFC in 2002 people finally saw a platform where they all met, they all screened their films in the same place and the wheels started spinning.
Do you think co-productions are necessary, and not only within the region?
Al-Janahi: Absolutely. Internationally, cinema is a universal language. What prevents who from working where? If the story and the theme is universal enough, if you have the right elements that could enhance your story, why not!
What inspires you every day?
Al-Janahi: Cinema.
Only cinema?
Al-Janahi: You said "every day"! This element is there every single day, every single minute. But actually life altogether inspires me.
If you had not been a filmmaker, what would you have done?
Al-Janahi: I would open a bakery. Make bread, I love bread. It's one of my plans really, to open a bakery, cafe and a restaurant. I love food.
When you look at Sea Shadow today what have you learned since making your film?
Al-Janahi: Not necessarily since Sea Shadow, more from my first feature, The Circle, because there were so many mistakes I made with my first feature. You learn and you are a different person every day in this career.
What advice would you give to someone just starting out, wanting to be a filmmaker?
Al-Janahi: Be committed and don't rely only on passion. Passion is beautiful but it's not enough. Passion has to have a plan. You have to know where you are going.
A bit of background on this interview. Recently, I received my dream assignment. To write a comprehensive piece on the cinema culture and industry in the Gulf region for Shawati' Abu Dhabi. To call the magazine an elegant hub for arts, culture and lifestyle would be the understatement of the century. Looking through its pages feels like being a part of something luxurious yet down to earth, exclusive but deeply caring.
The piece was a dream come true for me because of my love for film from the region. Arab cinema has a humanity that connects deeply to its audiences, and year by year, is conquering fans all over the world. Perhaps it's because Arab films deal with women who look real, men who act real and stories that really get to the heart of the matter. As easily understood in Beirut, as in Berlin, Baltimore and Bombay.
While the entire piece, a 60-page stunning supplement in Shawati's current volume 7, issue 25 titled "In the Beginning, There Was Film," is my pride and joy, the individual interviews and voices present throughout are really what make the story. The story of a region in transition, growing daily, so much so that even a sentence written yesterday about it can seem obsolete today. And the voices of those who know it best, who create a cinematic culture by their sheer presence, are an indispensable guide to the industry's undeniable success.
The interview above, as well as one with Saudi Hollywood producer Mohammed Al Turki, one with Wadjda filmmaker Haifaa Al-Mansour, others with Emirati filmmakers Khalid Al Mahmood and Amal Al-Agroobi, mentor and filmmaker Scandar Copti and a few more to come, are all part of the cinema supplement. I wanted to share them online, since Shawati' is only available at selected newsstands and bookstores.