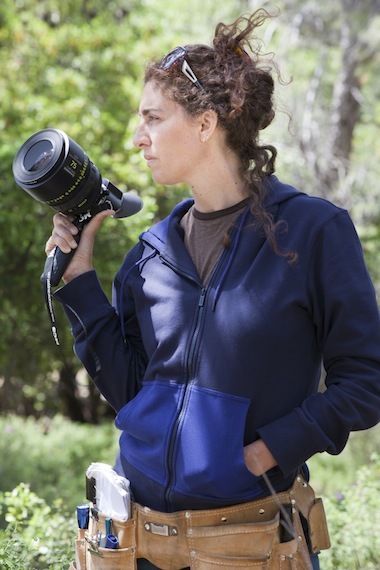 Starting Wednesday, January 15th, New Yorkers will finally get to savor the beauty of Annemarie Jacir's poetic masterpiece When I Saw You (Lamma Shoftak in Arabic) firsthand when the film begins a week-long run at the Museum of Modern Art.
Jacir's film has inhabited my dreams since I first watched it at the Abu Dhabi Film Festival in 2012, and throughout the past year and a half, has remained a personal favorite. I was hooked on Jacir's filmmaking since her earlier feature Salt of This Sea, which somehow explained so much in my own life, despite the fact that I'm not Palestinian, nor have I ever lost something as important as what has been taken away from the Palestinian people. Yet, I identified with Jacir's heroine so much...
On recent trips to and from Dubai, I've repeatedly put When I Saw You on my entertainment system on Emirates Airlines, and its grace and powerful message of belonging -- in spite of what and how the world wants us to feel -- keeps me company and reminds me just why I love so much cinema from the Arab world.
With an ending that leaves the audience breathless, and a mother-son relationship that transcends all bonds, When I Saw You is exactly the kind of film that an Emirati cinematic organization like the Abu Dhabi Film Festival could support. And did, through their SANAD fund, in many phases of production, as well as by showcasing the film during their sixth edition of the festival in 2012. The screenings were sold out and at ADFF it was awarded the Black Pearl Award for Best Film from the Arab World. In 2013 the film moved on to theatrical releases in Jordan, Lebanon, Greece and Switzerland and with its VOD platforms all in place, it has turned out to be a great example of a hit, independent, successful Arab film project. NYC is in for a real treat!
On a personal note, catching up with Jacir is always a great occasion to stock up on a double dose of her typically straightforward, strong-woman wisdom. She is a friend, but also a voice of reason at times, setting me straight on the truth of film financing, filmmakers' personalities and life in general.
What story would you tell, if you had complete creative autonomy and open financial backing?
Annemarie Jacir: I always work with complete creative autonomy but to have totally open financial backing -- great! There's an epic spy story I'd love to tell which takes place in the 1940s.
What was the last movie you watched which moved you?
Jacir: Recently I watched Before the Rain again. It still moves me as when I saw it the first time.
Which filmmaker would you like to work with, if you had to choose?

Jacir: I'd love to work with Claire Denis.
Who are your favorite actor and favorite actress, and if you could only work with one, who would it be?
Jacir: Far too many to name.... Ewan McGregor, Tilda Swinton, Kate Winslet, Stellan Skarsgard!
What is your greatest inspiration?
Jacir: My people.
And your greatest passion?
Jacir: Three: cinema, food and poetry.
If you could not be a filmmaker, what would you be?
Jacir: As architect!
What single personal philosophy guides you through your daily life?
Jacir: There are a lot of broken people in the world and everyone has their story, so try to understand and surround yourself with love.
The one moment in your career you are most grateful for? And the one you most regret?
Jacir: I am grateful that ten years ago someone took the time to watch a (stupidly) late submission to the Cannes Film Festival and gave me a chance. It changed my life. And no regrets. My father taught me not to look back.
What types of films do you think the world needs to watch more of?
Jacir: Independent films, non-mainstream films -- basically those gems which are hard to find.
What important lessons have you learned from your years in the film industry?
Jacir: There are a lot of frustrated people in our industry and it's important not to let their negativity near you.
What advice do you have for those new to the industry? And what do you hope your legacy will be?
Jacir: Listen to your heart. If my films can touch one person and maybe give them the feeling that they don't have to be swallowed up by this world.
If you had to choose one film in history, which would it be?
Jacir: Every day the answer to this question changes. Today it's Nights of Cabiria.
A bit of background on this interview with Annemarie Jacir. Recently, I received my dream assignment. To write a comprehensive piece on the cinema culture and industry in the Gulf region for Shawati' Abu Dhabi. To call the magazine an elegant hub for arts, culture and lifestyle would be the understatement of the century. Looking through its pages feels like being a part of something luxurious yet down to earth, exclusive but deeply caring.
The piece was a dream come true for me because of my love for film from the region. Arab cinema has a humanity that connects deeply to its audiences, and year by year, is conquering fans all over the world. Perhaps it's because Arab films deal with women who look real, men who act real and stories that really get to the heart of the matter. As easily understood in Beirut, as in Berlin, Baltimore and Bombay.
While the entire piece, a 60-page stunning supplement in Shawati's current volume 7, issue 25 titled "In the Beginning, There Was Film," is my pride and joy, the individual interviews and voices present throughout are really what make the story. The story of a region in transition, growing daily, so much so that even a sentence written yesterday about it can seem obsolete today. And the voices of those who know it best, who create a cinematic culture by their sheer presence, are an indispensable guide to the industry's undeniable success.
The interview above, as well as one with Saudi Hollywood producer Mohammed Al Turki, one with Wadjda filmmaker Haifaa Al-Mansour, others with Emirati filmmakers Khalid Al Mahmood and Amal Al-Agroobi, mentor and filmmaker Scandar Copti and a few more to come, are all part of the cinema supplement. I wanted to share them online, since Shawati' is only available at selected newsstands and bookstores.
Top image courtesy of Annemarie Jacir, used with permission