For me, there is always a film within a festival that defies all expectations. Of course, to even choose a film from a catalogue of hundreds, it has to be on my radar for a few reasons (some truly mundane) which include favorite actor or actress, filmmaker, writer or producer. With Titli it was pretty much all of the above. You name it, Ranvir Shorey is an actor whose career I've followed for ages, Kanu Behl has written some of my favorite films, and Dibakar Banerjee is simply phenomenal. And of course, Yash Raj Films are the best known producers of traditional Hindi cinema, also known as Bollywood.
But Titli, with a combination of all these talents, just like the "butterfly" the title itself translates to, has taken flight in my inner soul. Undeniably violent but also wonderfully redeeming, the film shows at once the best and worst of humanity. Perhaps, most poignantly, complete with all the gray areas in between. It also features a couple of strong female characters, who fight off the violence so often featured in the news from India these days, to show emotional muscles which made Titli an easy favorite for me. Does humanity win in the end? You'll have to watch the film to find out.
I caught up with Titli director and co-writer Kanu Behl in Cannes. Soft-spoken, quietly handsome and showing a bit of the title character in both his wit and his mannerism, sitting across from him I understood immediately why I loved the film so much. Because intelligence, hard work and humility always seem to make up the best environment where great art can be created.
Why Titli as your first film?
Kanu Behl: It wasn't supposed to be my first film, actually. I started writing Titli back in late 2010, I'd been working on another film before this for about a year and a half, which I'd finished writing and I tried to get made. But it didn't get made. I remember sitting down and talking with my producer, Dibakar Banerjee and him telling me, "I don't think this is the film that you want to make, I think you are just trying to make a film because you want to make a film, but is this really honest, is this what you want to say?" About the other project. I took six months off and I asked myself what it is that disturbs me most, what it is that I was most angry about, what it is that I want to scream about. And I think out of that came the idea of Titli.
So did you sit down and begin writing that script?
Behl: I started out writing a film about oppression, about a young boy wanting to escape an oppressive older brother, but very rapidly the film took over on its own and started speaking on its own and I was just asking questions. And I and my co-writer we just talked after every draft and would ask "are we there yet?" The first draft was a film about oppression and then we said, listen hang on, aren't we just making this older brother a very cardboard character? Where is the violence coming from? And we thought of the silent father in the house. I think the screenplay just grew from there and the key to hitting the core of the film was when we realized that there can really be no pinning of any wrong within this family, because the family is not wrong, it's the images that are traveling within the family...
Throughout the film there was a lot of disbelief in humanity being good, think there's hope for us?
Behl: Of course there is.
But there is a lot of chaos right now, people in power are becoming despots, oppress to separate and conquer. How do we break that?
Behl: Some place deep within all of us we have the capacity to be infallible. I think it's about being at those key points in our lives when we make certain key choices that drive us in different directions. We choose to head to those directions but I personally believe this -- to every human being's context there is a redemption. There is no one honest truth out there. Whose truth is the perfect truth? At the end of the day just to be able to survive, every human being has their own context and their own small corner in their heart where they're infallible in spite of what they've done. Which is as honest as it is false. That's what makes us human, we are all three dimensional, we are all making mistakes.
You cast an amazing actor, Ranvir Shorey, the alternative superstar, I've been following his career for a long while. How did you decide to cast him?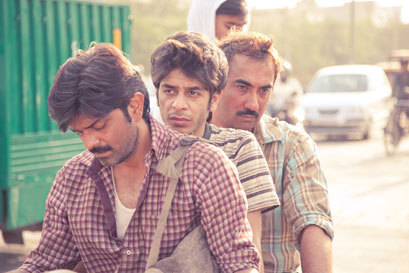 Behl: Same as you, I've been following his career since Mixed Doubles and I'm a huge admirer of him as an actor because he's one of the few actors in our country, along with Amit [Sial] who plays the middle brother Bawla, who is really underrated. But I think Ranvir is one of the very few actors who can make you forget there is an actor there, he has the ability to become the part.
Did you always know you wanted to cast him?
Behl: When I was writing this film with Sharat [Katariya] we were thinking of him, right from the word "go."
He almost makes Vikram likable...
Behl: I wouldn't call him likable, I think the attempt was to make all these five people very human. We never imagined anyone else playing Vikram. We were lucky enough to be able to get him.
You went through a few development labs with your film. Like the Screenwriters' Lab and Work-in-Progress lab by NFDC. How was your experience?
Behl: I think I've been really lucky in a lot of ways on this film and one of the ways has been to be able to become a part of this nurturing process. I say, I'm one of the few who is lucky because it's at an early stage. These labs are now catching up. They're about five or six years old, but I'm not sure. Finally filmmakers in our country are waking up to the fact that there is the possibility of finding another kind of cinema and there is support. To hand-hold you, to lead you, through all the processes, to all the rigor, to all the discipline that is attached, even through the relatively simple process of writing. We also went through their co-production market, which gives a lot of exposure, people knew about the film already.
How did Dibakar Banerjee come onboard, as co-producer?
Behl: Dibakar and I have been working together since 2007. I started out working with him as an assistant on Oye Lucky Lucky Oye, and then I co-wrote Love Sex aur Dhokha with him. We hit it off really, really quickly. We realized we believed in the same kind of cinema and wanted to tell similar stories. I talked about the earlier script with him, I bounced off the idea at an early stage. Then I went to him with the script in a pretty advanced stage and he knew at that point that the idea was working for him, and said, "this is something that needs to be made and it needs to be made now, so lets go about creating the right conditions for it to happen in the right way." Because the material is so sensitive it needs to be done in a certain way to get all the freedom for it to be made right. He was sensitive that the vision shouldn't be compromised.
And YRF, not their typical fare, how did they come on?
Behl: Dibakar and I wanted to keep it small, so we'd end up making exactly the film we wanted to make. But we were also really aware that if this film needs to break out and reach as many people as possible, it needed something bigger behind it. And to create the right conditions for the film to not just be made, but setting it up right was crucial, because it's a voice that needed to carry as far as possible. That's where the idea of getting a studio already behind it, so they could give that support. Luckily, there was good word-of-mouth on the script, with a lot of people, including Aditya Chopra having read it. And he really liked it.
All images courtesy of Festival de Cannes, used with permission