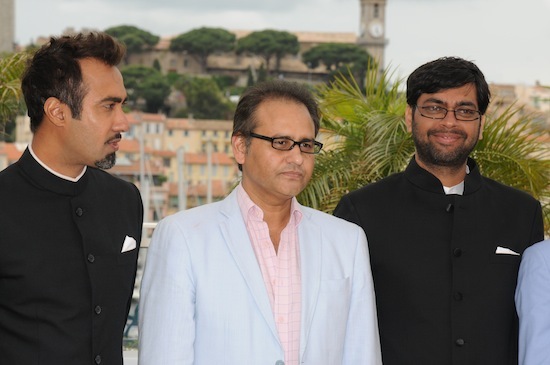 Titli photocall in Cannes -- Avtar Panesar, flanked by actor Ranvir Shorey (left) and director Kanu Behl (right) --Photo RETIX-AGENCY
When you put together two Indian cinema heavyweights like Dibakar Banerjee Productions and Yash Raj Films, you can't help but have a winning film. Though the companies at first could appear to be as far as they can get in products achieved, to the trained eye they share a lot in common. That said, their recent co-production was one of the films at the Festival de Cannes this year that stood out for me. Titli, as the title translates to, is a "butterfly" that fluttered violently into my heart, to then take up place tenderly inside my soul.
In fact, it was a business card from Yash Raj Films' own Vice President of international operations Avtar Panesar that, when I turned it over, took my breath away. It explained deeply the attraction I felt to Titli as a human story but also as a representative of ageless cinema. The YRF motto, printed there, in unobtrusive silver ink: "Films forever..."
Naturally, interviewing the kind and intelligent Panesar was priceless insight for me; as reading it will be for any lover of world cinema.
How does Yash Raj Films decide to come into a project like this, an unusual departure from their typical, more popular Hindi film fare?
Avtar Panesar: If you know Yash Raj Films you know that the only thing that drives us is first and foremost the creative process. If something creative hits us in the gut, and our chairman and creative head of the company Aditya Chopra, we basically decide to go for it. This was a film that wasn't supposed to be a part of our co-production deal with Dibakar [Banerjee].
Because you have a deal with filmmaker Dibakar Banerjee, to direct and/or produce a few films?
Panesar: Yes, but this wasn't meant to be part of that. Yet what we felt was that there is no point in starting a relationship and then picking and choosing things. We didn't want to do that, and collectively decided if we're going to do this, lets go the long haul and it doesn't matter about the size of the film. If the film makes sense, we shall make it. So that's how Titli came into the kitty, so to speak. But I also think that one of the misconceptions about YRF is that we're only interested in telling those big Bollywood extravaganzas sort of films, whereas the truth is that both Dibakar Banerjee Productions and YRF whilst they look very different from the outside as entities, the one thing that binds both companies is a simple vision of just telling good stories better on screen. And that's the bottom line.
And the humanity...
Panesar: Well you see Titli, at its core is a simple family drama.
Which is also the formula for Bollywood...
Panesar: Exactly, and that's what we've been doing for forty four years! And the fact that it has a beautiful culmination of this very unlikely love story that comes together in a flash. It takes him a split second, it hits him at that very precise moment when he realizes that he's becoming no better than his brother. And he's the guy he's been trying to escape from all his life and is becoming him.
During this festival, two recurring themes I've noticed: one is women's independence, and the other is the power of human redemption. And both are also in Titli. Why do you think that today, with so much struggle in the world, when we are so divided, these are the two threads most visible in cinema?
Panesar: I have no short answer to that, but my own interpretation would be that the world at large is coming of age, and it's not just happening here... Someone was talking to me about Gravity, the film, and about how women subjects do not work and generally they're a hard sell and so on... And Gravity proved them wrong. In fact we've just done Grace of Monaco, again a woman-driven subject...
And that's where the thread picked up for me! It's really about her strength and independence, and I'm convinced that those who did not like Grace did not see or did not want to see that power in a woman...
Panesar: Yes. On Grace, there are a hundred ways of telling the same story, it just depends on which way you want to tell it. And for me, the moment she gives her final speech is the culmination of her journey to become Grace of Monaco. And I don't need to see anymore... Because I had a lot of people saying "oh, but why didn't it carry on" and I said, I don't need to see that. And the other thing is, because from the onset it's set up as a fairytale and fairytales don't have bad ending, they must end on a high. That's very important. The other film that we've now just optioned is a book on Ingrid Bergman, so we're making that as a biopic of hers.
In India, if you watch a lot of our older films as well, like a film called Chandni with Sridevi, directed by Yash Chopra, we've been doing that for a long time, having a central character who is a woman. I think the world at large has come of age, and I can speak for our country, where it is not unusual to see men cooking and washing up. Twenty years ago it was taboo, it was unheard of, you couldn't tell a man to change a diaper on a kid...
When I go to India I'm "the Other", a stranger. And if you come here, you could be "the Other". What does Yash Raj Films do to help bridge this divisive world, which is strangely becoming more so today?
Panesar: I don't think that we as a company or as individuals set out to do any of that. It's too big a cause, it's too noble. I think what we do is live in our own world but we believe in what we do. And we say, it makes sense to do it this way and if that impacts the world positively at large, then so be it. But I don't think anyone sets out with that vision. We don't take ourselves that seriously. We're quite simple in our mindset.
What is the motivation for making a film at YRF?
Panesar: The motivation is always the script. That's the only thing. Someone once asked me this question, at a panel discussion. I can only speak for our own company and there is no right and wrong in business or in life, in my opinion. People ask me what sets us apart from everybody else as a filmmaking studio, and the only thing I can say is we make films to sell films. That's it. Others make films that sell stocks and shares. We're not answerable to shareholders, or board of directors. We makes films because at that point in time if a film or a script make sense to our creative head, that's what we are going to do.
What's your dream project? Personally.
Panesar: There are two which I'd like to see, at a level of a Lord of the Rings. One of them is the story of Ashoka the emperor. I would like to see that in all its glory because that's a story, I think, that is very unique and he was the Alexander the Great of India. The other is, of course, the Mahabharata. And I think to have that story translated onto screen, at a scale that's very international would be something quite remarkable.
Do you think cinema changes the world?
Panesar: I think the world changes cinema. Because I know the common myth is that perhaps cinema influences the audience and I think that may be true to an extent, but I don't know a single filmmaker who is not always looking around for inspiration and to take that onto the screen. And I don't see anyone in the world going to a movie and saying "Ahha! I want to become like that guy or I want to become like this character." I think it's the other way around, the world changes cinema. and that just becomes a mirror image of society.
And that's the way it should be. In cinema we reflect so many different characters, the good, the bad and the ugly, and I'd hate to think someone is going to go out and pull those stunts. But we do see that in real life and translate it and at some level, it does help people to understand themselves better. What you are seeing in cinema is actually real life, but on the big screen you see it from an outsider's point of view and it allows you to reflect on it differently.
Much more effective than the news.
Panesar: You absorb it. The news has made the audience immune. With cinema it engrosses you. Because you are able to tell a very personal story.
Three words that describe you?
Panesar: Describe me?! I've never really thought about myself! OK. I would say a family person, I value my family, friends and films.
Top image by Jean-Christophe Amusan, courtesy of RETIX-AGENCY, used with permission