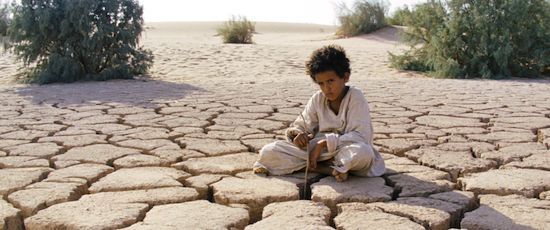 A scene from Theeb directed by Naji Abu Nowar
I'm having a hard time associating the reality that I have witnessed here on the ground at the Venice Film Festival with what I read in the international press. Sentences as "absence of hefty U.S. fare" and headlines like" Hollywood a No-Show at Venice Film Festival" filled the pages of Variety, which of course is a huge deal in cinematic circles. Yet I could swear celebrities like Al Pacino, Michael Keaton and Owen Wilson, teen idols like Andrew Garfield, and a list that reads like a who's who of great filmmakers such as Amos Gitai, Barry Levinson, Ramin Bahrani, Guillermo Arriaga, Alejandro G. Inarritu, Mira Nair and Rakhshan Banietemad, they were all here. In front of my eyes. And yes, even James Franco wearing one of his many hats was in Venice. This to a cinema lover is nowhere near small or understated, by any stretch of the imagination.
Perhaps if we lifted our collective eyes away from Twitter and Instagram, we would discover that great cinema celebrities are right here among us all.
Which brings me to the question of Italian cinema. OK, so the golden age of Italian masters like Fellini, Visconti and De Sica is gone. Well Hitchcock ain't making movies either and so it goes for Frank Capra. The golden age is gone, for the whole world, done. So lets move on from that and discover the greatness ahead. Are we all like a bunch of old ladies lamenting the good times, the good ol' days? Just because we may be unfamiliar with the names of the filmmakers making Italian films today, or can't picture right off the bat who the lead actors are, doesn't mean they aren't spectacular just the same.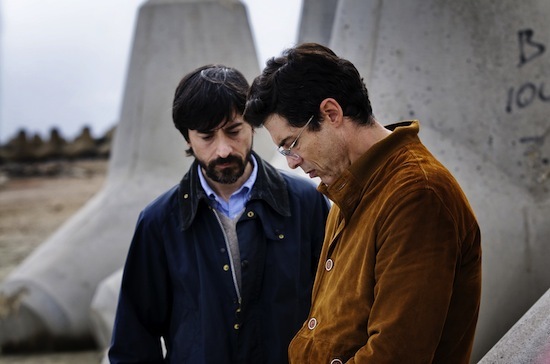 Luigi Lo Cascio and Alessandro Gassmann in The Dinner, photo by Emanuela Scarpa
Take the case of a personal favorite premiering this year in the Venice Days selection, The Dinner (I Nostri Ragazzi) by Ivano De Matteo. It's based on a Richard Koch novel, it's raw, it's in your face, it's beautifully filmed, deeply felt and stars two magnificent actors, Luigi Lo Cascio and Alessandro Gassmann. The ending of the film left me with my heart in my throat, and for a minute I forgot to breathe. Yeah, it's that good.
Alas, when I tried to get an interview with Gassmann -- a good profile on him lacks in English, despite his incredible talent and dashing good looks -- I was told no. No international press, not for Mr. Gassmann. A slap in the face. So the next time someone says to you, "Oh, Italian cinema is dead," please help me by answering, "it's not; it is just barely escaping being murdered by the sometime short-sightedness of those behind-the-scenes people who are in charge of giving films their wings." When I later approached Rai COM, the international distributor for the film, they were fantastically helpful, and thankfully promised to help. While I'd already left Venice for Gassmann's arrival, I do look forward to writing more about the film on its journey around the globe, along with featuring this world class actor. Insh'Allah.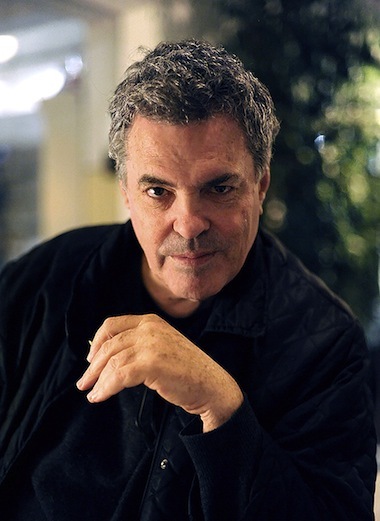 While waiting to interview Amos Gitai (pictured left) at Club 7, the tennis courts of the Excelsior, on a gloomy Lido day, I ran into Akin Gazi, a Turkish Cypriot actor born in London. I'd enjoyed meeting him years ago in Doha, when he was featured in Black Gold, the film everyone loves to hate. I enjoyed it, probably one of the few, because I found it a good showcase for actors like Gazi, but also in retrospect, its potential to show the splendor of the region I know and love, to the rest of the world. I will always feel that if Black Gold had succeeded in its mission, there would not be an ISIS or the likes today.
I may be a dreamer, anyway, the ever kind Gazi is in a few wonderful new projects, such as Fatih Akin's The Cut and Desert Dancer, starring Freida Pinto, co-produced by Mohammed Al Turki. Look forward to running into him at the next of our "glamorous locations" as he so aptly put it.
Sharing a couch with Gitai to interview him was otherworldly. I didn't want it to end. His ideas are grand, human, beautifully so, and the kind that could change the world. Yet this modern-day prophet is so down-to-earth, I felt I could have asked him about the weather.
His film Tsili is profound, strange and groundbreaking. Of course, he's ever reinventing cinema, this man. Outside the screening room, right after viewing it, I overheard two men discussing Tsili. I eavesdropped to hear one say, "what if Gitai is teaching us to view cinema in a different way? Remember Last Year at Marienbad? When you first watched it, I bet you didn't understand that either, right?!" It was with those words that I kicked off our interview at Club 7 and at the end, Gitai took a moment to say "lets thank those two gentlemen who inspired this conversation." Yes, Italian gentlemen outside the Sala Perla, I thank you too!
A scene from Tsili by Amos Gitai
"Dulcis in fundo," I must close my festival diary with more Theeb updates. Partly funded by the Abu Dhabi Film Festival's SANAD fund, sold internationally by Fortissimo Films and executive produced by Nadine Toukan -- that's three out of three for all-time personal favorites in world cinema -- the film outdid all my expectations, when I finally sat down to watch it.
A perfect blend of epic and human, with a simple story and some heart-grabbing characters, Theeb (which means "wolf" in Arabic) left me smelling the sand, and feeling its grittiness under my teeth. I'm proud to know the Theeb gang, and to follow the winning journey of this film from its premiere in Venice, where its real Bedouin stars -- lead actor Jacir Eid and his dad, Abu Jacir, as well as Hassan Mutlag who plays the eerie Stranger, and Hussein Salameh who plays Theeb's brother -- all are in attendance, from Jordan.
If the world can be changed with cinema, I bet on everyone I've met in Venice to lead the way.
Images courtesy of DDA, Words With Gods, Film Press Plus and Venice Days, all used with permission.