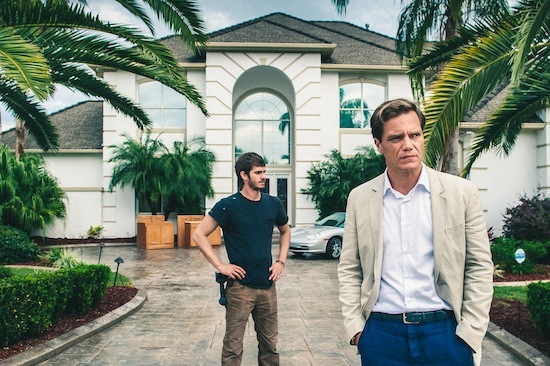 Andrew Garfield and Michael Shannon in a scene from Ramin Bahrani's 99 Homes
Would you use an app that sends a message to other users in the area so they could go break up with your boyfriend, or propose to your sweetheart? Well, artist/filmmaker and writer Miranda July thinks you should. And not only has she filmed a profoundly humorous 10-minute film for the 'Miu Miu Women's Tales' series about this very concept, she's also built the app to go along with the film. This app is available for free and is called Somebody, just like the short.
I simply had to watch the film, which is charming, funny, beautiful and perfectly acted (July is also featured and lights up the screen) and I couldn't wait to hear her talk. I got my wish, when she participated in a discussion about the series along with fellow filmmaker So Yong Kim who made the stunningly filmed Spark and Light, inside the Excelsior Hotel -- organized by Giornate degli Autori/Venice Day. While Kim is thoughtful and introspected, like her deliciously atmospheric films, July was quick and free, coming up with statements like "women are seen as these big bundles of bloody feelings."
Kim shot her film in Iceland, while July choose a very urban setting, both perfect locations for each of their oeuvres. Kim disclosed that although when first approached the concept was a bit intimidating, after watching the first six films in the series, she realized "I could fit in because each film was so different from the other." July's initial reaction was what she called "very 12-year old girl. I was like, Miu Miu!! Prada!" Personally, I'll always keep in mind a motto that came out of this simple conversation between two exceptional artists "women are more interesting. It's a power. Fascinating when they are powerful, and denigrated as a result," as July pointed out.
It was also wonderful to meet some of the individuals in the 28-member jury that will decide the Venice Days prize later in the festival. All young, vibrant members of the movie-watching audiences from the European community. And within their hands lies the future of cinema!
Later, it was time to meet a dear friend who is helping to coordinate the logistics for the members of the various juries, while they're in Venice. Apparently, the fans here have been getting a little unruly, lying down on top of celebrities' cars, and even going as far as tearing one Italian actor's tuxedo sleeve right off. I have to say that the security guards in the Excelsior look very well placed and attractive, but they don't seem prepared for celebrity protection details. Just try to ask one for directions...
In the afternoon, time for some celebrity sightings of my own, at the 99 Homes press conference. Am I the only woman on earth who didn't know that Andrew Garfield is British? Yes, The Amazing Spider-Man himself talks in the Queen's English! After I recouped from the initial shock (hence missing the first few statements about Ramin Bahrani's deep and disturbing film) I finally concentrated on business at hand. The film features wondrous performances by Garfield and Michael Shannon, a script co-written by legendary Iranian filmmaker Amir Naderi and is executive produced by personal favorite Mohammed Al Turki. A social, scathing commentary on the economics of the haves-and-the-have-nots in the U.S., 99 Homes shows off a Garfield all for us grown ups and Shannon doing what he does best.
Filmmaker Bahrani uttered my other favorite quote of the day when he announced that "the world will end in one vulgar and obscene selfie." Garfield kept up with his wise filmmaker by supplying great headlines grabs like "I'm genetically predisposed to become a father," and, when asked about his abundant facial hair, "it's my point of pride; I never thought I'd go through puberty." Shannon, in his irreverent tone, brought the attention back to the tragic theme of the film by stating "I find mortgages suspicious, and then this proved it."
Running from the press conference to the Villa GQ across the canal (it's only five minutes away, sounds much farther than it is), I ran into a few photographers giving the Palazzo del Festival guards a hard time. Honestly, I don't see how they could pick a fight with some of the most welcoming, kind, polite security personnel I've ever come across. But then again, these are the same photographers who don't think twice of shoving aside regular people to get a celebrity shot and stalking their prey for that perfect gossip magazine photo. I'm not a big fan of the paparazzi...
Interviewing Iranian filmmaker Rakhshan Banietemad, in Venice 71 with Ghesseha (Tales) her return to the narrative format, I spent some moments of contemplative peace. The energy of this legendary director proved an oasis of calm and wisdom and I'll always remember the green setting of the Venetian villa highlighting the depth of our conversation (which included actor and casting director for Tales Habib Rezaei). We touched upon Iranian cinema, what it's like to be a woman filmmaker in a country that has celebrated the seventh art made by our gender for decades, and the toll children pay for the embargoes caused by leaders and governments.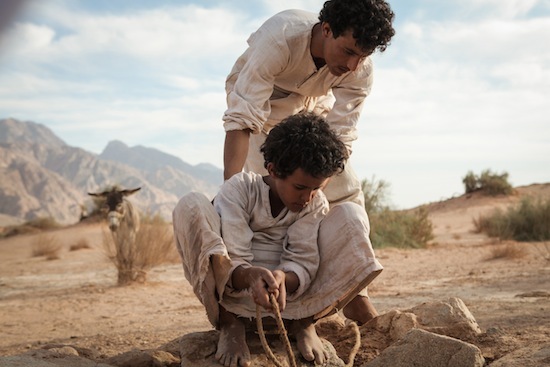 A scene from Naji Abu Nowar's Theeb
The day ended in the magical company of the Theeb crew. I remembered meeting co-producer and co-writer Bassel Ghandour at last year's Abu Dhabi Film Festival and his down-to-earth energy, his easy way left me impressed. The film, of course, is very high up on my list of must-watch here in Venice and the post-production help provided by the awesome SANAD fund is just the icing on the cake.
Although I've yet to watch it, Theeb seems a perfect blend of epic adventure and thoughtful human tale set among the Bedouins in 1916, somewhere in a forgotten corner the Arabian desert. And if the crew -- which includes Jordanian director and writer Naji Abu Nowar, co-producer and editor Rupert Lloyd, Yanal Kassay the film's associate producer and first assistant director and assistant editor Shahnaz Dulaimy -- are any indication, the film is going to be magnificent.
Images courtesy of the filmmakers, used with permission.