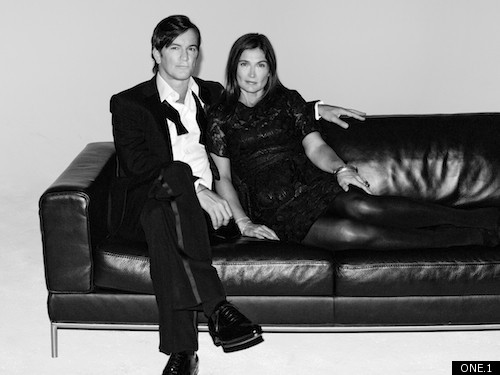 This past Tuesday, the Crosby Street Hotel turned into the epicenter of bohemian surfer chic when the cool Soho venue hosted a party for celebrity decorators Cortney and Robert Novogratz. The stunning soiree was held in honor of the Novogratzes' latest venture, a weekly, half-hour TV show titled "Home by Novogratz," broadcast on home design network HGTV and premiering Saturday, July 16 at 10 p.m.
At their launch party, the Novogratzes mingled, laughed and shared their enthusiasm about the project with their friends, the media and a few celebrities. I noticed actor/producer Fisher Stevens (who recently added Broadway directing credits to his resume with John Leguizamo's "Ghetto Klown") and actor Michael Kelly getting photographed on the red carpet. During the party, they also screened two of the episodes in the series, served delicious mini sliders, petite bowls of mac & cheese and little bites of brownies, and they made it an evening to remember.
It is undeniable that home design has become one of the hottest themes on TV. Along with reality shows featuring housewives duking it out with each other in high heels and false eyelashes, chef competitions where gourmet personalities are reduced to tears at the sight of a butcher block and endurance contests filmed around the world while featuring a varied assortment of yucky "delicacies," decorators are in hot demand on the small screen.
So it is only natural that one of the most interesting, hardworking and sought-after design couples in NYC, the Novogratzes, would sooner or later come back to the medium. Last year, the Novogratz family was already featured in a one-hour, weekly show on Bravo, titled "9 by Design," which I found thoroughly addictive, but alas, the series was short-lived. "Home by Novogratz" feels a lot more interactive, and its shorter format will prove just perfect for the now generation, impatient and minimalistic.
In their premiere episode, the Novogratzes redecorate a Far Rockaway Beach home for two Manhattan-based sisters, Deborah and Catherine, who have a budget of $40,000 and wish to add a hip, surfer vibe to their two-story, charming, Queens dwelling. Starting out from absolute scratch, Cortney and Bob tansform the property from "broken and cheap to beach-house chic." And because "surfer chic" is what the Novogratzes do best, the result is phenomenal.
With details that include kitchen appliances in shades of pink and blue, a silver foil accent wall featuring wallpaper with cowgirl-power scenes dotted all over it, a blue-and-pink-striped staircase leading up to a master bedroom that features walls decorated by street artist Matt Siren of Ghost Girl fame, the Novogratzes transform an ordinary, wood-frame house into a dreamy playhouse, perfect for its occupants. The sister are left speechless by their work, and I was left with an odd desire to repaint my apartment in shades of azure and coral after watching the show.
But the most wonderful part of the show is watching the Novogratz family interact. With seven kids, ranging in ages from 2 to 14, endless projects in the works and a staff of at least a dozen contractors and assistants to coordinate and designate, Robert and Cortney make it all seem easy, doable and fun! The couple's relationship with each other is so perfectly interconnected, their roles so organically felt by each, that they make life seems so easy, as if all you really need in life is a bucket of colorful paint, a few throw pillows and a funky, strategically placed chandelier. And for that welcome breath of fresh air during a time of chaos around the world, "Home by Novogratz" may just turn into my favorite TV addiction this summer!