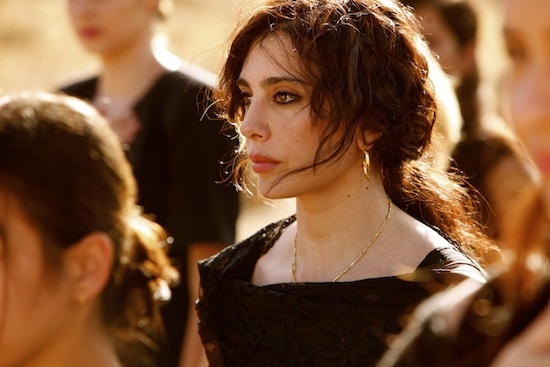 Nadine Labaki in a scene from her film Where Do We Go Now?
I believe wholeheartedly in the power of cinema to change the world. One only has to view the current state of affairs to know how tragically true that statement is. We glorify films featuring violence, abuse and war and then wonder why the world is in such turmoil. Ugly begets violence, beauty begets peace. Sounds simple enough, right?
So, for me a trip to the movies means watching a film like Nicole Holofcener's Enough Said, or in the Arab world Where Do We Go Now?, by Nadine Labaki and When I Saw You by Annemarie Jacir. Yet it was becoming increasingly difficult to find cinema with a conscience, as I like to call it, showing outside of festivals or special events. Until now.
Announced today, the deal between Front Row Filmed Entertainment, one of the leading distributors of Hollywood, Bollywood and Arab films in the MENA region, and the wondrous iTunes, promises to change the way we watch films. Front Row, helmed by ever visionary Lebanese-Italian Gianluca Chakra --a voice I return to again and again to find wisdom within the industry -- will act as an aggregator for any independent, Arabic and Bollywood distribution companies that would like to make their titles available across the Middle East and the world. Film fans will be able to rent or purchase titles through Electronic Sell Through including the newly released A Long Way Down, Rush, Diana and the all-time Middle East box office champion, Labaki's Where Do We Go Now? in several languages and subtitles and in up to 1080p quality in the UAE, Saudi Arabia, Egypt, Lebanon, Jordan, Bahrain, Qatar and Oman.
Front Row will aggressively pursue the premium VOD window making titles available in eight territories across the Middle East including day-and-date theatrical releases in Saudi Arabia. Saudi is a particularly big deal in this equation, since theaters are forbidden in the Kingdom, yet the population, with its young demographics, is one the most devoted movie watching audience in the world.
Chakra said, "with Free Television not acquiring independent titles, the DVD market dying and Pay TV being extremely selective, I'm sure that local film distributors will finally find common grounds and encourage the VOD medium even more. We're sure iTunes will become the place to turn to when looking for a movie."
Upcoming titles to be released in the Middle East by Front Row include Begin Again (starring Mark Ruffalo and so good it was just rereleased in the U.S.), David Cronenberg's Maps To The Stars, A Walk Among The Tombstones, Adam Wingard's The Guest, the British fictionalized film recounting of the Bullingdon Club titled The Riot Club and the highly anticipated Wish I Was Here by Zach Braff. And these great, sink your teeth into great cinema titles with a few surefire blockbusters thrown in, will all be heading to iTunes shortly after their theatrical releases, thanks to this new deal.
Personally, I look forward to a day when insightful filmmakers will not be "preaching to the choir" with their oeuvres, reaching only their peers or individuals who are already illuminated to the power of peace and an ongoing conversation. I look forward to that moment when a young man in Saudi chooses to watch Begin Again, and gets a glimpse into a man who is human, flesh and blood just like him. Or when a woman in Bahrain realizes there is a bit of Diana in her and she should honor that memory.
Cheers to Front Row and iTunes for scoring one giant point for the positive power of cinema.
Top image courtesy of Sony Pictures Classics, used with permission.