Since he took office in 1996, Congressman Jim McGovern (D-MA) has been a tireless advocate for causes that reach far beyond his district and his home state.
Among his top passions is literacy. I am proud that Congressman McGovern is Reach Out and Read's strongest and most longstanding champion on Capitol Hill.
I recently had the chance to ask the Congressman what drives his desire to promote school readiness, and how reading has impacted his own life and family.
Earl: Reach Out and Read was founded in your home state of Massachusetts in 1989, and we currently serve nearly 200,000 children in 272 clinics and health centers there. Why is Reach Out and Read so important to you? Why is it so critical for parents to be engaged in their children's learning from the start?
Congressman McGovern: Reach Out and Read provides support to underserved families and young students. We know that more than a third of American children enter kindergarten without necessary basic language skills. Students who start school without these critical skills often continue struggling as they move forward with their education. Ensuring that children have access to reading materials at an early age is critical to increasing the literacy rate and enabling students to start school with the resources they need to achieve. By giving advice to parents about the importance of reading with their children, more families will begin to support the literacy development of their children at home, building upon what the students are learning in the classroom.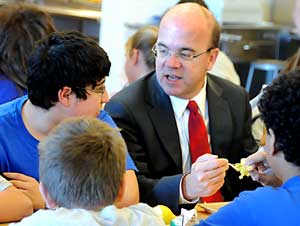 Jim McGovern. Courtesy of gfrpartners.com

Earl: The federal government has so much on its collective plate, and so many important issues to consider when prioritizing budgets. Why do you think it is important for our country to invest in young children from the start?
Congressman McGovern: Educational programs should not be viewed as competing with other interests, but instead as essential for building and supporting a strong country. To remain competitive in the increasingly global economy, the United States must support students, starting from a very young age, to prepare them for higher educations and future careers. Literacy is a building block of a strong educational background and remains critical to closing the achievement gap and preparing students for life-long learning.
Earl: You have been involved in so many important issues (hunger, the war in Iraq, health care, and human rights, among others!) yet have been our longest-running champion on Capitol Hill, stepping up to bat for us on numerous occasions. How do you talk to your colleagues about early literacy and the need for school readiness versus school remediation?
Congressman McGovern: To me, it makes sense to invest in students when they are first beginning their learning. During last year's appropriations process, we worked with the Senate to establish a competitive grant program for early childhood literacy initiatives. The program supports nonprofit organizations and school libraries in providing books and childhood literacy activities to children and families living in high need communities. There is strong support for the program on Capitol Hill -- as evidenced by its inclusion in the FY2012 funding legislation. Despite these tough economic times, members of Congress understand the importance of supporting literacy activities for children, especially those living in high need communities.
This year, once again, I am leading the effort to include funding for this competitive grant program in the FY 2013 appropriations bill for the Department of Education. Our letter, which was sent to the Appropriations Committee last week, has 120 bipartisan co-signers from across the country. Members of Congress recognize the need that must be met when it comes to childhood literacy.
Earl: You have two sisters who are elementary school teachers in the Worcester, MA public school system. Growing up, was there an emphasis on education and reading in your home? When did you discover your own love of reading?
Congressman McGovern: Reading was always a big part of our family life -- and not just "serious books," but fun novels, newspapers, and magazines. I remember devouring the Sherlock Holmes stories by Arthur Conan Doyle. To this day I love a good mystery.
Earl: Now, as a parent, what are your reading rituals in the McGovern household? What are/were your favorite books to read with your son, Patrick and your daughter, Molly?
Congressman McGovern: When they were really little, Patrick loved Papa, Please Bring Me the Moon, Click Clack Moo, and Dear Zoo -- later he loved Doctor Doolittle. Molly enjoyed Five Little Monkeys Jumping on the Bed, Tell Me a Scary Story... But Not Too Scary and later, the Eloise books. As they got older, we really liked reading the Harry Potter books together.
Earl: You were recently arrested with actor George Clooney while protesting at the Sudanese Embassy. Did you read any books together while behind bars?
Congressman McGovern: Sadly, no. We were only detained for a few hours, and we weren't even allowed to have our belts or shoelaces! George was great -- very passionate and very knowledgeable.