In April, Katie Swec was named the Medical Director of Reach Out and Read Los Angeles. In this role, the 35-year-old pediatrician helps coordinate organizational plans, outreach goals, and provider training for her city's arm of the national school readiness organization.
Swec -- also an Assistant Professor of Pediatrics at the David Geffen School of Medicine at UCLA -- represents the new generation of pediatricians promoting literacy in the exam room. She was 14 years old when Reach Out and Read was founded in Boston in 1989.
I had the opportunity to chat with Swec about the importance of reading aloud, the future of pediatric literacy, and her own family's reading rituals.
Phalen: How did you get involved with Reach Out and Read?
Swec: I was introduced to Reach Out and Read in 2006, as an active-duty pediatrician at the Naval Medical Center in San Diego. I was asked by our department leadership to apply to become a Reach Out and Read Site through the then-new Military Initiative.
The more I learned about Reach Out and Read, the more I fell in love with the program. I assisted in coordinating the program at both the main Naval Medical Center Clinic and at a satellite location.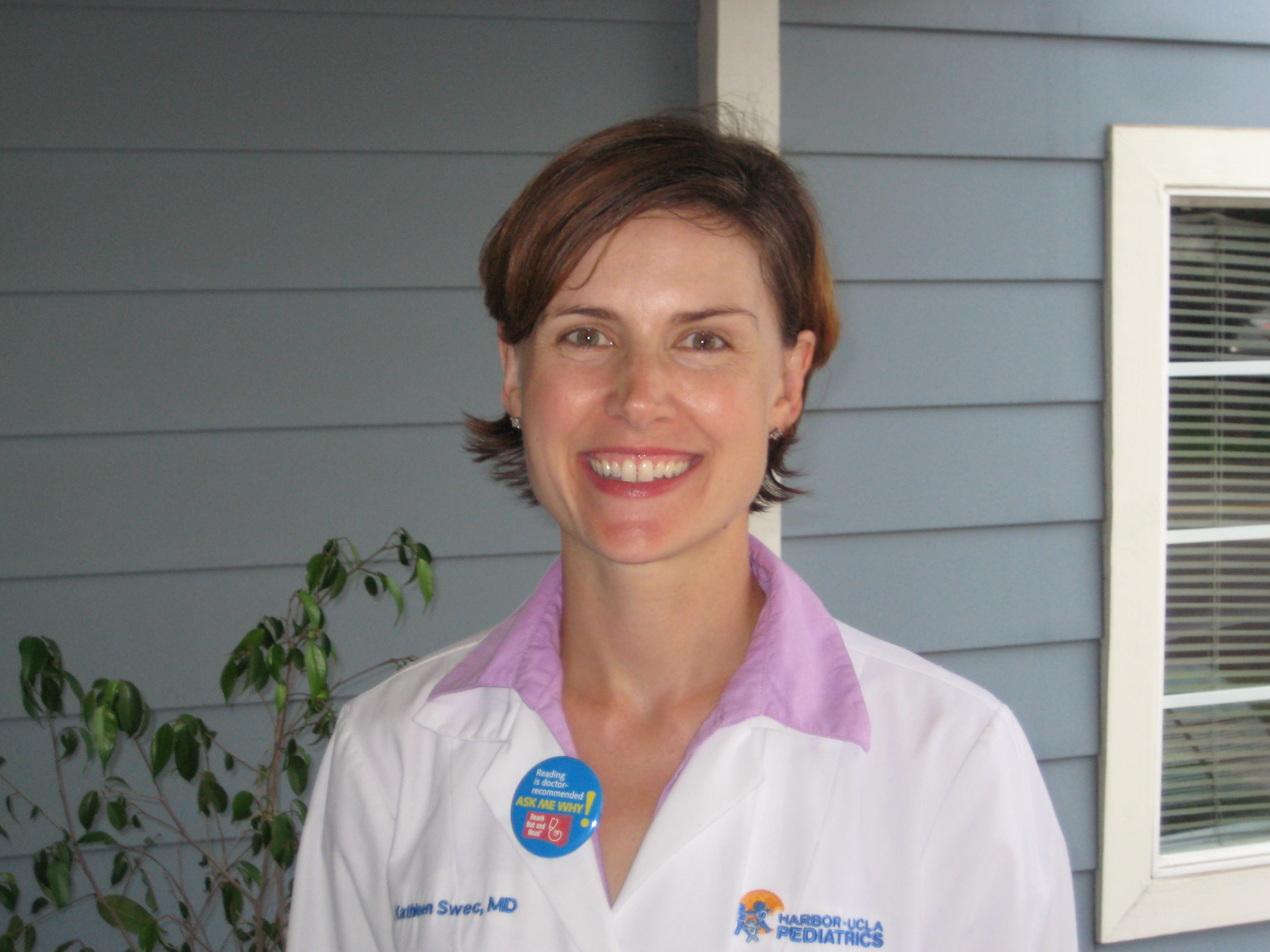 (Dr. Katie Swec)
Phalen: As a pediatrician, you talk to parents about the whole health of their children. Why is it critical for parents to read to their children?
Swec: Through reading, parents create the foundation that will allow their children to fulfill their potential in all things in life. If their children are successful in reading, then they are going to be successful in school -- and eventually in life.
Reading is one of the most important gifts a parent can give to a child. And Reach Out and Read is one of the most successful ways to make this happen.
I often remind parents that it's not just reading the words on the page that's important. It's the act of the child hearing a parent's voice. It's about spending quality time together. If a parent has limited reading ability, they can still describe pictures to a child, tell family folktales, sing, or even just talk about trees and birds during a walk in the stroller. They do not have be sitting down and reading words on a page for language development to happen.
Phalen: And why is it important for kids to see parents read?
Swec: Modeling is so important -- it's such a basic part of infant and early childhood development. For example, toddlers naturally imitate everything their parents do -- whether it's washing dishes or reading books. If they see their parents embrace books and reading, they will likely want to do the same.
Phalen: Reading helps kids learn sounds, vowels, consonants, prefixes, suffixes and gets kids actively involved. How does this compare to what they learn from television?
Swec: Television is passive learning, while reading is active learning. While reading, children can learn at their own pace, and take time to think critically about certain words and concepts. Because television flashes before their eyes, they don't have time for critical reflection.
Children often zone out in front of the television, which does not allow them to develop the necessary early language skills they will need to succeed in school. We also know that children learn a much broader vocabulary by reading than by watching television.
Phalen: Tell me about the reading rituals in your own home. Does your daughter enjoy reading? How do you encourage her to spend time with books?
Swec: My daughter loves to read. I started reading to her as a young infant before naps and bedtime -- and throughout the day. I also had baskets of books on the floor for her within reach. Now as an older toddler, she has her own bookshelf! We also have books for her in the car, and she loves story time at the library.
Phalen: Many pediatricians say that the book is as important a tool as their stethoscope. How can we ensure that the future pediatricians of our country understand -- and promote -- the importance of early literacy?
Swec: We should be promoting programs like Reach Out and Read as early as possible in medical schools and residency programs. Reach Out and Read's resources, such as the early literacy milestones guide and the developmental disability guide, help doctors evaluate child development and integrate books into the care of those with special needs. Books, like our medical tools, should be viewed as vital components of pediatric care.
Swec practices both inpatient and outpatient pediatrics at the Harbor-UCLA Medical Center Department of Pediatrics. She lives with her husband and 2-year-old daughter in the Los Angeles area.