Our country is in the midst of an early literacy crisis. Studies have found that only 30% of children from low income communities enter kindergarten with the basic language skills necessary for literacy development, such as recognizing letters of the alphabet.
I was delighted when one of journalism's brightest stars, Soledad O'Brien, offered to share thoughts on parenting and early childhood reading with me. Every day, Americans across the nation watch Soledad O'Brien on CNN's Starting Point. From 7 a.m. - 9 a.m. she delivers compelling stories and engages with some of the world's most powerful leaders.
The Harvard-educated mother of four is the Chairman of the Board for The After-School Corporation, a nonprofit dedicated to expanding educational opportunities for children. She and her investment banker husband, Brad Raymond, are also founders of The Soledad O'Brien & Brad Raymond Foundation, which supports higher education aspirations of young women through financial aid and mentors.
As the CEO of Reach Out and Read, an early literacy pediatric initiative that impacts 4 million mothers annually, and as someone who's witnessed the transformative effect of reading on my life as a child born into foster care, I was glad Soledad O'Brien found time to chat with me about the importance of early literacy and to share tips for new moms.
Earl: Thanks for the taking the time to talk with me. While you were growing up did you have any reading traditions in your family?
Soledad: I was very lucky because I had a lot of older brothers and sisters. I'm number 5 of 6, so maybe they didn't feel so lucky (smile). Since they had to keep an eye on me and my little brothers, they read to me. Growing up, I always had people reading to me. My sister has her children reading to each other and my kids read to each other. My older daughters are really good at reading to their little brothers. My children love to read.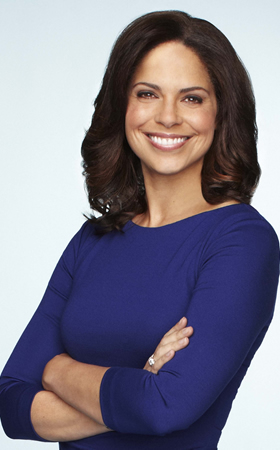 Soledad O'Brien (courtesy of cnn.com)
Earl: Did you have a favorite book when you were a child?
Soledad: Ferdinand the Bull. It's so funny, I was in the car driving with one of my girlfriends who was with her 18 month old son -- she starts reading this story and I remember saying, "I know that book! That was the book my dad used to read to me! It's called Ferdinand the Bull." It must be from the 1930s or '40s. It's a great book. It's about a little bull who doesn't want to be a fighter. He's very sweet, but he gets stung by a bee and then looks very fierce. The other characters bring him to the bull fight and he just sits down and looks at the flowers. Everyone becomes so frustrated that they take him out of the bull fight. The whole point of the story is that it's nice to look at the flowers sometimes. Everyone doesn't have to be a fighter.
Earl: You mentioned your children are already reading to one another and love reading. Do they have favorite books?
Soledad: My twin boys, who are 7, are very into My Weird School and Captain Underpants books. They read books to themselves. All four of my kids really get a joy out of reading.
Earl: At Reach Out and Read, we say the parent is the child's first and most important teacher -- are you discovering this as a new mom and what parenting tips around literacy would you share with our new parents?
Soledad: Reading is such a treat. One, it's great to use as a reward at the end of the day. Second, when kids are having a meltdown, a way to calm them down is to pick up a book and start reading. It's like magic. If my children are having a difficult time, I just say, "I'm going to start reading this book, Corduroy...There was once was a bear..." Even the older ones will come over and lean on you and listen. People love to be read to. They love the closeness. I was surprised. I have been saved from a lot of meltdowns (smile).
Earl: Why do you think it's important to read out loud to children? You discussed this a little bit.
Soledad: When you are reading out loud, you are teaching new vocabulary words and the different skills that are involved in reading. One of those skills is actually understanding the words you are reading. Reading aloud helps with reading comprehension and understanding the narrative. It's an opportunity to teach.
Earl: With twins, how do you integrate reading into your daily routine with all of your other demands?

Soledad: Reading became a final end to the day. It's very much a reward at the end of a long day. There's never enough time to get everything done, but I can sometimes leave the dishes in the sink for the morning in order to have the closeness of reading and snuggling in the bed with my children.
Earl: Within Reach Out and Read, the organization that I lead, we have four million mothers who participate and are always interested in the careers of our guests. Can you share the best part of working at Starting Point?
Soledad: The hours are very early. I've worked a full day by 9 o'clock in the morning. So, I get to spend a lot of afternoons with my children. Just to be in their space and sphere is really great as a parent.
--
News star and role model mom Soledad O'Brien can be seen weekday mornings on CNN's Starting Point.