The city of Chicago is facing an alarming rate of violence. According to the Chicago Tribune and police reports, 319 children within Chicago Public Schools were shot during the past year. With seven-year-old Heaven Sutton's death on June 27th, community leaders and families continue to struggle for solutions.
In the midst of the crisis, Summer Advantage USA, a research based summer program that works with schools to increase student achievement, has partnered with four major organizations in Chicago. Recognized by MSNBC and TIME Magazine, Summer Advantage has impacted thousands of children in 15 districts across the country.
Approximately 750 children across the city of Chicago will have the opportunity to be engaged in rigorous academic instruction, enrichment classes, mentoring activities and physical fitness for 6.5 hours daily from July through August.
Through support from the National Summer Learning Association, Chicago Allies for Youth Success and the WalMart Foundation, Summer Advantage will lead a historic Chicago partnership with the following organizations to support the success of hundreds of children:
1. Academy for Urban School Leadership - 360 students at the Bradwell School of Excellence and the Harvard School of Excellence.
2. Chicago Housing Authority's Learn and Earn Program - 200 students at the West Side Technical Institute and Truman College.
3. Chicago Public Schools - 100 students at the Daley Academy.
4. Legacy Charter School - 100 children.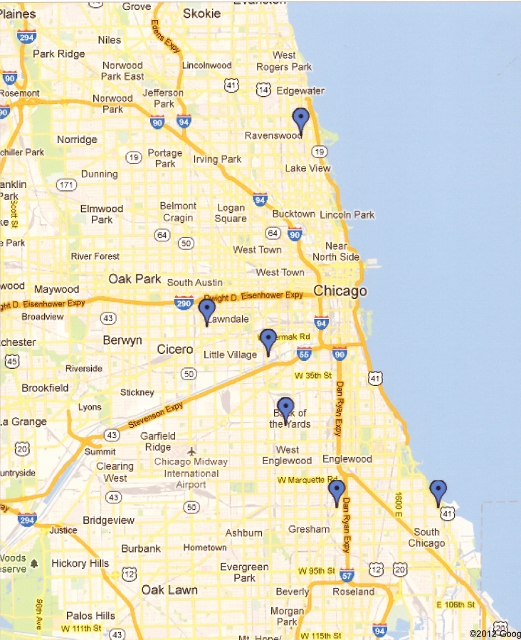 Chicago 2012 Summer Advantage sites (courtesy of Google Maps)
The Academy for Urban School Leadership's Managing Director of Elementary School Turnaround, Jarvis Sanford, states: "It is most important that we have students in an academic environment 12 months of the year that includes cultural enrichment, in an effort to prevent learning loss and to keep our students safe. Furthermore, by engaging the students in the community surrounding the school, Summer Advantage fosters a strong climate and culture for all of the participating children."
Part of the vision for the program is to ensure that the over 700 children served have learning experiences that will help them excel academically, stimulate their dreams and facilitate their growth as citizens and potential leaders.
Former Harvard Community Builder Fellow and Summer Advantage Vice President Angie Burks notes, "Young people need a sense of hope and a future. They need to know that adults and leaders care. When an adolescent is completely desperate, they feel their lives are not of value.
In the midst of the violence, it is extremely important that City officials and socially conscious journalists let communities know that close to 750 children will have access to success resources, meals and caring teachers. With the lack of awareness, the desperation only grows."
For more information regarding the historic collaboration, contact Regional Director Sheila Brillson at sbrillson@summeradvantage.org