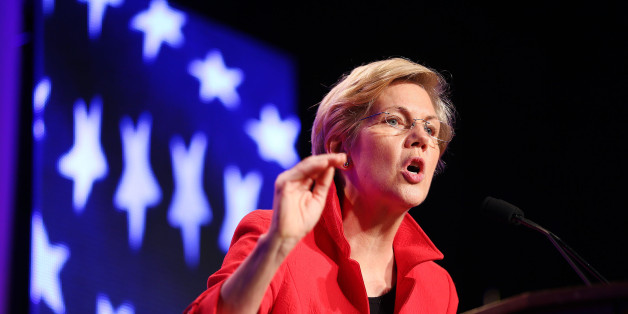 For the record, Massachusetts Senator Elizabeth Warren has repeatedly said she's not running for president. She has not encouraged any of the burgeoning draft movements for her to run. But she's coy enough to let the legions that implore her to run to keep imploring her to do just that. But it really doesn't make a difference whether she tosses her hat in the presidential rink in 2016 or not. She will loom large in the 2016 presidential hunt anyway. That's good and bad news for Democrats, more specifically for presumptive Democratic presidential contender, Hillary Clinton.
It's true that Warren can energize frustrated liberals and progressives whose numbers are still big and it's much-needed for Democrats to rebound from its November mid-term shellacking. Warren's relentless pound of Wall Street for greed and manipulation, as well as its cozy ties with Clinton, are flashpoints of rage and disgust for many Democratic voters. Polls consistently show that a majority of Americans agree that the financial system is rigged for the rich, and that Wall Street and major corporations play and massage the system with impunity. Warren has firmly staked out her position as the one politician who is willing to confront Wall Street.
Without Warren in the race, there's the real possibility that many Democrats could do exactly what many in the GOP's ultra-conservative base did in 2008, and to an extent in 2012, and that's stay home on Election Day in silent protest against GOP presidential candidates John McCain and Mitt Romney. As it was with them, this would be a disaster for Democrats. Warren, though, is no Obama. She can't match him in charisma, political skill and a mountainous financial campaign kitty that he brought to the political table. Yet, she would still send thousands of doubting Democrats in a crusade to the polls in a Democratic primary joust with Clinton. But what then when she doesn't win the nomination?
Clinton is mindful of the loathing that legions of Democrats have for her Wall Street connection. In the general election, big bankers, financial executives and top corporate donors are expected to be generous bankrollers of her campaign. This was the reason that Clinton at a Democratic gubernatorial campaign rally in Massachusetts in November was effusive in her praise of Warren and in the process took a big shot at Wall Street and the corporations minimizing their role in job creation. Later she walked it back claiming she had "short-handed" her comments. In the run up to the 2016 presidential campaign, she will be continually challenged to tell which Clinton Democrats are to believe; the Wall Street or the populist Clinton. It will take deft political footwork on her part to try to be both and neither at the same time. This will reinforce the notion among Clinton detractors that she will say whatever it takes to try and please two polar opposite political constituencies.
All the while, non-candidate Warren will be repeatedly hailed as the one Democrat not afraid to speak her mind and take action to reign in Wall Street and not continue the corporate and Wall Street giveaways that, at times, have been co-signed under GOP duress by President Obama. The only real winner in an irreconcilable split among the Democrats is the GOP. GOP strategists will not mention Warren in their attacks on Clinton. Instead they will use her as their foil to paint Clinton as anti-business, and another tax-and-spend Democrat. And worse, a Democratic president who would be politically beholden, even hostage to Warren backers, and would impose more crippling restraints on corporations and the financial industry.
If Warren did choose to enter Democratic primary contests, her backers would cheer wildly. And this would force Clinton to spell out her position on the issues and tell how a Clinton administration would differ from Obama's and husband Bill's. She would also have to spend time making assurances that she is not the unreconstructed hawk on foreign policy issues that progressive Democratic critics lambaste her as.
This would pose fresh problems for Clinton. She'd have to talk even more boldly about tough financial regulations and reforms, and that would make her appear as even further to the left. That would feed Fox News and the Republican National Committee with a bonanza of round-the-clock hit points against Clinton. They would tar her as a Ralph Nader style Democrat who as president would war perennially with a GOP controlled Congress. The result, they'd loudly claim, would be even deeper gridlock that many Americans dread.
The saving grace for now is that Democrats, by a lop-sided margin, are solidly behind Clinton. That's the good news for Clinton. The bad news is those numbers mask the weak enthusiasm or outright opposition that many Democrats have to a Clinton presidential bid. Warren almost certainly will continue to remain their alternative.
Earl Ofari Hutchinson is an author and political analyst. He is a weekly co-host of the Al Sharpton Show on American Urban Radio Network. He is the author of How Obama Governed: The Year of Crisis and Challenge. He is an associate editor of New America Media. He is host of the weekly Hutchinson Report Newsmaker Hour heard weekly on the nationally network broadcast Hutchinson Newsmaker Network.
Follow Earl Ofari Hutchinson on Twitter: http://twitter.com/earlhutchinson