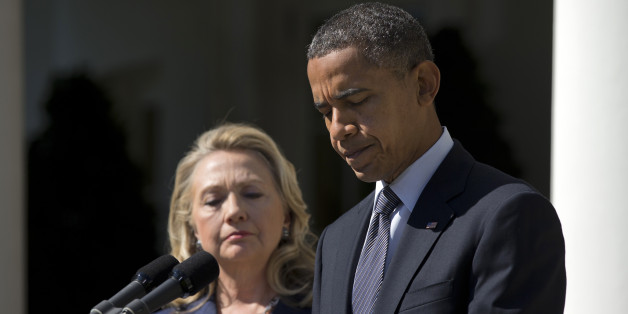 GOP strategists have gleefully played up President Obama's plunged poll ratings as if they were Hillary Clinton's. The metamorphosis of Clinton into Obama is amazing to see. First, endlessly cite the mid-terms elections not as a rebuff of Obama's performance and popularity but of Clinton's. Next, tirelessly cite polls and surveys that variously show that Clinton's favorability and popularity has steadily dropped. Then repeatedly tell everyone that she's not quite as "invincible" as she once seemed. Then lambaste Obama for his alleged imperial use of executive orders to skirt Congress, his immigration reform action, and meddling in Ferguson. Then rehash the Benghazi debacle reminding one and all that though Clinton was the Secretary of State when the attack happened, it still happened on Obama's watch and that both supposedly colluded to obfuscate, misdirect and cover-up the alleged foreign policy bungle and lapse that caused the loss of American lives.
Hillary got solid popularity numbers when she was out of the public eye and therefore other than Benghazi was not an easy target for vilification. But now that she very much is in the public eye, the ploy is to tightly saddle her with Obama, and remind that the political landscape has supposedly radically changed with the GOP mid-term wave. The intended takeaway is that Hillary is anything but a shoo-in for the White House, and even more politically suggestive might be ripe for an intra-party challenge for the Democratic presidential nomination from another Democratic contender.
The notion that Obama is toxic for Clinton is not new. It actually started before the mid-terms. It began with tell all quips from some of her 2008 campaign staffers that she kept an "enemies list" of Democrats who switched hats and jumped to the Obama camp in 2008. Supposedly, these prominent turncoat Democrats from Ted Kennedy to John Lewis were a prime cause of her 2008 Democratic primary defeat. Her stint as Obama's point person on foreign policy didn't change the supposed political enmity between her and Obama. This is fed with constant talk that Clinton has back peddled fast from Obama on foreign policy hot issues from Syria to Iran but all the while mindful that he is still the president, the titular head of the Democratic Party. More importantly, popularity slide or no, he will still be needed for campaign funding, logistic and party unity support for her presumptive 2016 White House bid.
This sets up the classic political trap for Clinton. She is damned if she moves to far away from Obama, at the risk of alienating him and party leaders. She is damned if she hitches her wagon to him given his supposed unpopularity.
The two keys to make this ploy work is first to sow doubt and dissension about Hillary among two key voter groups that are crucial to the Democrat's rebound in 2016. One of which are the voters that Obama has been a hard sell with. They are white male, blue-collar voters in swing states. The white male blue-collar voters in those states are still crucial to a Democratic presidential candidate's White House success. Obama did poorly with them in 2008 and did even poorer with them in 2012. The other group is women. He's had much success with women voters and the assumption is that Hillary would do the same if not better with them. To undercut that, the GOP has waved figures that purport to show that more women are receptive to the GOP than in times past. As with other voters, Obama and his alleged ruinous policies supposedly have made the GOP for many women the far better alternative to the Democrats.
The other key is to sow the same seeds and dissension among Democrats to get them to question whether Clinton could ever distance herself from Obama and sell herself to the voters as her own candidate with an agenda and a persona that truly would be a change from Obama. To drive that point home, names, most prominently Massachusetts Senator Elizabeth Warren, are tossed out to show that there are other Democrats who have taken positions at times at odds with Obama's on the issues and could give her a run for her money.
The GOP banks on one more ploy to hit Hillary with Obama. That's to turn the tables and remind voters of what happened to GOP presidential candidate John McCain in 2008. He had the colossal misfortune of being typed in the eyes of voters as being the water carrier for the cataclysmic bumbles, fumbles, and stumbles of Bush Jr. And that a McCain win would be bring more of the same misery if he was elected. In other words, the terror of a Bush third term with the name McCain soured many voters on McCain.

The same image is being cynically and calculatedly drummed home by pairing Hillary and Obama. Hillary will be her own candidate and run her own campaign if she runs, but that won't stop the GOP from trying to smear her with Obama.
--
Earl Ofari Hutchinson is an author and political analyst. He is a weekly co-host of the Al Sharpton Show on American Urban Radio Network. He is the author of How Obama Governed: The Year of Crisis and Challenge. He is an associate editor of New America Media. He is host of the weekly Hutchinson Report Newsmaker Hour heard weekly on the nationally network broadcast Hutchinson Newsmaker Network.
Follow Earl Ofari Hutchinson on Twitter: http://twitter.com/earlhutchinson