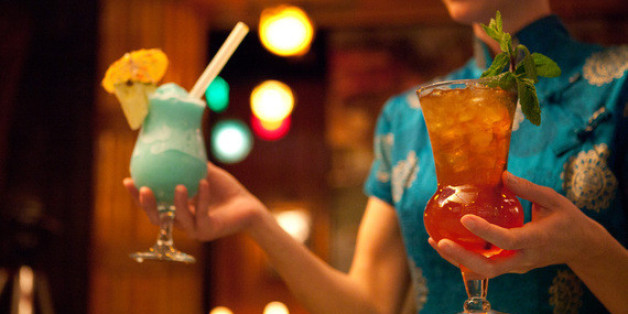 We've never met a Tiki cocktail we weren't willing to try. What's not to love about Tiki with its fruit, booze, paper umbrellas, colorful garnishes, fun glasses and taste of the tropics? Tiki has been part of our culture for decades and lucky us, right now we're in the midst of a tasty Tiki revival.
For some Tiki inspiration selected by Eat Drink Lucky editors, take a look at some of these spots:
Denver's Adrift Tiki Bar & Grill celebrates all things Tiki. You can get basic Tiki drinks like Mai Tais and Rum Runners, but they also have an extensive list offering Tiki sweet drinks, classics, originals and group drinks. Their tasty Blue Hawaii is a true Tiki cocktail with its pineapple, coconut milk, honey simple syrup, lemon, Blue Curacao and Don Q Cristal Rum, served blended (and pictured above).
Austin's King Bee Lounge is one of the city's best cocktail bars. Opened just under a year ago in the former Legendary White Swan space, this bar has attracted a lot of attention. Co-owner Billy Hankey was happy to talk Tiki and shared one of his own Tiki concoctions, the Jaguar's Paw, the recipe appears below. "Tiki to me is fruit, spice, sweet and spirit, really. It doesn't have to be Polynesian. This one is Mayan influenced. It's about tropicality."
Here is his recipe for Jaguar's Paw. The tamarind nectar makes it especially tasty without being overwhelming.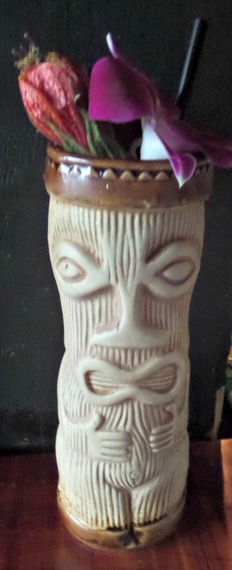 King Bee Lounge's Jaguar's Paw
1.5 ounces Del Maguey Vida Mezcal
1/4 ounce lime juice
3/4 ounce Goya tamarind nectar
1/4 ounce simple syrup
1/2 ounce St. Elizabeth Allspice Dram
1 dash Angostura bitters
Fill a tall glass with crushed ice 3/4 of the way up. Build the ingredients in layers in the glass. Swizzle with a long stirrer. Top with more crushed ice. Top with a lavish garnish.
In San Francisco Smuggler's Cove has been named one of the best bars in the city/country/world/universe. This bar's singular focus is on the "past, present and future" of rum in all its glory. The cocktail menu features over 70 traditional drinks of the Caribbean islands, classic libations of Prohibition-era Havana and exotic cocktails from legendary Tiki bars, making this destination the encyclopedia of Tiki.
In LA, the best Tiki bar is Tiki-Ti, an eclectic, much-loved Los Feliz dive. Their drink menu is HUGE, so it's wise to start with their signature Ray's Mistake, a favorite among regulars. If you're really indecisive, you can always try your luck at their Wheel of Tiki-Ti Drinks.
You can't talk about Tiki in Chicago without mentioning Three Dots and a Dash. They're the standard for craft cocktails meets classic Tiki vibe -- bamboo, thatched roofs, giant delicious cocktails served in tropical-themed glassware, the works. Group cocktails are totally trending right now, and their recent menu additions include this group cocktail overflowing with aged rums, called Blood of the Kapu Tiki. It's served in a ceramic pirate ship!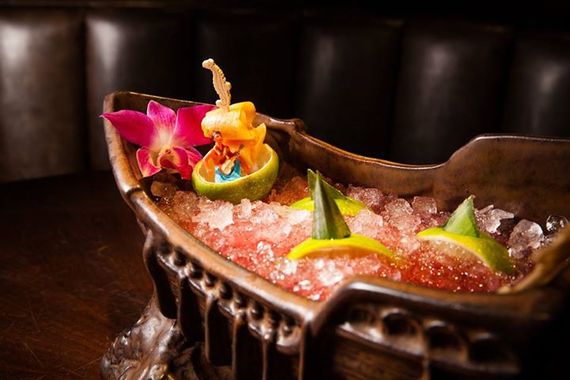 Three Dots and a Dash, Chicago
Also worth checking out in Chicago, Lost Lake. For some garnish inspiration, look at their banana daiquiri; they turned a banana into a dolphin and gave him an umbrella.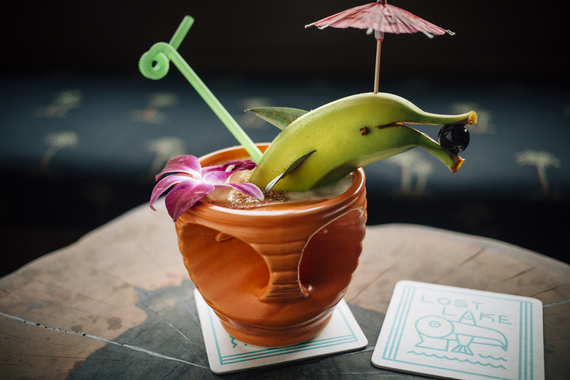 Lost Lake, Chicago
For more Tiki, consider Washington DC's Bar Charley. It's a far cry from the typical Tiki bar with more of a Mad Men-era old school vibe but they're known for their year-round Tiki tap cocktails, like the Suffering Bastard (gin, bourbon, house ginger beer, Angostura bitters, lime).
In Seattle, Pennyroyal hosts Tiki Night every Sunday from 3-7 p.m. Each themed night features special drinks, Caribbean food specials, Tiki music and colorful lighting. Guest bartenders from around the city whip up new drink menus every week.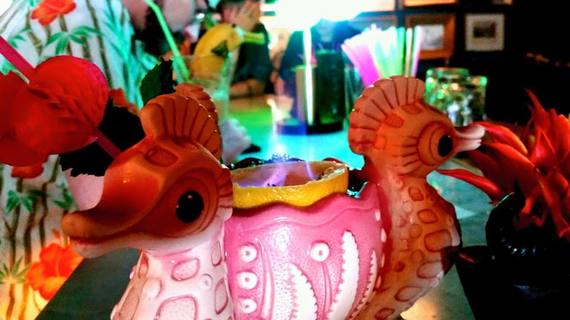 Pennyroyal, Seattle
New York's Tiki hot spot is Otto's Shrunken Head with its mix of classic Tiki (Mai Tais) and new creations (Pang's Punch glows in the dark).
In New England, the Tiki culture is also going strong. Boston's Wink & Nod celebrates with Tiki Mondays. With a one Tiki drink limit per customer, Wink & Nod focuses on the classics. Pick the Grab a Zombie & Twist with Dark Rum, Spiced Rum, Amaro Nonino, Agwa de Bolivia, Pineapple and House Falernum.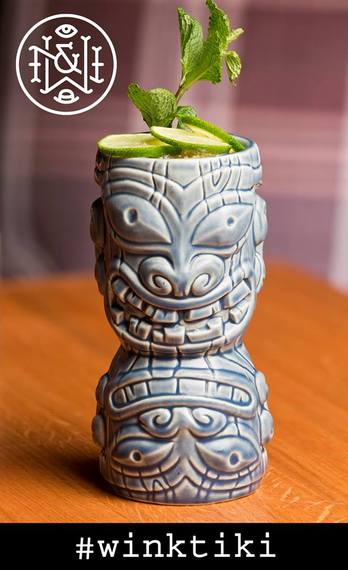 Wink & Nod Tiki, Boston
In Portland, ME Eventide may be best known for its oysters and brown butter lobster roll but they've got several tasty Tiki drinks including the Mai Tai, Walking Dead, Singapore Sling and Scorpion Bowl.
Let us know your favorite Tiki spot and share pictures of your Tiki concoctions with us via email or in the comments below!