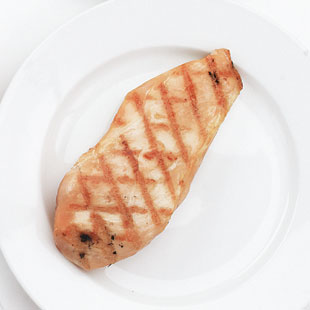 By Hilary Meyer, Associate Food Editor, EatingWell Magazine
I used to have a love-hate relationship with boneless, skinless chicken breast. On the love side, it's a lean, healthy protein with only 142 calories and 1 gram of saturated fat per 3-ounce serving. And it cooks relatively quickly so it's great for a weeknight meal. On the hate side, its flavor is so mild and it always seemed to be dried out from being overcooked. But all that changed when I took a moment to think about how I could make chicken breast taste better and I got creative. Now when I cook chicken breast, it's tender, juicy and packed with flavor.
Here are my tips on how to cook the perfect, juicy chicken breast and recipes to get you started:
PHOTO GALLERY
eatingwell chicken gallery
What's your favorite way to cook chicken breast?

By Hilary Meyer, EatingWell Associate Food Editor



EatingWell Associate Food Editor Hilary Meyer spends much of her time in the EatingWell Test Kitchen, testing and developing healthy recipes. She is a graduate of New England Culinary Institute.
More from EatingWell: