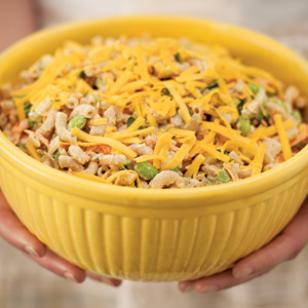 By Hilary Meyer, Associate Food Editor, EatingWell Magazine
Macaroni salad is one of those dishes that you just have to have at a summer potluck gathering. The ingredients are cheap, it's easy to make (and make a lot of) and has a wonderfully creamy texture and mild flavor that everyone loves.
But if you think your typical macaroni salad is harmless, think again. Right when you're about to squeeze back into that bikini, good old macaroni salad will make that task a little more difficult. A typical one cup serving packs 370 calories and 22 grams of fat. Yikes.
Don't Miss: Pasta Salad vs. Potato Salad. Which Is Healthier?
Before you throw that salad into the swimming pool, know that you can enjoy that same one cup serving with nearly half the calories and more than half the fat. Here's how to make your macaroni salad healthier:
Tip 1) Use Whole-Wheat Pasta
Although using whole-wheat pasta doesn't make much of a difference calorically, it does add fiber. Fiber doesn't add calories, but helps you feel full so you'll be less likely to go back for a second serving. And skipping that second serving will help you stay slim. A traditional macaroni salad has only one gram of fiber, while our version has three grams of fiber.
Tip 2) Bulk Up on Veggies
Typical macaroni salads are pretty spare when it comes to the vegetables. It might have a smattering of celery — maybe some chopped onion. And that's about it. So without breaking too far with tradition, our version adds more vegetables to the mix. Beyond the typical celery and onion, we've also added spinach, carrot and edamame. All three are mild so they don't take away from the traditional flavor, but they add nutrients and volume without adding a ton of calories.
Tip 3) Think Beyond Mayonnaise
Arguably the best part of a macaroni salad is the creaminess that typically comes from mayonnaise. Our version has plenty of mayo, but we opt for low-fat mayo instead of full-fat and mix it up with reduced-fat sour cream. This helps keep calories and fat in check — our version has only seven grams of fat compared to 22 grams in a traditional version.
Don't Miss: How to Make Any Recipe Healthier
Here is our made-over recipe for Macaroni Salad:
Get the Recipe: Macaroni Salad
Old-fashioned macaroni salad sometimes contains jarred pimientos, diced ham or pickle relish, but this version is simple and deliciously plain with fresh chopped celery, carrot and onion. A combination of low-fat mayo and sour cream lightens up the dressing, and whole-wheat elbow noodles, spinach and edamame add extra nutrients.
More EatingWell Recipes to try: Garden Pasta Salad and More Low-Calorie Pasta Salad Recipes
EatingWell Deviled Eggs and More Summer Potluck Favorites
Low-Calorie Potato Salad That Won't Pack on the Pounds
What's your favorite summer potluck dish?



EatingWell Associate Food Editor Hilary Meyer spends much of her time in the EatingWell Test Kitchen, testing and developing healthy recipes. She is a graduate of New England Culinary Institute.
More from EatingWell: