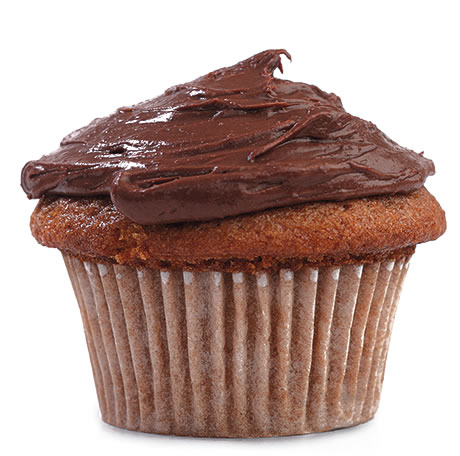 By Carolyn Malcoun, Contributing Editor to EatingWell Magazine
I don't care what the trendsetters say about whether cupcakes are hot or not, they are—and forever will be—my go-to dessert when I'm entertaining. They don't take as long to bake and cool as a cake does.
Plus decorating a cupcake is a lot less intimidating than decorating a cake—I just need to swipe on a dab of frosting rather than getting all artsy-fartsy with a layer cake. And, for whatever reason, if I'm seeking variety, preparing more than one kind of cupcake seems like a lot less work than baking and decorating two cakes. (Not Intimidated? Try: Banana Cream Layer Cake and More Light and Luscious Spring Cakes.)
Sure, it's easy to stop at a bakery to pick up a dozen cupcakes. But when you look at the numbers, the calories and fat are kind of scary. You can practically have 2 homemade cupcakes for the amount of calories and fat you get in a single bakery cupcake! Plus when you make your own cupcakes, you can control the ingredients you put in (no artificial anything, and all ingredients you can pronounce) and make them more interesting and delicious (and healthy) if you add fruit or other flavorings to the batter. Lucky for all of us, EatingWell Test Kitchen Manager Stacy Fraser has used her secrets for baking healthier cupcakes to create some incredible, healthier-for-you cupcake recipes.
Recipes to Try: Raspberry-Swirl, Chocolate-Cherry and More Easy Healthy Cupcake Recipes
Don't Miss: EatingWell's Test Kitchen Manager Shares Her 5 Secrets to Baking Healthier Cupcakes
Here's how homemade cupcakes stack up in terms of calories and fat when pitted against store-bought and bakery cupcakes.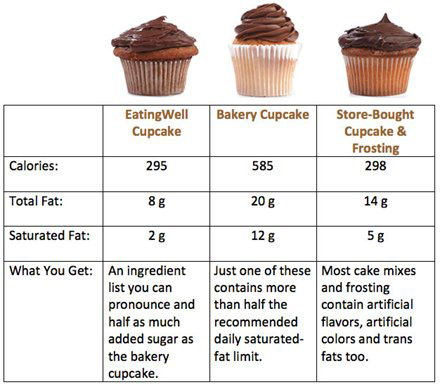 Here's Stacy's recipe for Vanilla Cupcakes with Chocolate Frosting. I hope you enjoy them as much as we did!
More Delicious Dessert Recipes to Try:
How to Make Homemade Fruit Bars
Healthier Homemade Ice Creams, plus Yummy Stir-In Ideas

What's your favorite cupcake flavor and icing combination?
By Carolyn Malcoun

Carolyn Malcoun combines her love of food and writing in her position as contributing food editor at EatingWell. Carolyn has a culinary arts degree from New England Culinary Institute and a degree in journalism from University of Wisconsin—Madison. Carolyn lives in Portland, Maine, and enjoys cooking, gardening, hiking and running in her free time.
Related Links from EatingWell: