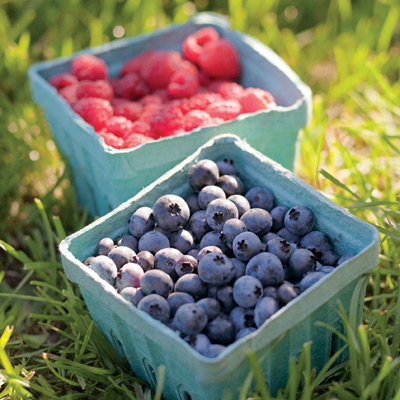 By Carolyn Malcoun, contributing food editor for EatingWell Magazine
There's one time of year when fruit really grabs my attention and that's summertime! Even though many fruits are available year-round, as a contributing food editor for EatingWell Magazine I know that picking fruit at its peak means it tastes better and has more nutrients—and can cost less too.
Don't Miss: The #1 Fruit You Should Buy Organic
I'm oh-so-excited because my favorites are ripe and in season right now. I recently nibbled my way through a half-pint of raspberries on my way home from the supermarket. Sweet strawberries and fragrant peaches incite me to—gasp—bake shortcakes and cobblers. Pureeing watermelon into juice is the perfect summer drink, whether alone or jazzed up with some soda water and a little vodka. And I have a special soft spot in my heart for blueberries, as one of my first dates with my husband was picking blueberries at a berry farm.
Here are some expert tips on shopping for and picking the best ripe fruit so you get the most flavor and nutritional bang for your buck, plus delicious summer fruit recipes!
Must-Make Summer Fruit Recipes:
Summer Fruit Pies and Tarts
Press-to-Bake Homemade Fruit Bars
100-Calorie Fruit Desserts
What's your favorite summer fruit?
PHOTO GALLERY
How to Pick the 5 Best Ripe Summer Fruit
What's your favorite summer fruit?
By Carolyn Malcoun


Carolyn Malcoun combines her love of food and writing in her position as contributing food editor at EatingWell. Carolyn has a culinary arts degree from New England Culinary Institute and a degree in journalism from University of Wisconsin--Madison. Carolyn lives in Portland, Maine, and enjoys cooking, gardening, hiking and running in her free time.
Related Links from EatingWell: