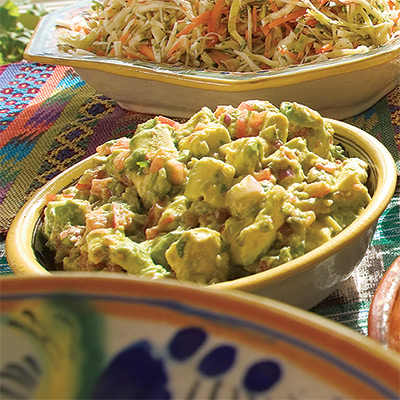 Are you planning to watch the Super Bowl this year? I am. But I don't watch the Super Bowl for the football—or for the commercials. I do it for the food (and the company, of course). I love football food. My favorite? Dips. Any kind of dip you can imagine. I love bean dip with tortilla chips. I love creamy dips with crunchy vegetables. I love guacamole with... anything! My husband's favorite is blue cheese dip with Buffalo wings.
But here's a stat I read recently that made me rethink my dip cravings: the average football fan takes in an estimated 1,200 calories while watching the big game. Plus many store-bought dips can be loaded with saturated fat, salt and additives. I'm not a linebacker—I don't need to eat like one either!
So I'll pass on the store-bought dips and whip up some healthier homemade versions with these quick recipes that call for just 3 ingredients or less (not including salt & pepper).
More Healthy Game-Day Eats:
Boneless Buffalo Wings & More Lightened-Up Football Snacks
Southwestern Layered Bean Dip & More Zesty Bean Dip Recipes
Healthier Chips and Dip Recipes
16 Spicy Homemade Salsa Recipes
Homemade Jalapeno Poppers & More Sizzling Super Bowl Recipes
What's your favorite football food? Have you ever tried to make a healthier version?
By Penelope Wall

Penelope is a web producer and writer for EatingWell.com. When
she's not busy geeking out at the computer, she loves cooking
and trying new recipes on her friends. Some of her favorite foods
are dark chocolate, coffee, apples, sweet potatoes and cheese.
More from EatingWell: