Backdrop
World Radio Day is #Observed on February 13 annually, and the aim of this Observance is to celebrate the radio as a means of Information, Education and Entertainment. The 2015 World Radio Day theme is, 'Youth and Radio,' with the goal of promoting greater participation of youth in radio, not only as listeners, but as producers and broadcasters.
Currently, too few programs focus on the concerns of younger generations. This lack of youth participation is made worse by the fact that a career in radio journalism is often difficult and underpaid, regularly requiring aspiring journalists to work for free. In addition to this, young professionals, including journalist and fixers, are particularly at risk in conflict areas because of their lack of preparation, training and support. [1]
Today's guest is a youth who is very familiar with the radio. Jake, who is always at his A-game, is an Activist, Attorney, Actor, Abuja Global Shaper, and Broadcaster with the BBC Media Action.
Jake started his radio career at 19, and he's presently the host of one of Nigeria's biggest Radio Shows, Talk Your Own Make Naija Better, which is aired on 115 Radio stations nationwide with about 24 million listeners weekly.
In course of this stroll Jake and I discuss his career so far; Radio as a tool for community development; his 2014 visit to the Vatican, and much more. Here's my stroll with Jake, I hope you enjoy it.
Ebenezar: Hello Jake, it's a pleasure having you on the stroll, bro.
Jake: The pleasure is all mine Ebenezar. I am happy to take a stroll with you.
Ebenezar: Also I'll like to say congratulations on winning the 2014 Future Africa Awards Prize in Community Action. It was well deserved.
Jake: Thank you very much, I feel highly honoured.
Ebenezar: However, this is not your first award. You won the 2012 National Radio Awards for Best Community Radio Presenter, and you seem particularly interested in how radio programmes can affect the lives of people in communities across Nigeria. Beyond speaking Queens English and playing club bangers do you think this is something every radio presenter should be interested in?
Jake: Definitely. Speaking Queens English and playing the latest songs are entertaining but radio is used for so much more. From history, radio programmes have been used to start revolutions, build cities, change governments, and even settle wars. Because of the power of the radio as a medium, it has also been used to trigger people into causing havoc. Don't forget that it was the radio in Rwanda that fuelled the genocide, which claimed about a million lives. Till today we still haven't gotten over that loss. My point is that radio is a catalyst. And with this at the back of my mind every time, I know that every sentence I make and indeed every word I use is capable of instigating action. So I am always conscious, even up to the pauses I take, and the expressions I make, because really, with millions of people listening, you only want a positive consequence from your programme.
Ebenezar: Okay?
Jake: Now, why am I passionate about using radio for community development? Its simple, in a country like Nigeria where about 70 percent of our population do not have the luxury of owning TV sets or connecting to the internet, radio is still the largest medium for information dissemination. The reach is powerful. Where cars and information technology cannot reach, radio can. With a transistor radio costing less than one dollar, many Nigerians still use their radio sets as their means of connecting to the world. So coming back to your question, yes radio presenters should be interested in using radio for social good because, I see radio as an auspicious medium for transforming lives. It is the best tool yet for development in Africa.
Ebenezar: So, let's go back to where it all started. You heard about the BBC Media Action's audition for a male presenter and as a fan of the show, without any prior media training; you went in for the audition. That's really bold you know? What happened after that?
Jake: [Laughs] that day was very interesting. I remember being very excited because I wanted to experience an audition for the first time. I was also looking forward to putting faces to the voices I heard on "Flava". The programme was only about a year old at the time and the BBC World Service Trust, now named BBC Media Action, was auditioning for a male presenter for the show. It was my first time ever at an audition. On getting to the audition venue, my excitement immediately evaporated when I met a crowd of 61 other applicants, all male, many of who were very well dressed. Some of them held scripts in their hands and some showed up with their demos recorded in a CD ROM. There was so much tension in the hall. Guys were pacing, talking to themselves and rehearsing, and waiting for their turn to audition.
We were paired in twos and given only a minute each to "freestyle", as though we were anchoring a programme on air. There was a camera in front of us, and some men who took notes stood behind it. I was really nervous but I managed to just flow with the guy I was paired with. He led the conversation because he had some prior radio experience but we generally just gisted like friends would. Our one-minute was over and that was it. I went home without any expectation but a few weeks after the audition, I was invited for an interview and the next day I was presenting my first edition of Flava! I was 19 years old at the time and I had just secured admission into the university of Abuja to read law.
Ebenezar: Wow, one aim of World Radio Day is to celebrate radio as a medium that reaches the widest audience, and Talk Your Own; Make Naija Better is on about 115 radio stations nationwide and reaches about 24 million people weekly. From when you started presenting Flava in 2006 till now, have you gotten any testimony/testimonies from listeners who have been transformed by listening to these shows? Can you share any of them with us?
Jake: Talk Your Own Make Naija Better is only one of the several radio outputs of the BBC Media Action in Nigeria. I must say that the BBC Media Action has gained a matchless reputation for transforming lives using the media in Nigeria and I am only just a freelance presenter but being a voice that people can identify with, I have had so many personal encounters with listeners. I can't even count. For example in January 2009, still presenting Flava at that time, a gentleman kept asking for my personal number. We had a dedicated number to receive text messages just like we do on Talk Your Own Make Naija Better, so my producer told me a listener had been constantly requesting to get my personal number so I took his number and decided to contact him. We spoke a few times and continuously for three months before we finally met at a park.
I remember us talking for almost four hours that day. He said he needed to see me face-to-face to find out if the people I interviewed on Flava were real. Perhaps he couldn't believe that with the fear and the prevalence of stigma at the time, people would come on the show and talk openly and confidently about their HIV status. He had a small book where he took notes from the editions of Flava he listened to, and as we talked, he flipped through the pages asking me questions about people he had heard from the show, and the villages and cities I traveled to, doing interviews. This was at a time when Flava had a trail of editions featuring people who shared their life stories being HIV positive.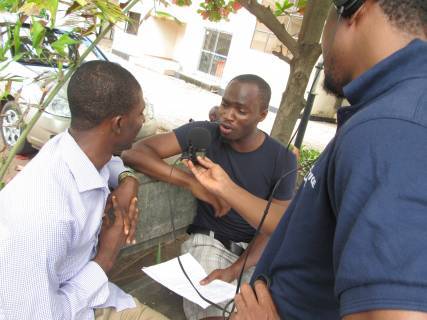 (Jake interviewing a HIV Activist in Benue State, Nigeria)
He told me listening to Flava had been his biggest means of encouragement for the last 2 years especially as he faced stigma from his family since he disclosed his HIV status to them. He admitted that he even stigmatized himself but stopped after hearing a Flava edition where we talked about how to deal with self-stigma. He also disclosed to me how he considered taking his own life twice. We became friends and I introduced him to a support to group, which I had to escort him to a few times. Anyways, fast-forward to 3 years after, he had set up his NGO to provide psychosocial support to people who were being stigmatized because of their HIV status and he also started his own local radio diary-style programme where he shared his struggle as a young entrepreneur living with HIV. Today he is married with 2 kids (his wife and kids are not HIV positive by the way) and we still keep in touch. Even though he has still not paid me for the MC job I did at his wedding [Laughs].
Ebenezar: (Haha) Wow, that's really an awesome testimony.
Jake: Yeah it is, from the text messages we received back then, many people constantly thanked the programme for teaching them about proper condom use, tips on how to abstain from sex and even how the programme motivated them to go and test to know their HIV status. The editions of Flava covered issues that you may not learn in school or from your parents, so there were many testimonies actually. Even till now. In fact, a Flava listener used the programme as the basis for her thesis; she did her defence last month. One of the ardent Flava listeners back then, became so passionate about radio and he now works with the Media Action as an assistant producer for a radio drama.
But the greatest testimony is mine. Anchoring Flava transformed and developed my mindset. Flava built my passion for people. It gave me an opportunity to serve my country people and most importantly, it really humbled me. Travelling across the country recording editions of Flava fuelled my passion for human rights and in 6 years, I learned so much about HIV and sexual reproductive health that I easily wrote research papers that got accepted on international conferences. So asides going to places and having people recognize me just by my voice, I have visited hundreds of local government in all 36 states of the country and Flava contributed largely, in making this a possibility.
Ebenezar: So you presented Flava for 7 years, and you did this while you were in the university, yet you graduated as one of the best students. Okay, tell me, How is that even possible?
Jake: [Laughs] I read many law books. And I guess I didn't want to be the popular guy that everyone listened to on radio but had embarrassing grades, so I took my courses really seriously. Also, even though I always travelled to record Flava during the semester and missed tests and assessments sometimes, when it was time for exams, the coffee and kolanut came in handy. If I had to read till daybreak, I did it. Also, I had very supportive friends who were willing to discuss topics with me whenever I missed classes. Studying law at the University of Abuja was amazing; it unravelled my intellectual curiosity, equipped me with many practical skills and made me very passionate about justice. It is a thought provoking course, and rewarding too. At least it has taught me how to take two situations that are exactly the same and show you how they are different [Laughs]. I bless God for the Grace of seeing me through school and the achievements I accrued therefrom. But I am still studying, because as a lawyer, you really never finishing studying law.
Ebenezar: Okay, let's take it a step higher now. Between Law and the Media, which is closest to your heart?
Jake: Hmm. That's a vacillating question. [Laughs]
Ebenezar: [Laughs] I know...
Jake: [Hahah] It's like asking me to choose between the cake and the pie. Law and media are both tools for social good. I find myself integrating both of them to achieve specific outcomes. They are both very close to my heart.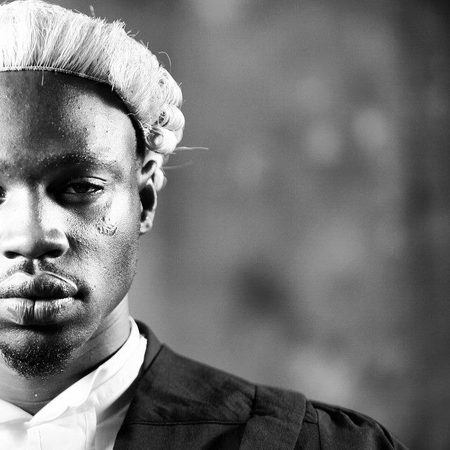 Ebenezar: Another issue very close to your heart is leadership, and you're Deputy Curator of the World Economic Forum's Global Shapers Hub in Abuja, Nigeria. Alongside fellow Shapers you engage in community development projects that affect the lives of people in the FCT and Nigeria as a whole. A lot has been said about Nigerian Youths not being ready for Leadership roles, what do you think about this?
Jake: When people say the youths of Nigeria are not ready for leadership roles, I think it is because people have a traditional idea about leadership. Leadership has nothing to do with age or title. Anyone who can amplify the efforts of others to achieve positive goals is a leader. So it's not about power but about social influence; it's not about being in control, but about service. So if you look around you, you will see exceptional leaders who are young people and I am even strolling with one right now. Anyone who says the youths are not ready for leadership roles is quite narrow minded because we are ready. You may not see many young people contesting for political offices because of the glass ceilings in Nigerian politics but things are changing and changing fast.
Now, about the Abuja Global Shapers, we are a passionate group of young people comprising of renewable energy experts, government advisories, social media proprietors, industrial farmers, foreign service professionals, corporate lawyers, IT gurus, fashion designers, name it. We come together with the sole aim of solving problems affecting the Abuja community and many times beyond Abuja. All under the age of 30, we do this voluntarily. The Abuja Global Shapers have donated blood to bomb blast victims, launched a mentoring programme for high school students and we have trained hundreds of graduates on CV writing and use of computer software, to mention but a few. Currently, we are running the Amana Initiative, which is an umbrella of programmes geared at building trust between the millions of youth and security agencies in the northern states of Nigeria.
Ebenezar: Wow, that's so interesting. Still talking Global Shapers, you were one of the 80 leaders invited to the Vatican in 2014 to discuss and draft a new social contract for humanity. Can you tell us a bit about your experience there considering how special the Vatican is to a catholic?
Jake: When I stepped into the Vatican I sang to myself "started from catechism, now we're here" [Laughs].
Ebenezar: [Hahah] Oh yeah?
Jake: Being invited to the Vatican is one of the highest points in my life, not because I come from a catholic background but because I was privileged to be part of a consultation that drafted a new social contract for the world. The Vatican is not only the historic seat of a vast spiritual community world over, but a visible symbol of a living system of values and an independent government headed by the Pope. This meeting was inspired by the teachings of Pope Francis contained in his book, Evangelii Gaudium where he stated that, "Business is in fact a vocation, and a noble vocation, provided that those engaged in it see themselves challenged by a greater meaning in life."
So, the World Economic Forum called together 80 world leaders in collaboration with the Holy See and the Pontifical University of the Holy Cross to explore ways of overcoming social and economic exclusion in the world. We examined the drivers of inequality and explored novelties from the private and public sectors and civil society, that can help build more inclusive, entrepreneurial economies that are based on the principles of love and respect for all. The outcome of the meeting, like you have said, is the creation of a new social contract for all human progress, which will provide essential resources for economic engagement, ensure well-functioning institutions, rights and responsibilities, and enable all global citizens to lead purposeful lives. On my return to Nigeria, I had imbibed a new mindset and a renewed passion for humanity.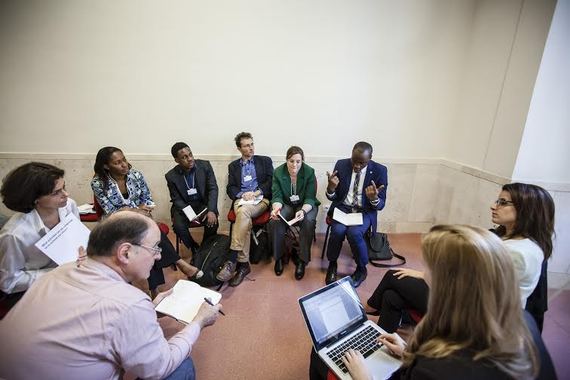 (Jake contributing at a session during his visit to the Vatican)
Ebenezar: That's so cool, I can just imagine how great that was. Still talking religion though, while growing up as a Christian boy you had Muslim friends whom you occasionally accompanied to Islamic school and gatherings. Fast-forward to 2015, Christianity and Islam seem no longer compatible in Nigeria; what do you think can be done about this?
Jake: I think we have to consistently promote our similarities, which are more prominent than our differences. But then again many people are ignorant of the commonalities between Christianity and Islam. With the advent of the Internet and social media, one would think that people would be more knowledgeable about each other's religion because information is now easier to access, but the reverse is the case. Social media has fuelled more hate and ignorance. I grew up in an open-minded family and even though my dad is a knight and everyone in my family was committed to one department in church; I attended Islamic school for four years in my teenage years. I had my slate, I recited the Qur'an, I was learning the basic principles about Islam and people around me, even in my Islamic tutors, encouraged me. I also offered to study Islamic law in university. It didn't mean I wanted to become a Muslim. I was gaining significant knowledge and I am a better person for the knowledge I have acquired.
I will not be caught dead spewing ignorant statements about Islam or Muslims because I am knowledgeable. So awareness is key. Rather than sticking to the learning of our chosen faith, which we mostly inherited from our parents, lets explore others, even if it is one that we disagree with. We may quickly find that the value system is similar if not the same. Finally, with the current religious intolerance, we need to criminalize hate speech that incites religious violence and we need to also actively enforce secularism. Section 10 of the Nigerian constitution says Nigeria is a secular state, not a state of Christianity and Islam so it shouldn't be cool to see religion being played every now and then, even in political and official settings, especially as it breeds competition and manipulation.
Ebenezar: Very well said, bro, very well said. So the Nigerian General Elections have been postponed to March, and most of us followed your Journey to collect your PVC, which you shard on social media all through. In one sentence, what's your advice to every Nigerian with a Permanent Voters Card?
Jake: Exercise your right and vote. Please vote and not fight. Election is not war!
Ebenezar: Also on the Observance, February 21st is Mother Language Day, and I'll like to know, what are your thoughts about the Nigerian Pidgin English, considering the fact that you mostly present in pidgin? Do you think we should pay more attention to this language?
Jake: Nigerian Pidgin English deserves an official recognition. We should pay weighty attention to it because Nigerian Pidgin has become a fully developed language with its own rich semantics, syntax and lexicon. Any one that marginalizes pidgin does not realize that it reflects our productivity, simplicity, acceptability and a common understanding among us Nigerians. In a country with about 300 languages, and with half of our population not being able to read or write in proper English, Pidgin is actually our lingua franca because it serves the entire spectra of Nigerians, transcending ethnic, religious and class boundaries. It even accommodates creativity. During my Flava years, there was a time when some radio gatekeepers didn't want us to mention the word "sex" on radio. How do you talk about sexual reproductive health without mentioning sex? So I came up with a crazy slang: Lamushuang. [Laughs]
Ebenezar: [Haha] Wow, that's some Linguistics right there...
Jake: [Laughs] and you know what? I didn't have to introduce or teach anyone what Lamushuang meant. Once I used it in a sentence, many listeners understood it perfectly and it added flavor to my interviews. The word went viral and almost every listener began to use it. The gatekeepers didn't complain anymore. Pidgin is dynamic, and beyond people describing it as the official language of the uneducated, it is a beautiful form of art. Come to think of it, when last did you hear a captivating Nigerian song that wasn't in Pidgin?
Ebenezar: Uhmmm.. Asa? Okay even Asa uses pidgin sometimes. You're right, I agree. Okay, to end on a lighter note, February 14th is also known as a day for love, and in 2012 you said you were taken, but in a 2014 interview you said you're single. What will you say in 2015? [Laughs]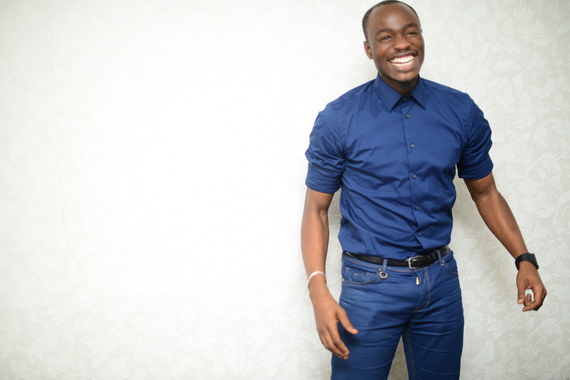 Jake: Hmm... [Laughs]. The way you asked this question now, someone will think something happened between 2012 and 2014 [Laughs].
Ebenezar: [Hahah] Ah, we don't know oh...
Jake: Well, I am not married but I am not single.
Ebenezar: Not married, not... Okay I think we should leave it at that. It was really great strolling with you bro, thanks a lot for your time and everything
Jake: Thank you too Ebenezar. Seeing all the prominent world figures that have taken strolls with you, I can only feel obliged for the opportunity.
Images Credit: Jake Okechukwu Effoduh
Reference: 1-- World Radio Day, UNESCO.

Thought to Remember: "Finally, brothers, whatever is true, whatever is honorable, whatever is just, whatever is pure, whatever is lovely, whatever is commendable, if there is any excellence, if there is anything worthy of praise, think about these things" (Philippians 4v8)
This Stroll is done to #Observe World Radio Day 2015.