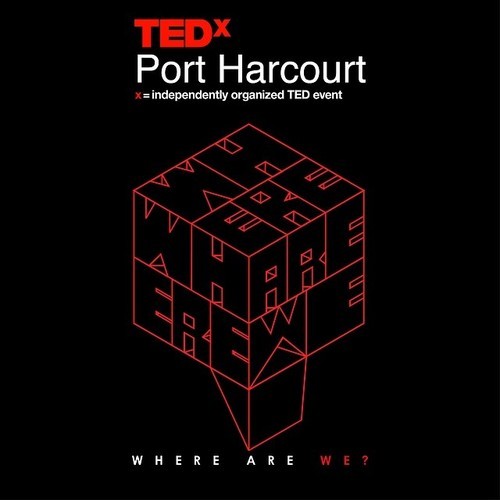 Where Are We? That's the question close to 300 minds gathered to answer on 11 October 2014, at The Dome, Peter Odili Road, Port Harcourt, Nigeria.
It was a second missionary journey for the Organizer/Primary Licensee, Mr Donald Okudu(who coincidentally was celebrating his birthday on this same day). His first event was TEDxStadiumRoad, organized in 2013 for one hundred people, and its success qualified him to attend TED Active in Whistler, Canada in early 2014. The experience he gathered from TED Active and TED Salon in Berlin(which he also attended in course of the year), was obvious in the way he organized this year's event. Everything was just so perfectly planned; from the speakers to the event hall, to the food(most especially the food). Attendees didn't leave the event with only food-for-thought, but also sufficient food-for-tummy having spent almost the whole day(10am-5pm) at the event.
The TED Open Translation Project will also be proud of TEDxPortHarcourt because, for the first time ever I witnessed a TED event with a sign language translator on one side of the stage, translating every speaker's talk for those with hearing impairments. The organizer, Mr Donald, believes people with disabilities also have a right to ideas worth spreading, and he clearly made an international statement with that act.
The host of the event was Andre Blaze Henshaw. He was also a speaker at TEDxStadiumRoad in 2013, and he rocked the stage perfectly in his well fitted suit, providing perfect lubrication in words between the speakers and videos during the event.
As for the Ideas worth spreading? TEDxPHCity didn't disappoint, as all speakers kept the audience at the edge of their seats from "good morning everyone", to "thank you for listening". The central idea was to answer where we are, as a people, in politics, education, leadership, health, food, etc.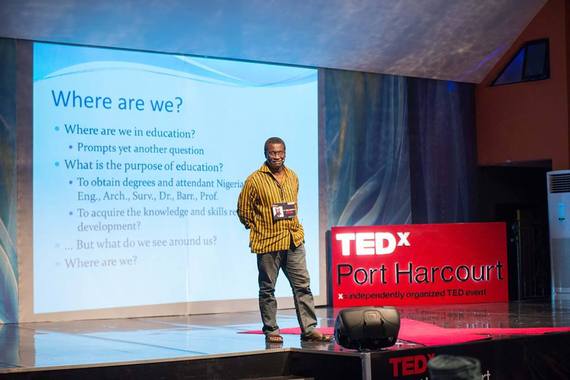 (Dr Tunde on the TEDxPortHarcourt stage)
Dr Tunde, a research scientist, spoke on where we are in Education and what we have to do to move. In course of his talk he stressed that, "Education should not be for the acquisition of titles, but rather for the development of a person's intellect and creativity...". Mr Reward Nsirim spoke about how to get the world healthier with lesser tablets(if you hate pills, like me, you'll love this one). He emphasised that, Nigeria needs; more green spaces, lesser cars, and the shocker of it all... Lesser human beings; for her to have a healthier environment. He explained how population figures affect the health of a nation, and how everyone can play a part to ensure a cleaner and greener society.
Mr. Christian Reuben's short-but-very-captivating talk was the first talk at TEDxPortHarcourt. In a very creative, yet un-TED, way, he started his talk from where he was seated in the audience, and walked up to the stage keeping everyone guessing and trying to figure out what his next stunt might be. He spoke about ego-free leadership, and one line he said that struck me was, "Don't judge yourself by your reputation and your possession because, these are variable... Instead Judge yourself on your character." (Emphasis added)
Ozoz Sokoh's mouth watering and well timed talk led us to tea break, and thankfully so because, her talk on Where we are in food is the best fast food commercial you'll ever watch(seriously McDonalds and Kfc should pay for her services). As a food enthusiast, Kitchen Butterfly, as she is popularly known, narrated her journey from plate to plate and explained the beauty in regular Nigerian dishes taken for granted in the Nigerian Society. She said, "Food should be more than a substance taken to meet a need(hunger)", she continued by saying, "We should eat to nourish our beings...".
"If you're not globally competitive, then you're not competitive..", these were the words of Mr Abdul-Hakeem Ajijola, an ICT expert, who spoke on Cyber security. He challenged the audience to be more careful about the information they document online, adding that we all have to take responsibility for our security; offline and online. Mr Ajijola, who has also served as the Senior Special Assistant Innovation and Technology to the National Security Adviser (NSA) to the President, opened the eyes of every member of the audience to the business opportunities on the web, and how youths can take hold of these opportunities. Considering the fact that TEDxPortHarcourt happened on the United Nations' "International Day of the Girl Child", Dr Jumma's talk about the inclusion of women in technology went a long way to commemorate this day. Dr Jummai Ajijola challenged the audience to break stereotypes and build new bridges for change in the country. She has previously been the Lead Corporate social responsibility for Microsoft corporation, West Africa.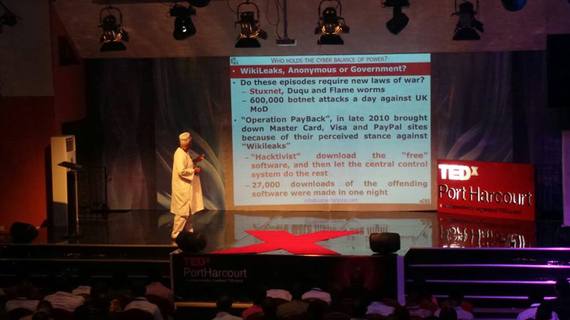 (Mr Abdul-Hakeem Ajijola on the TEDxPortHarcourt stage)
Martin Abraham, managing partner and principal training/coach at MOHspire, renewed everyone's love for the green-white-green. Dressed in his sparkling white kaftan, Martin's talk was titled "I Am Nigeria". The climax of his talk was when he led the whole audience to rise to their feet and passionately recite the 2nd Stanza of the Nigerian National Anthem as a pronouncement of renewed commitment to the nation. It was really inspiring to see a Nigerian talk about Nigeria for over 10 minutes without having to mention the bad roads, epileptic power supply, and security challenges facing the country in recent time.
Mrs Bitebo Gogo's talk brought tears to many eyes as she narrated how she came from the hands of death to find purpose and meaning for her life. As she spoke on background music provided by a blind keyboardist whom her foundation has helped, the hall experienced pin-drop silence and after her talk, the standing ovation that followed went on forever. It's the most emotional TED talk I've ever seen.
Popular Nigerian stand up comedian and social activist, Daniel Chibuzor Nnwoka, who has performed on several national and international stages, ended the event with his very thought-provoking talk on where we are in Politics. He made the audience see why they have to be interested in politics, considering how it affects every other sphere of life. Quoting a popular playwright he said, "The worst illiterate is the Political illiterate...". in his well delivered talk spiced with comedy, he ended TEDxPortHarcourt on a lighter note, leaving members of the audience asking for more.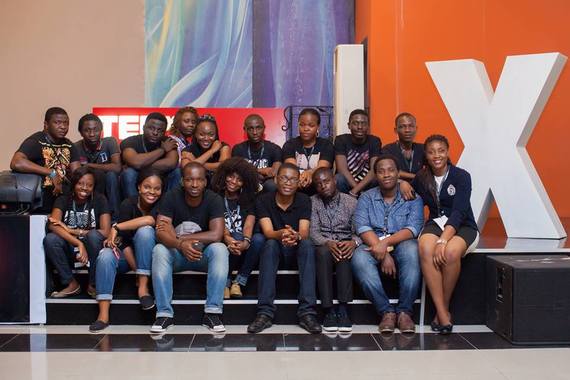 (The 2014 TEDxPortHarcourt Team)
I have no doubt that everyone left the Dome with ideas worth spreading in their local neighbourhoods and communities. I also think, since we now know where we are, and what we have to get to where we want, the next step is to get moving. So, let's get moving. I'm out of here, see you next year.
(Image Credit: TEDxPortHarcourt.)