As
a prisoner in a Chinese jail, Kirsten Westby was able to find solace by sitting
quietly in contemplation. Deeply affected by walking on the moon, astronaut
Edgar Mitchell went from exploring outer space to discovering the vastness of
inner space. Coping with HIV, New Yorker Mark Matousek found healing through group
meditation. Seane Corn used her yoga and meditation expertise to work with
child prostitutes in LA.
In
the last few decades, people in all walks of life have begun to realize the
profound benefits of meditation. While this ancient practice is personally
transformative by calming the mind and reducing stress, awakening the heart,
and deepening insight, can meditation also change the world for the better? Now,
in a new book, some of today's most notable voices explore this issue --
including 16 authors from New York City -- reflect on how looking within has resolved
issues such as anger and fear, inspiring them to work toward a more caring and
peaceful future.
BE THE CHANGE, How Meditation Can Transform You
and the World was conceived in
response to a need to make sense of what was happening in the world at large. We
both wondered, "Could something as subtle and understated as meditation
also have an affect on business, conflict resolution, or politics?" And on
an even wider scale we asked, "What change could happen if something so
simple were to become a global movement?"
Interwoven
among our own thoughts on the subject are the words of more than one hundred
meditation practitioners from various walks of life, from Ellen Burstyn -- Oscar
award-winning actress -- to Jon Kabat-Zinn -- director of the Center for Mindfulness
in Medicine, Health Care, and Society, from Marianne Williamson -- bestselling author and renown inspirational
speaker -- to Richard Davidson -- Professor of Psychology at Wisconsin University.
The Dalai Lama humorously says: "I
strongly recommend anyone interested in meditation not to simply read what
these people have to say, but to try it out. If you like it and its useful to
you, keep it up, and if it isn't, just leave it. Treat this book as you would a
cookery book. You wouldn't merely read recipes with approval, you'd try them
out. Some you'd like and would use again. Like cookery, meditation only makes sense
if you put it into effect."
From
running an orphanage to being a political advisor, from being held in a prison
cell to living in a crowded city, meditation has changed people's lives. BE THE CHANGE is a fascinating
exploration of how meditation can not only awaken our latent potential, but
also transform the world, creating the foundation for a caring and
compassionate future.
You can order a copy of our book at: BE THE CHANGE, How Meditation Can Transform You and the World.
Come join us for a booksigning: Nov 16th at Barnes & Noble, 150
East 86th St., NYC with special guests Ellen Burstyn, Robert
Thurman, Andrew Cohen, Cyndi Lee and Mark Matousek; and Nov 17th at
Gasoline Alley, 250 Albany St., Springfield MA, with guests Bernie Glassman,
William Spear and Chloe Goodchild.
More details at: www.EdandDebShapiro.com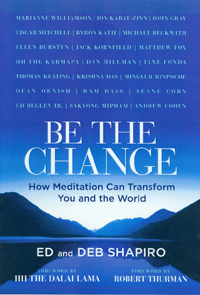 ****
Ed and Deb
Shapiro's new book, BE THE CHANGE, How Meditation Can Transform You And The World,
forewords by the Dalai Lama and Robert Thurman, with contributors such as
Marianne Williamson, astronaut Edgar Mitchell, Ellen Burstyn, Michael Beckwith,
Jon Kabat-Zinn, Jane Fonda, Ram Dass, Jack Kornfield, Byron Katie, Dean Ornish,
John Gray and others will be published Nov 3rd 2009 by Sterling Ethos. Deb is
the author of the award-winning book YOUR BODY SPEAKS YOUR MIND. Ed and Deb are the authors of over 15
books, and lead meditation retreats and workshops. Enjoy their 3 meditation
CD's: Metta - Loving kindness and Forgiveness; Samadhi -- Breath
Awareness and Insight; and Yoga Nidra -- Inner Conscious
Relaxation, available on their website:
www.EdandDebShapiro.com