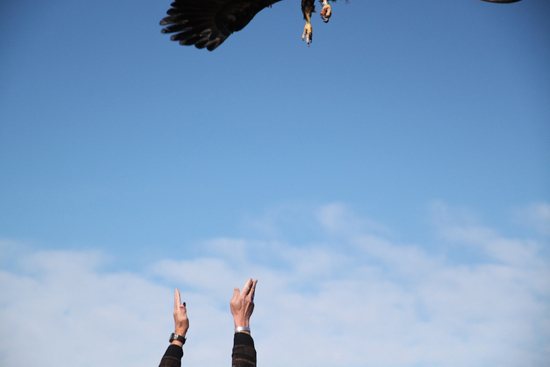 Almost 3,000 wild animals have been treated at the Wildlife Center of Virginia this year, including 31 bald eagles. The skilled staff and devoted volunteers working at the state-of-the-art facility give animals the very best possible chance for recovery, but collisions with motor vehicles, lead poisoning and other ailments take their toll. Roughly half the patients that come to the center are unable to leave.
On September 20, patient #13-2422 was admitted. The adult bald eagle, most likely a female, was rescued from Northumberland County. She was unable to fly with a wing injury, and it had taken several days for her to be captured. Veterinary intern Dr. Kristin Britton, diagnostic intern Kelli Waller and veterinary student Sara first examined the bird.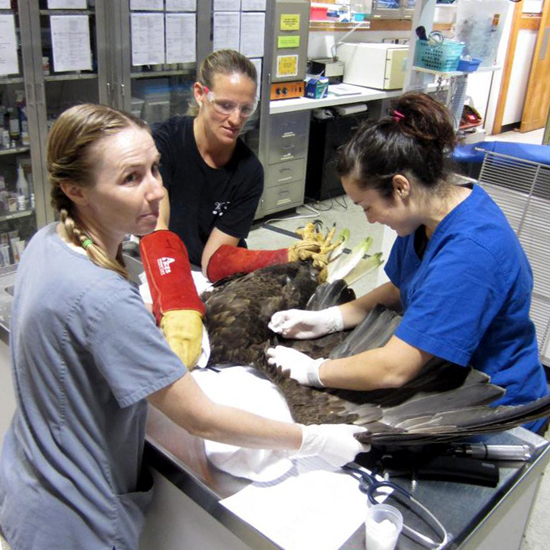 The eagle was found to be dehydrated, and had an injury to the right coracoid, which is akin (roughly) to the collarbone in a person. Such an injury, however, cannot be repaired surgically. The fracture must be manipulated externally, then the wing and body are wrapped to immobilize the shoulder. "Sometimes they heal," Ed Clark, Wildlife Center president and co-founder said, "sometimes they don't."
Bandages were applied and changed every three days. Fluids, pain medication and anti-inflammatory medication were administered, along with Selenium, which assists in the recovery of muscle tissue. As the weeks went on, rest and immobilization gradually gave way to physical therapy and increased exercise, and she was moved to larger and larger enclosures. After nearly three months of treatment and recovery, it was decided she was healthy and fit enough to be released.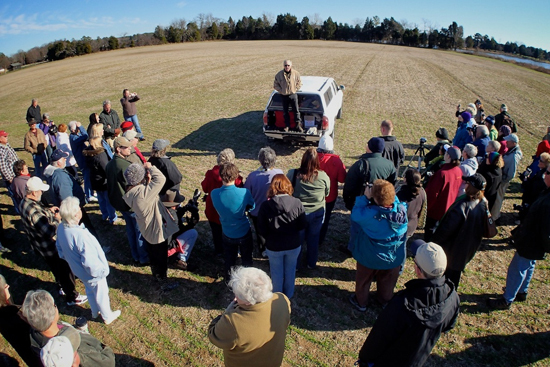 Belle Isle State Park, on the banks of the Northern Neck's Rappahannock River not far from where the bird was rescued, was chosen as the release site. Ed Clark would be releasing the bird, assisted by Wildlife Center Outreach staffer Chapin Hardy. The event, which was open to the public, was attended by dozens of spectators, including many Wildlife Center volunteers. Ed took a few moments to talk about the important work being done at the Center, and to explain the logistics of how the release would be done. At one point during his talk, to the delight of the crowd, a resident Bald Eagle interrupted the proceedings when it flew directly overhead.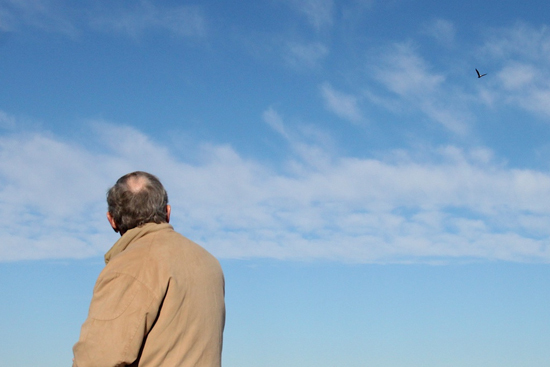 Excitement grew as Ed brought the massive bird from her transport crate. After having been enclosed for three hours, the first thing he needed to do was to simply hold her securely for a while. This gives her time to get used to her surroundings and lets her eyes adjust to the bright, mid-day sun. I am lucky to be able to see eagles from a distance fairly regularly, but viewing one this close absolutely quickens the pulse. It's just a guess on my part, but the wingspan of this bird had to be nearly seven feet.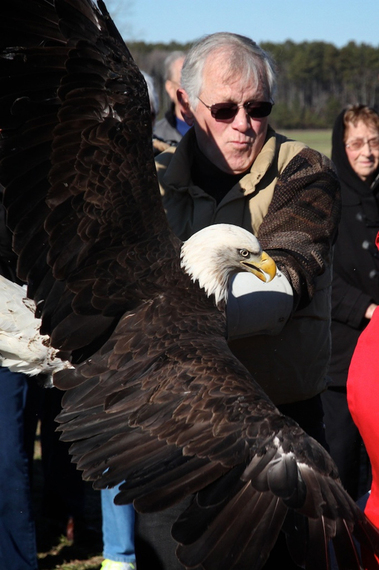 As for "holding her securely," there was a bit of disagreement between Ed and the bird as to how, exactly, this should be done. Several times during the discussion she clamped her powerful beak on his gloved hand.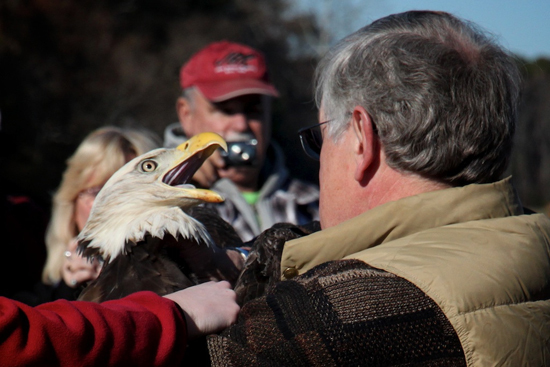 Talons and beak were finally gathered, and the bird calmed as Ed wrapped his arms securely around her. He then slowly brought the bird around so everyone in attendance could see her up close and take photos.
To me, the majesty of eagles is unequaled in nature. It is a powerful sight to behold, even more so when one considers this is not a captive bird. Yes, for a short time her life's path made a detour through the Wildlife Center of Virginia. But she was wild before that, and she'll be wild again in a matter of minutes.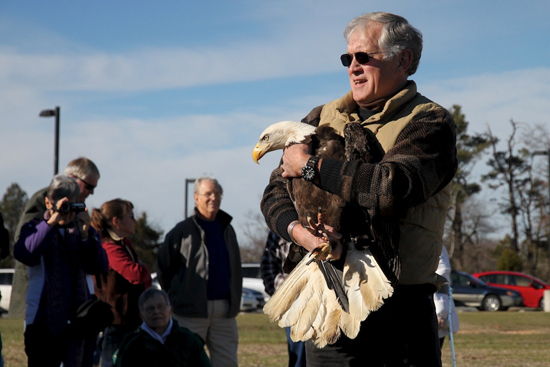 When they reached me, for a moment the eagle looked directly at me. Actually, through me is more apt. It wasn't exactly like eye contact, it was more of a one-way transaction. And in that brief staring contest, I am not ashamed to say I blinked.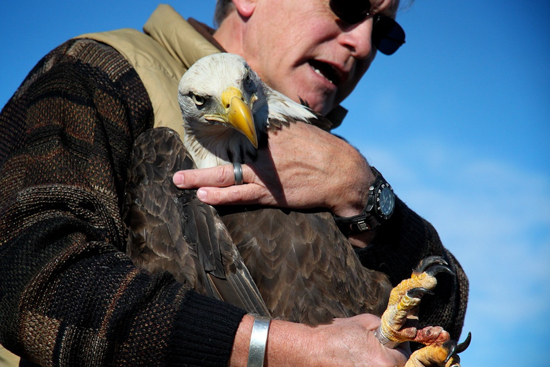 After all the photos were taken and questions were answered, there was only one thing left to do. Ed stepped away from the crowd, facing the bird away from us and toward a large field rimmed with tall evergreens. He made sure we were all ready, counted to three, and hoisted the ten-pound bird into the air. She flew, straight and true and low, at first rising and dipping with each wing beat, then leveling out to a smooth glide. Camera shutters that began in a frenzied burst now slowed to a trickle, and then for a moment all was silent. Former patient #13-2422, now carrying a little extra callous formation in her shoulder and a silver band on her foot, reached the end of the field and rose quickly and easily. She perched high in an evergreen, where she remained until after the crowd dispersed. Nervous silence turned to applause. And everyone there felt like we had not just witnessed something special, but that we were really a part of it.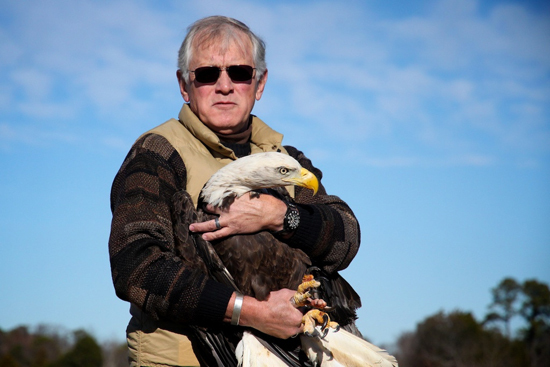 This bird was rescued, secured, transported, diagnosed, treated, rehabilitated and released by a team of staff and volunteers who devote countless hours to the Wildlife Center every year. Bald eagles hold a deserved, special place in the hearts of Americans, especially those who are passionate about wildlife. But it's important to remember that for every high-profile release like this, there are many other animals being safely returned to their habitat after mishaps, injuries or illness with little or no fanfare. The Wildlife Center of Virginia operates entirely from private donations, so please consider helping a great cause with a donation, or contact them and find out how you can volunteer your time.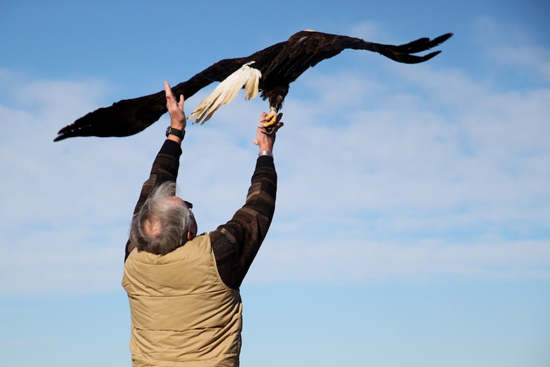 Exam room photo courtesy of The Wildlife Center of Virginia. All other photos by Ed Felker.